---
---
Incredible Charts version 4.0.0.4 is now available
See the What's New page for details.


To check that you have the current version, select Help >> About .
---
Trading Diary
August 30, 2002
These extracts from my daily trading diary are intended to illustrate the techniques used in short-term trading and should not be interpreted as investment advice. Full terms and conditions can be found at Terms of Use

.
USA
The Dow demonstrated support at 8600, closing almost unchanged at 8663, on lower volume. This may indicate a lack of selling pressure, but trading may have tailed off ahead of the long weekend. The secondary rally is intact, while the primary cycle is in a down-trend.
The Nasdaq Composite reversed yesterday's gain, closing down 1.6% at 1314. The inside day signals uncertainty. The secondary rally is intact, while the primary cycle is in a down-trend.
The S&P 500 closed 1 point down at 917. A second doji signals uncertainty.
The primary trend is down.
The Chartcraft NYSE Bullish % Indicator bull alert signal is at 46% (August 29).
The market will be closed Monday for Labor Day.
Greenspan defends Fed policy in the late 1990's
The Fed chairman citing past examples, suggested that only a sharp increase in short-term rates would have sufficient economic impact to check a stock market bubble...and could trigger a recession.
After a mixed day the All Ordinaries fell in late trading to close 9 points down at 3074. The large volume and narrow trading range signal buying support. The primary trend is down.
The Stochastic (20,3,3) is below its signal line. Twiggs money flow signals distribution.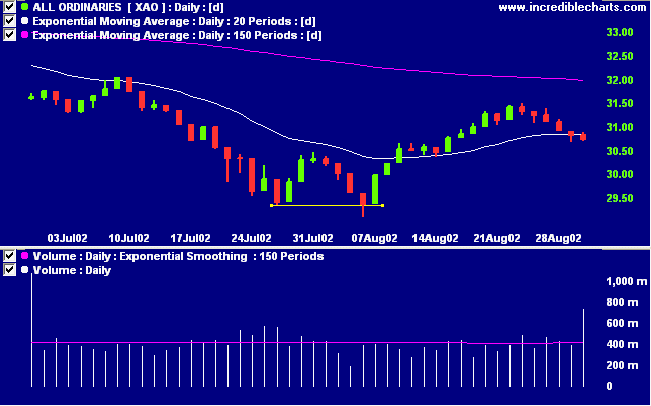 The
Coppock Indicator
has crossed to below zero for the first time since January 1995.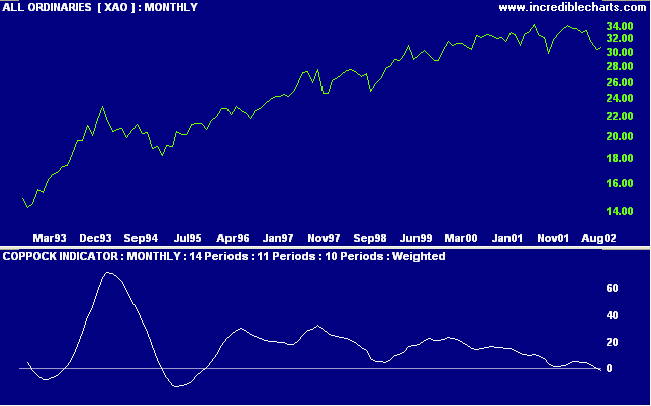 Gold stocks
Several gold stocks have formed triangle patterns after the recent down-trend. Possibly because spot gold has formed a higher August trough after a sharply lower trough in July.
Aurion Gold [AOR] has broken up from a symmetrical triangle, with bullish signals from MACD and Twiggs money flow.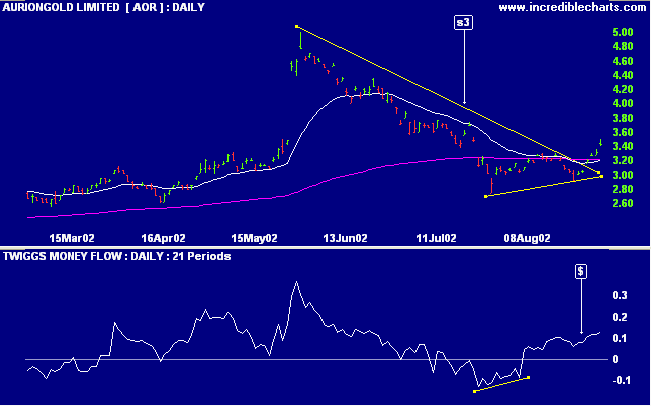 Newcrest Mining [NCM] is forming an ascending triangle with bullish Twiggs money flow and MACD improving .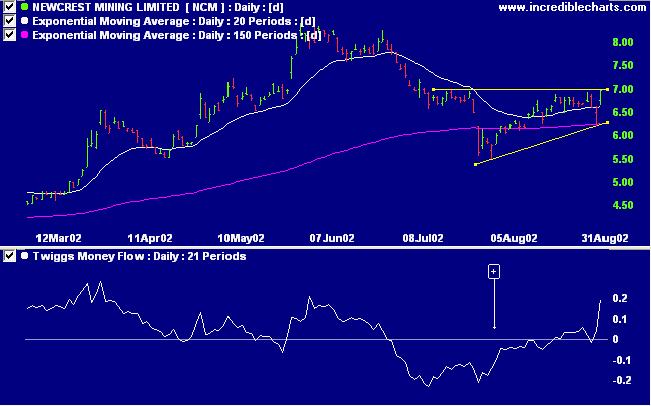 Croesus Mining [CRS] has also broken out of a symmetrical triangle, with rising MACD and Twiggs money flow.
Spotless Group [SPT]
SPT is forming a stage 1 base with the 150-day moving average leveling off and MACD signaling a strong bullish divergence.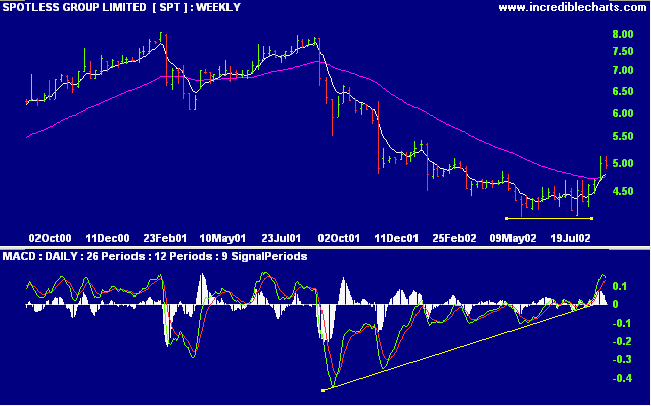 But Twiggs money flow has failed to cross above zero, signaling distribution.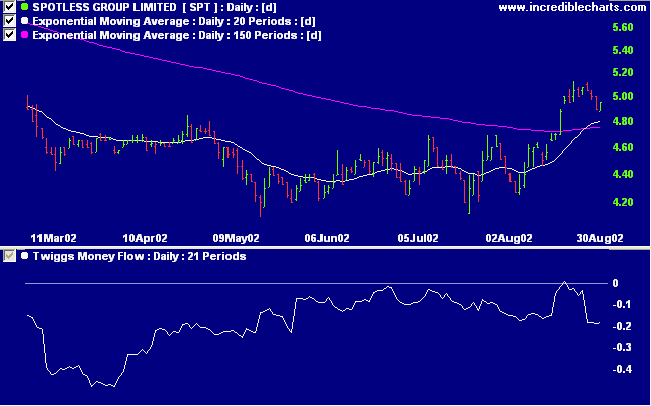 Sector Analysis
Stage changes are highlighted in bold.
Energy [XEJ] - stage 1 (RS is rising)

Materials [XMJ] - stage 4

Industrials [XNJ] - stage 4

Consumer Discretionary [XDJ] - stage 4

Consumer Staples [XSJ] - stage 4 (RS is rising)

Health Care [XHJ] - stage 4

Property Trusts [XPJ] - stage 4

Financial excl. Property Trusts [XXJ] - stage 4

Information Technology [XIJ] - stage 4

Telecom Services [XTJ] - stage 1

Utilities [XUJ] - stage 2 (RS is rising)
Sectors: Relative Strength
A stock screen of the ASX 200 using % Price Move (1 month: +5%) shows 77 stocks that have gained more than 5% in the last month. Notably:
Banks

Construction Materials

Real Estate Investment Trusts
Conclusion
Short-term: Avoid new entries. Slow Stochastic and MACD are on opposite sides of their respective signal lines.
Medium-term: Wait for the All Ords to signal a reversal.
Long-term: Wait for a bull-trend on the Nasdaq or S&P 500 (primary cycle).
Colin Twiggs
Thought for the Day:


The trouble with using experience as a guide is that the final exam comes before the first lesson.
---
Back Issues
Access the Trading Diary Archives.
---