---
---
Incredible Charts version 4.0.0.4 is now available
---
Trading Diary
August 27, 2002
These extracts from my daily trading diary are intended to illustrate the techniques used in short-term trading and should not be interpreted as investment advice. Full terms and conditions can be found at Terms of Use

.
USA
The Dow closed down 1% at 8824 on normal volume. There is a secondary rally, while the primary cycle is in a down-trend.
The Nasdaq Composite fell more than 3% to close at 1347. The primary cycle is in a down-trend, with a secondary rally.
The S&P 500 shed 14 points to close at 934. The primary trend is down, with a secondary correction.
The Chartcraft NYSE Bullish % Indicator bull alert signal is at 44% (August 26).
Hewlett-Packard meets estimates
H-P reported pro-forma third-quarter earnings in line with analysts estimates but missed revenue targets.
(more)
Consumer confidence falls
The Conference Board consumer confidence index fell to 93.5 in August, down from 97.4 in July.
(more)
Computer and retail stocks are down
Intel, Microsoft and Wal-Mart led the decline as the outlook for computer sales, and retail in general, softens.
(more)
The All Ordinaries rallied in the morning but corrected sharply in later trading to close 15 points down at 3111 on higher volume. The primary trend is down.
The Stochastic (20,3,3) is below its signal line. Twiggs money flow is declining.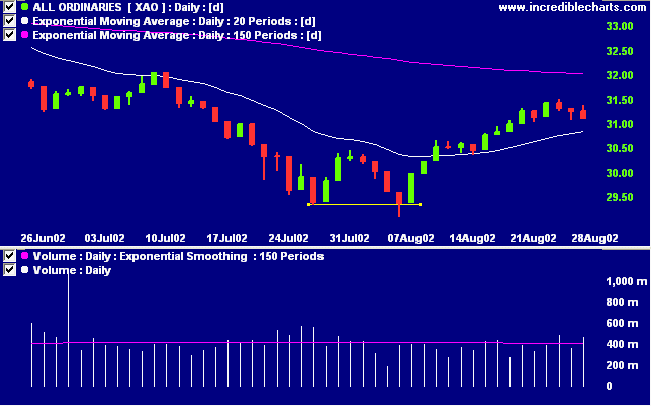 The Reserve Bank's proposed credit card reforms [RBA]
The RBA promises to:
change the formula for intercharge fees, charged between cardholders and retailers banks;
allow retailers to pass on bank service fees to consumers; and
end the restrictions on competition. (more)
Woolworths [WOW]
Woolworths explain that the fall in supermarket margins is due to employee training costs for 72 new Franklins stores.
(more)
The stock rebounded off the 11.40 support level to close at 11.96 on huge volume. Twiggs money flow swung back to accumulation while MACD is still a bit weak.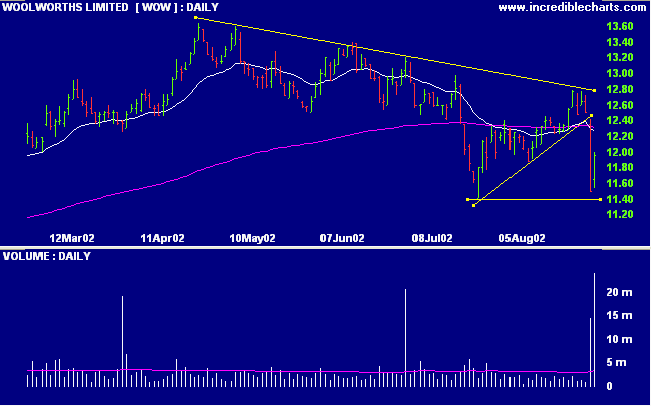 Seven Network [SEV]

Seven Network drastically cut costs to produce an annual profit of $65 million, at the high end of forecasts.
(more)

On the weekly chart: SEV broke downwards from a symmetrical triangle and has yet to reach the target of 4.45. The 150-day moving average still slopes downward while relative strength (price ratio: xao) has been in a decline for the past 6 months.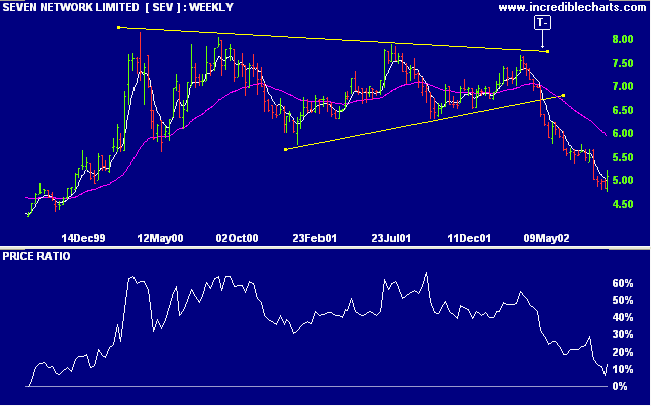 MACD has completed a bullish divergence, while Twiggs money flow signals distribution.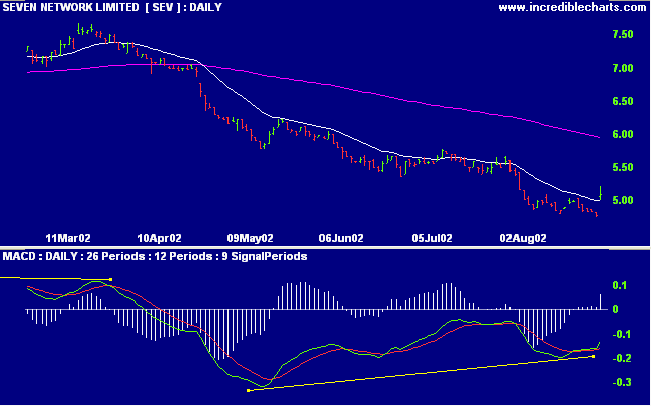 Conclusion
Short-term: Avoid new entries. Slow Stochastic and MACD are on opposite sides of their respective signal lines.
Medium-term: Wait for the All Ords to signal a reversal.
Long-term: Wait for a bull-trend on the Nasdaq or S&P 500 (primary cycle).
Colin Twiggs
Thought for the Day:

Your education earns you a living - your self-education earns you a fortune.

- Jim Rohn
---
Back Issues
Access the Trading Diary Archives.
---