---
---
Incredible Charts version 4.0.0.4 now available
If you add more than 3 indicators, the indicator slots appear blank in the default screen view, because they are too small to all be displayed.

Users can now vary the number of indicator slots visible:
Select View >> Visible Indicator Slots

Select a number between 3 and 10
Three visible slots are recommended for 15- to 17-inch screens, 4 visible slots for 19-inch and 5 for 21-inch screens.
---
Trading Diary
August 26, 2002
These extracts from my daily trading diary are intended to illustrate the techniques used in short-term trading and should not be interpreted as investment advice. Full terms and conditions can be found at Terms of Use

.
USA
The Dow dropped in early trading before rallying to close up 0.5% at 8919. Volume was low, showing a lack of commitment from buyers.
The primary cycle is in a down-trend.
The Nasdaq Composite also featured a late rally to close up 0.8% at 1391. The primary cycle is in a down-trend.
The S&P 500 gained 7 points to close at 947. The primary cycle is in a down-trend.
The Chartcraft NYSE Bullish % Indicator bull alert signal is at 44% (August 23).
Nestle' has a taste for Hershey's
The Swiss food and beverage group has made a $US 11.5 billion bid for candy-maker Hershey Foods.
(more)
Crude oil prices fuelled by concerns over Iraq
October crude oil futures closed up at $US 29.28 per barrel.
(more)
The All Ordinaries fell steeply after the opening but then steadily gained through the day to close 7 points down at 3126 on lower volume.
The primary cycle trends down.
The Stochastic (20,3,3) is below its signal line. Twiggs money flow signals accumulation.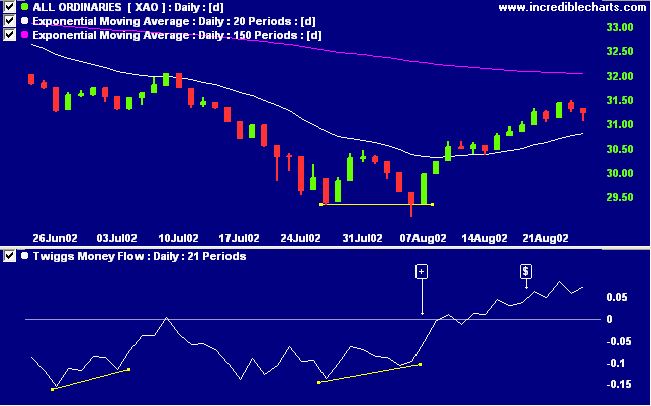 Woolworths [WOW]
The retailer unveiled a 22% increase in annual net profit and predicted 10% to 15% growth in the next year, only to be punished by the market because of lower than expected supermarket margins.
(more)
WOW is entering a stage 3 top with relative strength (price ratio: xao) leveling off after a strong up-trend.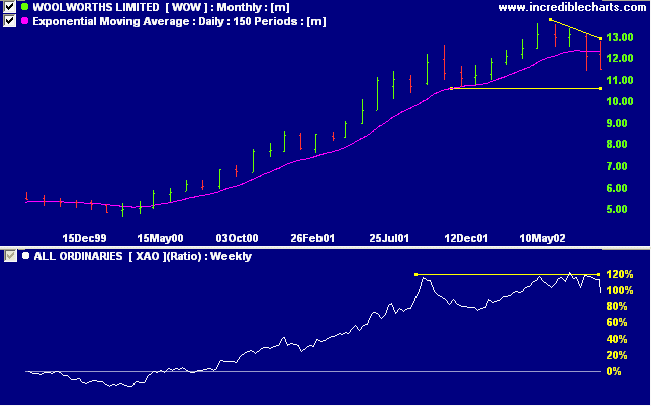 The daily chart displays a symmetrical triangle formed over the last 4 months, followed by yesterday's break down on strong volume. There was no warning from the Twiggs money flow while MACD has shown weakness over the past few months.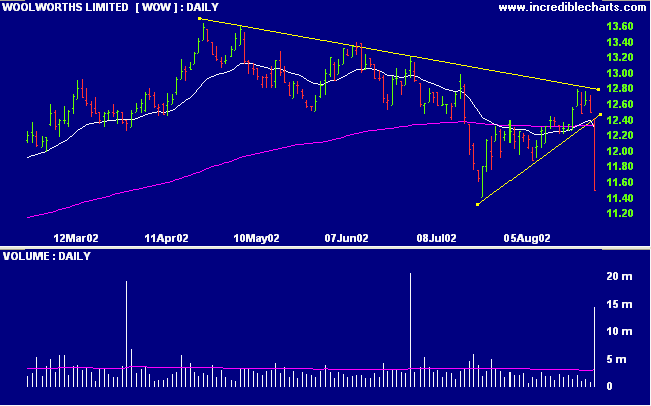 BRL Hardy [BRL]
BRL rallied strongly to break above an ascending triangle formed over the last month. Yesterday's volume was low and the 150-day moving average still has a steep downward slope, so the breakout may be premature. Relative strength (price ratio: xao) has been in a decline for the past 6 months while MACD and Twiggs money flow completed bullish divergences in July.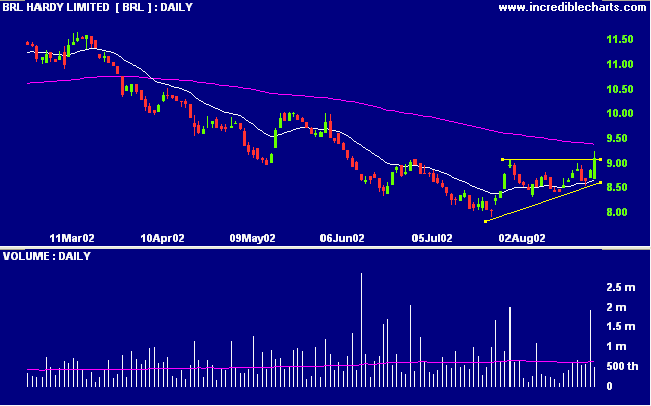 Conclusion
Short-term: Avoid new entries. Slow Stochastic and MACD are on opposite sides of their respective signal lines.
Medium-term: Wait for the All Ords to signal a reversal.
Long-term: Wait for a bull-trend on the Nasdaq or S&P 500 (primary cycle).
Colin Twiggs
Thought for the Day:

Common sense is not so common.

- Unknown
---
Back Issues
Access the Trading Diary Archives.
---