---
---
Sector Analysis
A handy rule of thumb for identifying sectors with potential:
Conduct a stock screen on the ASX 200 or ASX 300.

Sort stocks by Sector

Filter for stocks that are within 2% of their 3 month high (3-month % of high: 98 minimum)


Scan the results for industries that have at least two strong-performing stocks.
If there are two or more strong-performing stocks in an industry - then it warrants further study
.
---
Trading Diary
August 21, 2002
These extracts from my daily trading diary are intended to illustrate the techniques used in short-term trading and should not be interpreted as investment advice. Full terms and conditions can be found at Terms of Use

.
USA
The Dow formed a further inside day on higher volume, signaling continued uncertainty. The index closed up 1% at 8957, below the 9000 resistance level. The primary cycle is in a down-trend.
The Chartcraft NYSE Bullish % Indicator bull alert signal has now risen to 42% (August 20).
The rally on the Nasdaq continues, with the Nasdaq Composite closing up 2.4% at 1409. The primary cycle is in a down-trend.
The broader S&P 500 rose by 12 points to close at 949. The primary cycle is in a down-trend.
AOL buys AT&T's entertainment stake
AOL Time Warner is to buy AT&T's interest in HBO and Warner Brothers movies for $US 3.6 billion.
(more)
Fed cool on rate cuts
Three Federal Reserve policy makers share the view that further rate cuts are unnecessary.
(more)
Former Enron executive guilty
Michael Kopper pleads guilty to fraud and money-laundering charges and implicates former CFO Andrew Fastow in schemes to defraud investors of more than $US 1 billion.
(more)
The All Ordinaries descended steadily through the day, before a small rally at the close. The inside day signals uncertainty, with the index closing down 12 points at 3114 on lower volume.
The primary cycle trends down.
The Stochastic (20,3,3) and MACD (26,12,9) are above their signal lines, although the Stochastic is threatening to cross. Twiggs money flow signals accumulation.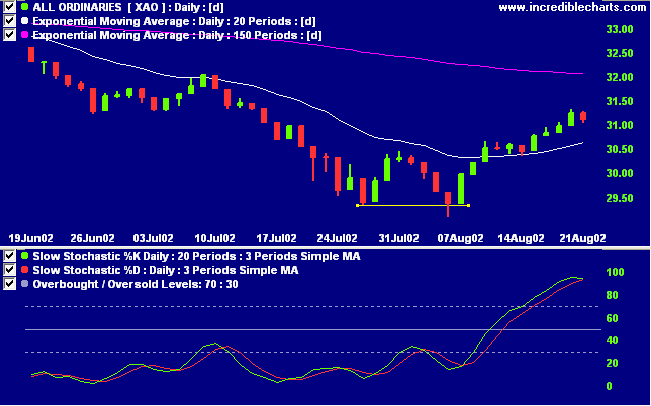 Commonwealth Bank [CBA]
CBA posted an 11% rise in 2001/2 earnings, to $ 2.66 billion, and is to cut 1000 jobs.
(more)
CBA has demonstrated its ability to outperform the broad market, evidenced by its rising relative strength (price ratio: xao) over the past 5 years. Twiggs money flow signals distribution, while MACD is neutral.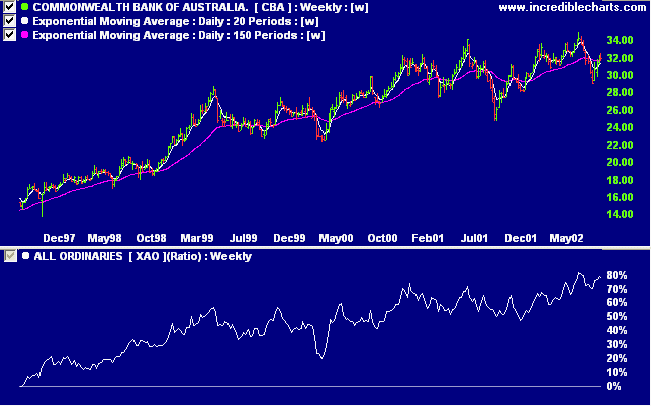 Westfield Holdings [WSF]

Westfield Holdings posted a 38% increase in annual earnings and a 31% increase in dividends.
(more)
WSF formed a stage 3 top with a symmetrical triangle before breaking down into stage 4. Relative strength (price ratio: xao) has weakened.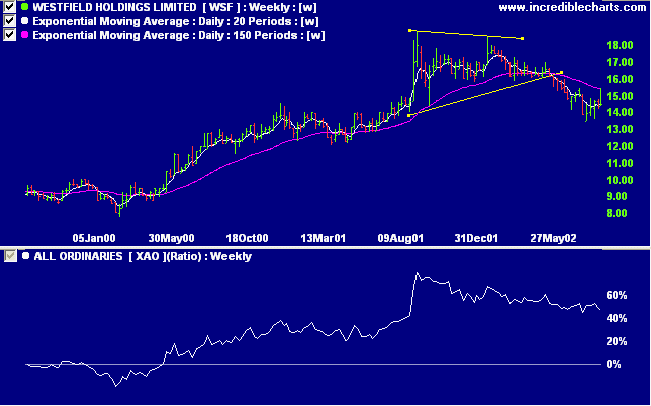 Twiggs money flow and MACD now signal bullish divergences.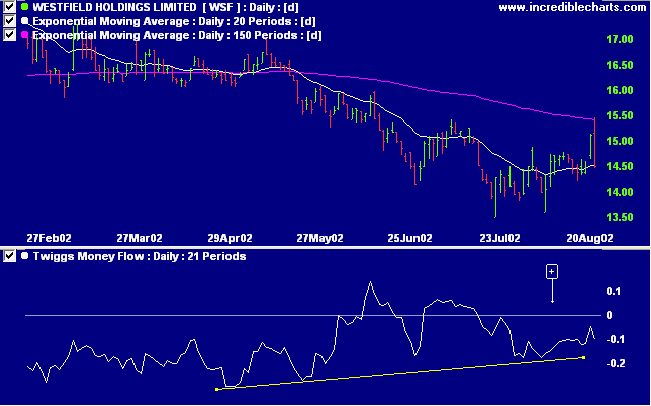 Baycorp Advantage Limited [BCA]
BCA is forming a stage 1 base.
Relative strength (price ratio: xao) is negative, after the recent decline, but MACD and Twiggs money flow show bullish divergences. TMF has completed a further bullish signal, respecting the zero line at [$].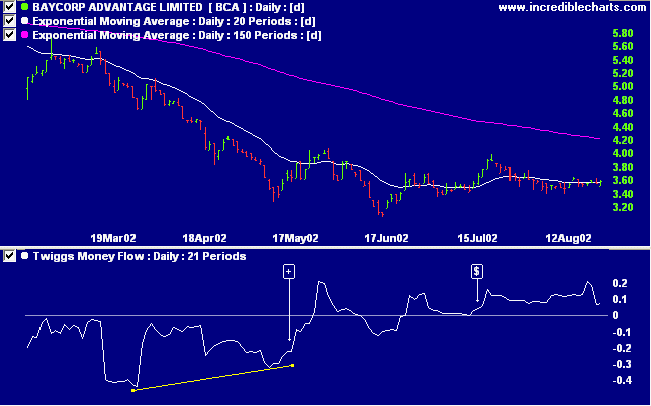 Conclusion
Short-term: Long if stops can be placed close to the entry point. Slow Stochastic and MACD are above their respective signal lines.
Medium-term: Wait for the All Ords to signal a reversal.
Long-term: Wait for a bull-trend on the Nasdaq or S&P 500 (primary cycle).
Colin Twiggs
Thought for the Day:

Some traders see a glass half empty and others a glass half full:
Take profits out of the middle of the trend and do not rue the fact that you missed entering right at the bottom
- that's where the risk is greatest.
---
Back Issues
Access the Trading Diary Archives.
---