---
Trading Diary
August 19, 2002
These extracts from my daily trading diary are intended to illustrate the techniques used in short-term trading and should not be interpreted as investment advice. Full terms and conditions can be found at Terms of Use

.
The Dow rallied strongly to break through the 8800 resistance level and close at 8990 on average volume.
Primary cycle is in a down-trend.
The Chartcraft NYSE Bullish % Indicator bull alert signal has risen to 38% (August 16).
The Nasdaq Composite increased 2.5% to close at 1394.
The primary cycle is in a down-trend.
The S&P 500 rallied 22 points to close at 950. The primary cycle is in a down-trend.
SEC lists 12 problem stocks
The following companies have failed to certify their accounts or asked for an extension of time:
Enron

Adelphia

WorldCom

ACT Manufacturing

Alaska Air

Adams Resources & Energy

CMS Energy

Dynegy

Gemstar (partly owned by Newscorp)

LTV

McLeod USA, and

TruServ
AOL Time Warner has qualified their certification to the extent of $US 49 million. (more)
Lowes up
The second largest home improvement retailer in the US report a 40%-plus increase in EPS for the second quarter.
(more)
The All Ordinaries rose sharply after the opening but then eased slightly in later trading to close 15 points up at 3099. Weak volume signals a lack of commitment from buyers. The primary cycle trends down.
The Stochastic (20,3,3) and MACD (26,12,9) are above their signal lines. Twiggs money flow is positive.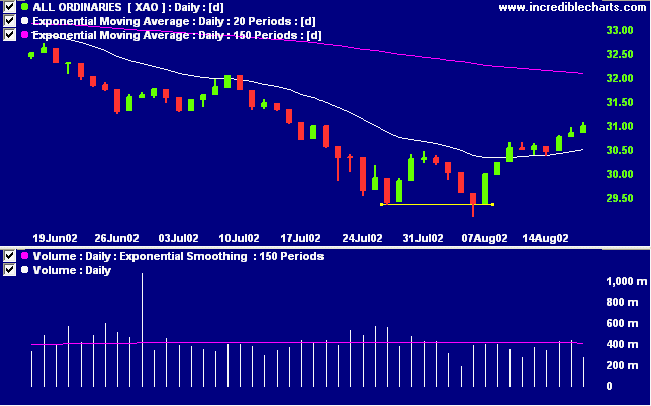 Westpac step into infrastructure [WBC]
Westpac have acquired a controlling stake in Hastings Fund Management, managers of Australian Infrastructure Fund.
(more)
WBC is in a stage 4 top having broken down from a triangle pattern. Relative strength (price ratio: xao) is strong but MACD is weak and Twiggs money flow signals distribution.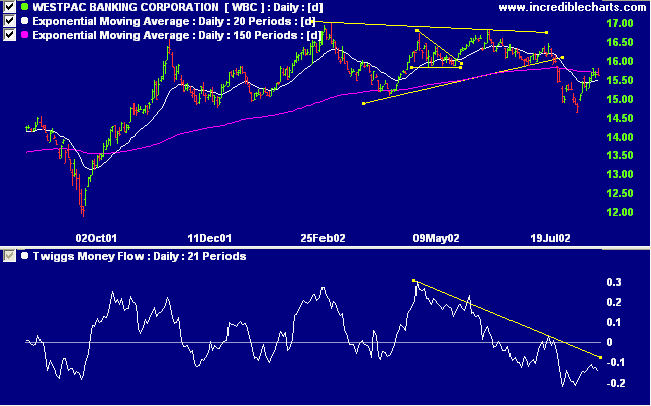 TAB Queensland [TQL]

A strong second half enabled TQL to report a 25% increase in annual earnings.
(more)
TQL is in a strong up-trend and has reached a new high. Relative strength (price ratio: xao) is strong and Twiggs money flow has completed a bullish signal [$], with a trough respecting the zero line.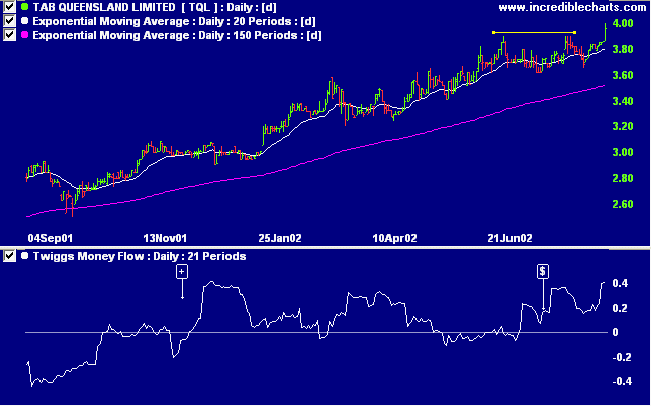 MACD paints a similar picture with the latest trough respecting zero.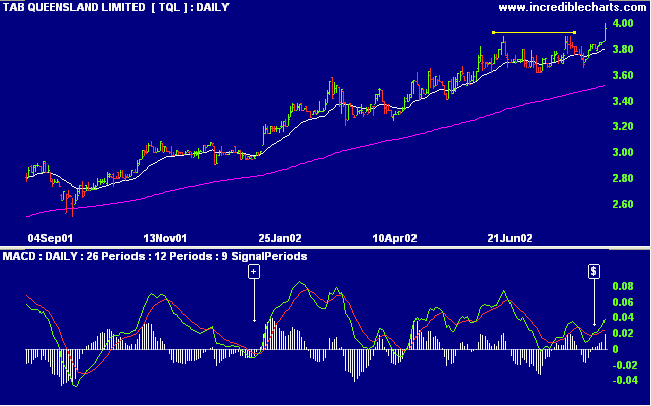 Conclusion
Short-term: Long. Slow Stochastic and MACD are above their respective signal lines.
Medium-term: Wait for the All Ords to signal a reversal.
Long-term: Wait for a bull-trend on the Nasdaq or S&P 500 (primary cycle).
Colin Twiggs
Thought for the Day:

It is the big swing that makes the big money for you.

- Edwin Lefevre.
---
Back Issues
Access the Trading Diary Archives.
---