---
Trading Diary
August 15, 2002
These extracts from my daily trading diary are intended to illustrate the techniques used in short-term trading and should not be interpreted as investment advice. Full terms and conditions can be found at Terms of Use

.
The Dow closed up at 8818 on lower volume, breaking resistance at 8806. Buyers are still hesitant, as can be seen from the lower volume.
The Chartcraft NYSE Bullish % Indicator has given a bull alert signal, with a reading of 32% (August 14).
The Nasdaq Composite gained 0.8%, to close at 1345 after testing resistance at 1355.
The primary cycle is in a down-trend.
The S&P 500 made the strongest rally, gaining 11 points to close at 930. The primary cycle is in a down-trend.
Dell
Dell reported second-quarter earnings of 19 cents per share, compared to 16 cents a year earlier.
(more)
31 companies fail to certify accounts to the SEC
Adelphia, WorlCom, CMS Energy and Qwest were among 31 stocks which have either restated earnings or failed to certify.
(more)
The All Ordinaries rallied points to close at 3077 on good volume. The primary cycle trends down.
The Stochastic (20,3,3) and MACD (26,12,9) are above their signal lines. Twiggs money flow is positive.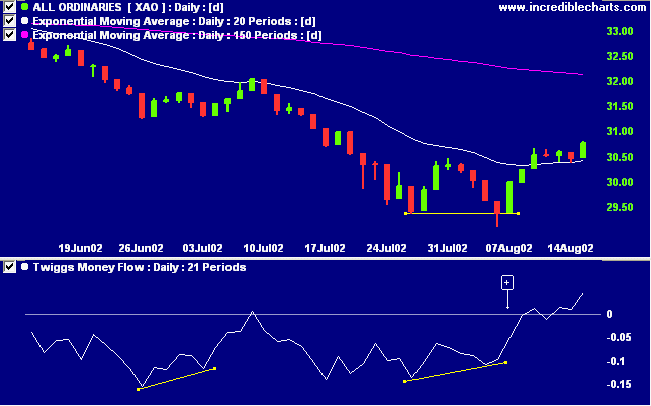 Tabcorp [TAH]
The Victorian gaming and wagering company reported a 39% rise in profits after a strong performance from Star casino.
(more)
TAH is in a stage 2 rally, having completed a double bottom pattern at [W] with a target of $14.70. Relative strength (price ratio: xao) and MACD are positive, while Twiggs money flow signals short-term distribution.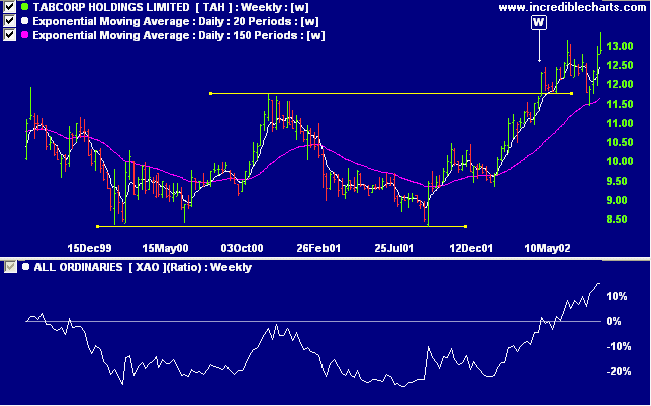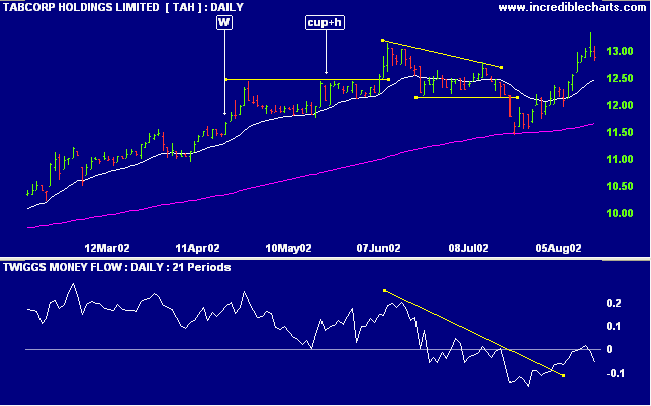 Telstra [TLS]
TLS is entering a stage 1 base after a lengthy decline. Relative strength (price ratio: xao) is rising and MACD has completed 2 bullish signals: a bullish divergence [+] followed by MACD respecting the zero line at [$].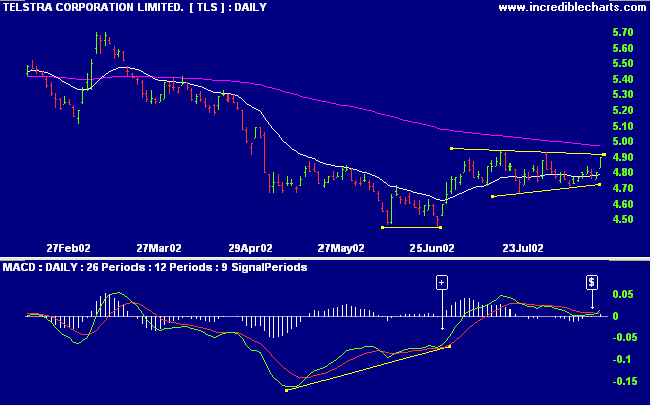 Twiggs money flow signals accumulation.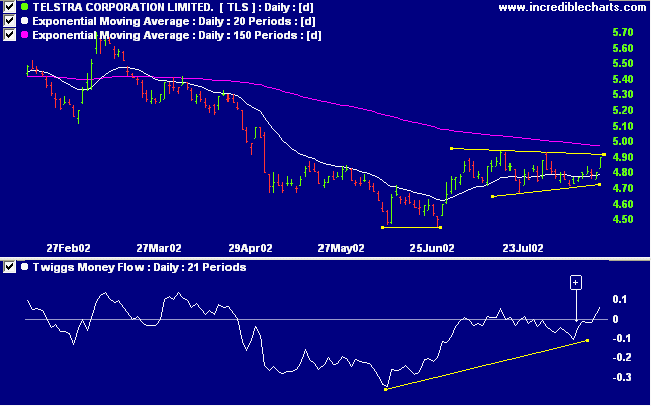 Conclusion
Short-term: Long. Slow Stochastic and MACD are above their respective signal lines.
Medium-term: Wait for the All Ords to signal a reversal.
Long-term: Wait for a bull-trend on the Nasdaq or S&P 500 (primary cycle).
Colin Twiggs
Thought for the Day:

If you can trust yourself when all men doubt you,
But make allowance for their doubting too....

Rudyard Kipling.
---
Back Issues
Access the Trading Diary Archives.
---