---
Trading Diary
August 14, 2002
These extracts from my daily trading diary are intended to illustrate the techniques used in short-term trading and should not be interpreted as investment advice. Full terms and conditions can be found at Terms of Use

.
The Dow rallied more than 3% to close at 8743 on higher volume, testing resistance at 8800. A bullish ascending triangle is forming with resistance at 8806. A break above 8806 will signal a trend reversal, while a correction below 8000 will signal continuation of the primary cycle down-trend.
The Chartcraft NYSE Bullish % Indicator has given a bull alert signal, with a reading of 32% (August 13).
The Nasdaq Composite made a massive gain, more than 5%, to close at 1334. Resistance is at 1355.
The primary cycle is in a down-trend.
The S&P 500 rallied 35 points, or 4%, to close at 919. This completes a bullish ascending triangle and signals a reversal of the primary cycle down-trend but for the fact that the cycle-length is 8 to 10 days, instead of the 15 days minimum for a valid secondary cycle movement.
CEOs sign off
Most companies have completed the certification of their financials with the SEC. There have been no major surprises so far.
(more)
Adelphia will not certify results
Troubled cable operator Adelphia Communications will restate results from 1999 to 2001.
UAL
The troubled airline seeks a $US 1.8 billion federal loan to stave off bankruptcy.
(more)
The All Ordinaries continues to consolidate, closing down 12 points at 3046 on below-average volume. The primary cycle trends down.
The Stochastic (20,3,3) and MACD (26,12,9) are above their signal lines. Twiggs money flow is positive.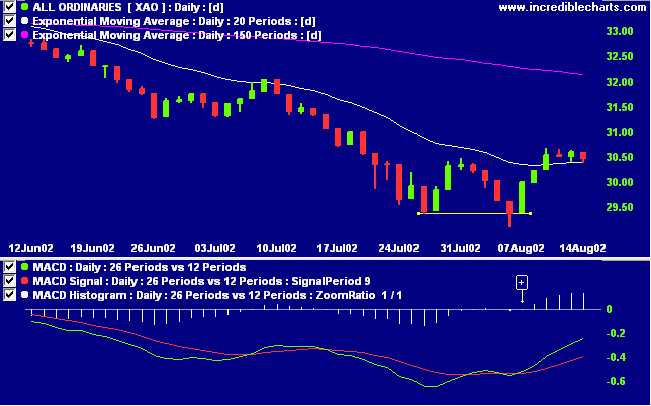 NewsCorp reports record loss [NCP]
News Corporation reported an operating loss of $12 billion, including a further $3.5 billion write-down of Gemstar.
(more)
NCP is in a stage 4 decline, approaching the target [T] from the double top pattern at [M]. Relative strength (price ratio: xao) is falling, while Twiggs money flow and MACD both show small bullish divergences.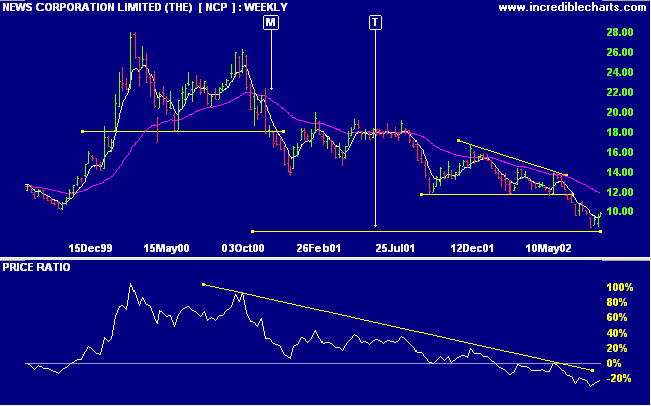 Harvey Norman [HVN]
HVN has been in a stage 4 decline for the last year but is now starting to show some positive signs. Relative strength (price ratio: xao) is still weak but MACD shows a bullish divergence [+].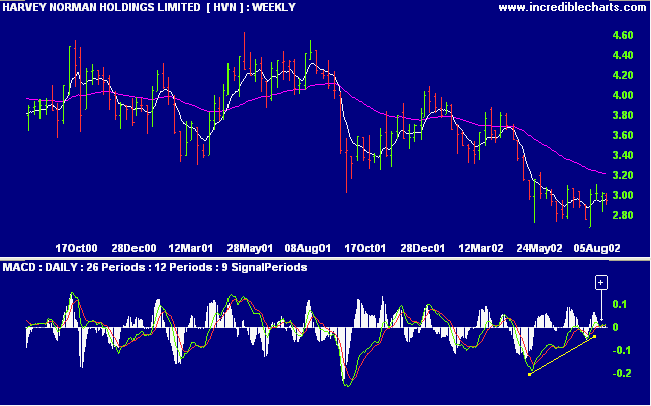 Twiggs money flow has a bullish divergence [+] followed by a further bullish sign, where a trough respects the zero line [$].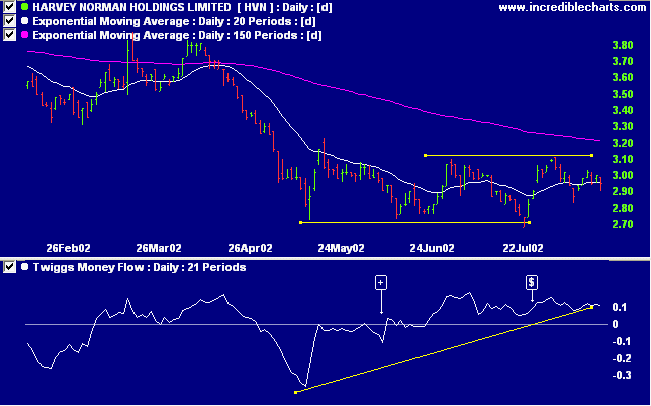 Conclusion
Short-term: Long. Slow Stochastic and MACD are above their respective signal lines.
Medium-term: Wait for the All Ords to signal a reversal.
Long-term: Wait for a bull-trend on the Nasdaq or S&P 500 (primary cycle).
Colin Twiggs
Thought for the Day:

The man who is right always has two forces working in his favor - basic conditions and the men who are wrong.

- Edwin Lefevre.
---
Back Issues
Access the Trading Diary Archives.
---