---
Trading Diary
August 13, 2002
These extracts from my daily trading diary are intended to illustrate the techniques used in short-term trading and should not be interpreted as investment advice. Full terms and conditions can be found at Terms of Use

.
The Dow retreated 2.4% to close at 8482 on higher volume, almost completely reversing the follow-through day on the 9th.
The primary cycle trend is downwards. A rally above 8806 will signal a reversal, while a correction below 8000 will signal continuation.
The Chartcraft NYSE Bullish % Indicator has given a bull alert signal, with a reading of 32% (August 12).
The Nasdaq Composite retreated 2.9% to close at 1269, reversing the follow-through from the 9th.
The primary cycle is in a down-trend. The failure to reach the 1355 resistance level is a bearish sign.
The S&P 500 declined 19 points to close at 884.
The primary cycle trends downwards. A break above 912 will signal a reversal.
Fed alters bias
The Federal Reserve left the overnight bank lending rate unchanged at 1.75% but changed its bias, towards greater risk of economic weakness and lower risk of inflation.
(more)
Applied Materials little change
Flat third-quarter results from the largest maker of semiconductor-manufacturing equipment.
(more)
The All Ordinaries continues to consolidate, closing up 6 points at 3058 on below-average volume. The primary cycle trends down.
The Stochastic (20,3,3) and MACD (26,12,9) are above their signal lines. Twiggs money flow is positive.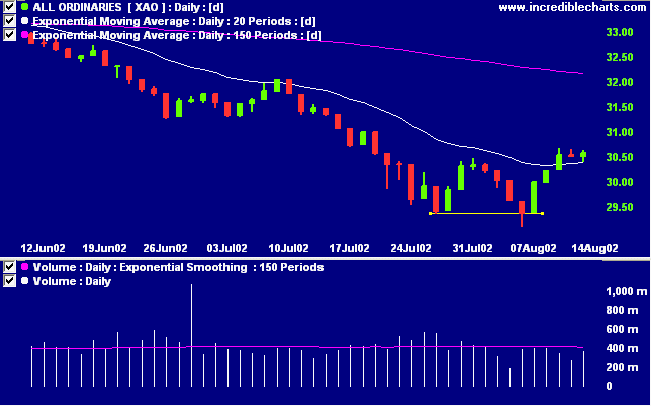 AurionGold [AOR]
AOR report a net profit of $ 63.2 million, up from $ 47.7 million last year.
(more)
AOR is in a stage 3 top, with the 150-day moving average leveling out. Relative strength (price ratio: xao) and MACD are weakening, while Twiggs money flow has moved above zero, signaling accumulation.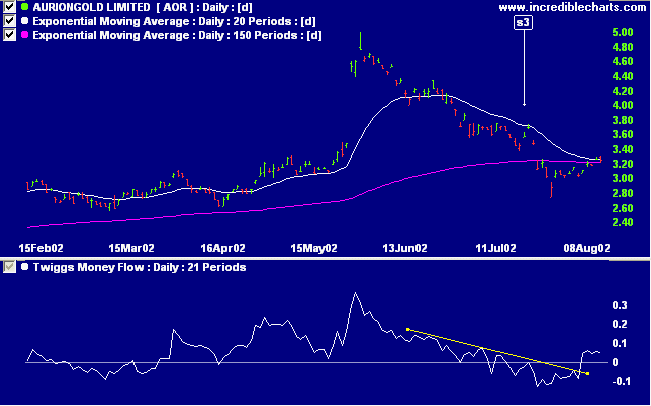 Coates Hire [COA]
COA has made a new 2-year high, after a recent period of consolidation. The day's close was weak and volume uninspiring, so wait for further confirmation. Relative strength (price ratio: xao) is rising, while Twiggs money flow has shown exceptional accumulation since mid-2001 and MACD is bullish.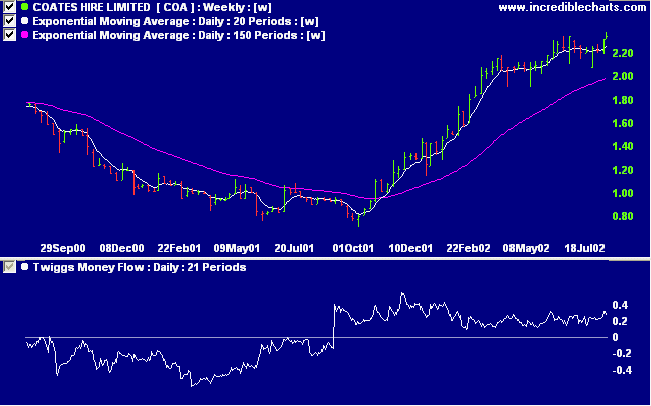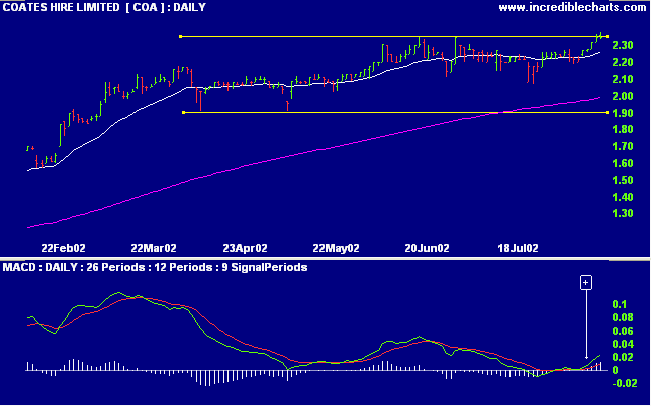 Conclusion
Short-term: Long. Slow Stochastic and MACD are above their respective signal lines. Exercise caution because weakness in US markets may spill over onto the ASX.
Medium-term: Wait for the All Ords to signal a reversal.
Long-term: Wait for a bull-trend on the Nasdaq or S&P 500 (primary cycle).
Colin Twiggs
Thought for the Day:

Begin with the end in mind.

- Stephen Covey.
---
Back Issues
Access the Trading Diary Archives.
---