---
Trading Diary
August 12, 2002
These extracts from my daily trading diary are intended to illustrate the techniques used in short-term trading and should not be interpreted as investment advice. Full terms and conditions can be found at Terms of Use

.
The Dow again showed consolidation, closing down 0.7% at 8688 on low volume.
The primary cycle trend is downwards but a rally above 8806 will signal a reversal.
The Chartcraft NYSE Bullish % Indicator has given a bull alert signal, with a reading of 30% (August 9).
The Nasdaq Composite opened sharply lower but then rallied to close unchanged at 1306.
The primary cycle is in a down-trend. Failure to reach the 1355 resistance level will be a bearish sign.
The S&P 500 declined 0.5% to 903.
The primary cycle trends downwards. A break above 912 will signal a reversal.
Fed likely to disappoint
The Federal Reserve meeting on Tuesday is unlikely to deliver the hoped-for rate cut.
(more)
Treasury yields edge lower
The yield on 10-year treasury notes closed at 4.22%, close to levels last seen in the 1960's.
(more)
The All Ordinaries showed further hesitation, closing down 1 point at 3052 on low volume. The primary cycle trends down.
The Stochastic (20,3,3) and MACD (26,12,9) are above their signal lines. Twiggs money flow shows uncertainty, crossing back below zero.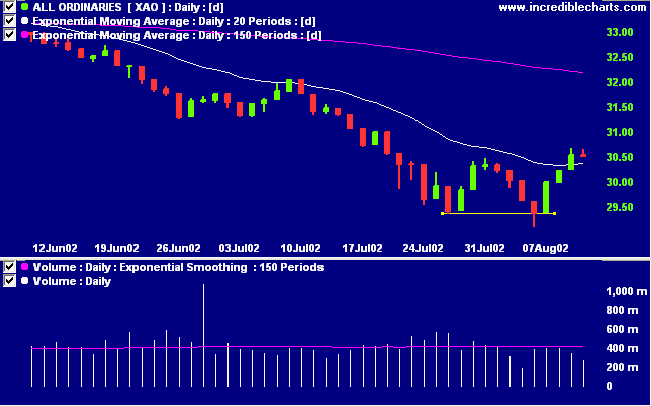 Bendigo Bank [BEN]
Bendigo announce a 47% increase in net profits to $48.8 million, with growth in all departments.
(more)
BEN has gapped up to a new 5-month high on strong volume. Relative strength (price ratio: xao) and MACD are positive, while Twiggs money flow has completed a trough while above zero - a bullish signal.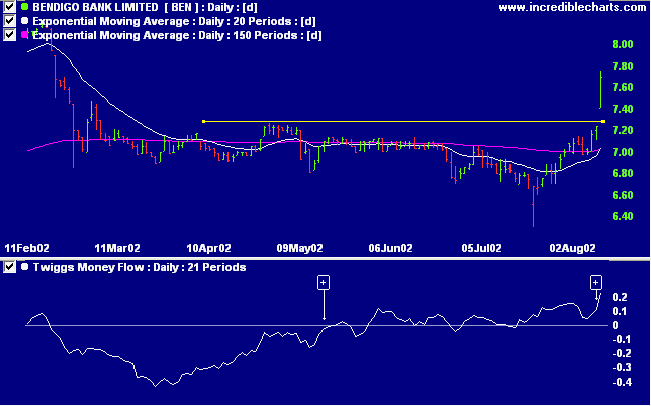 Lion Nathan [LNN]
LNN has gapped up above recent highs but on disappointing volume [V]. Relative strength (price ratio: xao) and Twiggs money flow are positive, while MACD looks promising.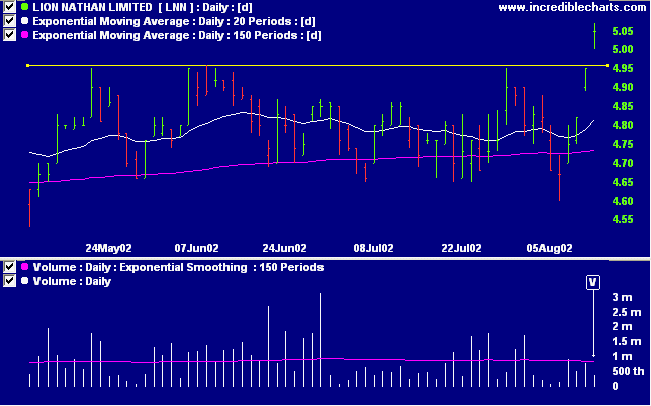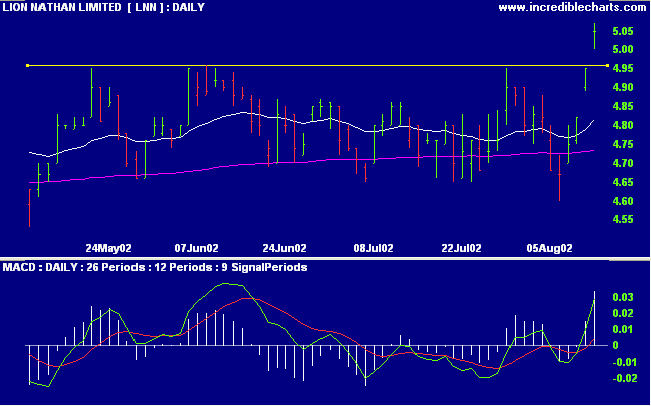 Conclusion
Short-term: Long. Slow Stochastic and MACD are above their respective signal lines.
Medium-term: Wait for the All Ords to signal a reversal.
Long-term: Wait for a bull-trend on the Nasdaq or S&P 500 (primary cycle).
Colin Twiggs
Thought for the Day:

There is a tide in the affairs of men, which, taken at the flood leads on to fortune.

- William Shakespeare, on market timing.
---
Back Issues
Access the Trading Diary Archives.
---