---
Trading Diary
August 9, 2002
These extracts from my daily trading diary are intended to illustrate the techniques used in short-term trading and should not be interpreted as investment advice. Full terms and conditions can be found at Terms of Use

.
The Dow consolidated at the 8800 resistance level, rising 0.4% to close at 8745 on low volume.
The primary cycle trend is downwards but a rally above 8806 will signal a reversal.
The Chartcraft NYSE Bullish % Indicator has given a bull alert signal, with a reading of 30% (August 8).
The Nasdaq Composite eased 0.8% to close at 1306. The primary cycle is in a down-trend. Failure to reach the 1355 resistance level will be a bearish signal.
The S&P 500 hesitated at the 912 resistance level, closing up 0.4% at 908.
The primary cycle trends downwards. A break above 912 will signal a reversal.
The All Ordinaries penetrated resistance at 3047 to close up 29 at 3053. Low volume signals a lack of conviction on the part of buyers. The primary cycle trends down.
The Stochastic (20,3,3) and MACD (26,12,9) are above their signal lines. Twiggs money flow has crossed to above zero.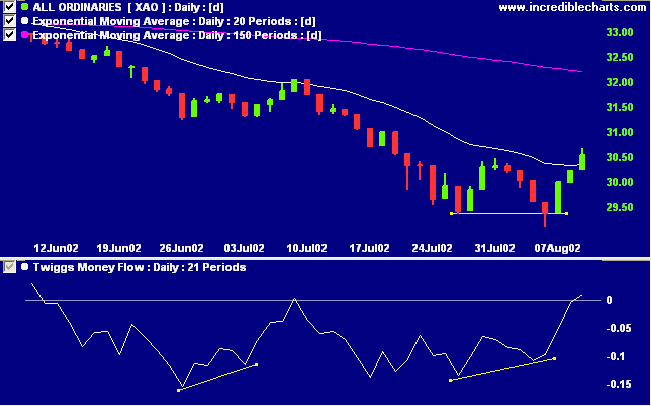 Lion Nathan [LNN]
LNN has formed a symmetrical triangle pattern over the last year. In the last week the stock has tested support and then immediately reversed to test the upper resistance level. Relative strength (price ratio: xao) is rising and Twiggs money flow has completed a trough above zero - a bullish signal. MACD is still undecided, hovering near zero.
Sector Analysis
Stage changes are highlighted in bold.
Energy [XEJ] - stage 4 (RS is rising)

Materials [XMJ] - stage 4

Industrials [XNJ] - stage 4 (RS is rising)

Consumer Discretionary [XDJ] - stage 4

Consumer Staples [XSJ] - stage 4 (RS is rising)

Health Care [XHJ] - stage 4

Property Trusts [XPJ] - stage 4 (RS is rising)

Financial excl. Property Trusts [XXJ] - stage 4 (RS is rising)

Information Technology [XIJ] - stage 4

Telecom Services [XTJ] - stage 4 (RS is rising)

Utilities [XUJ] - stage 1 (RS is rising)
Sectors: Relative Strength
A stock screen of the ASX 200 using % Price Move (1 month: +5%) shows the strongest sectors as:
Electric Utilities

Health Care Equipment

Casinos & Gaming
Conclusion
Short-term: Long. Slow Stochastic and MACD are above their respective signal lines.
Medium-term: Wait for the All Ords to signal a reversal.
Long-term: Wait for a bull-trend on the Nasdaq or S&P 500 (primary cycle).
Colin Twiggs
Thought for the Day:

Nobody can catch all the fluctuations.
- Edwin Lefevre.
---
Back Issues
Access the Trading Diary Archives.
---