---
Trading Diary
August 8, 2002
These extracts from my daily trading diary are intended to illustrate the techniques used in short-term trading and should not be interpreted as investment advice. Full terms and conditions can be found at
Terms of Use
.
The Dow completed a follow-through on the third day of the rally, rising 3% to close at 8712.
The primary cycle trend is downwards but a rally above 8806 will signal a reversal.
The Chartcraft NYSE Bullish % Indicator has given a bull alert signal, with a reading of 30% (August 7).
The Nasdaq Composite completed a follow-through, rallying 2.8% to close at 1316. The primary cycle is in a down-trend. A break above 1355 will signal a reversal.
The S&P 500 rallied 29 points to close at 905, another follow-=through day.
The primary cycle trends downwards. A break above 912 will signal a reversal.
The All Ordinaries rallied a further 25 points to close at 3024 on average volume. The primary cycle trends down.
The Stochastic has joined MACD (26,12,9) above its signal line. Twiggs money flow is improving.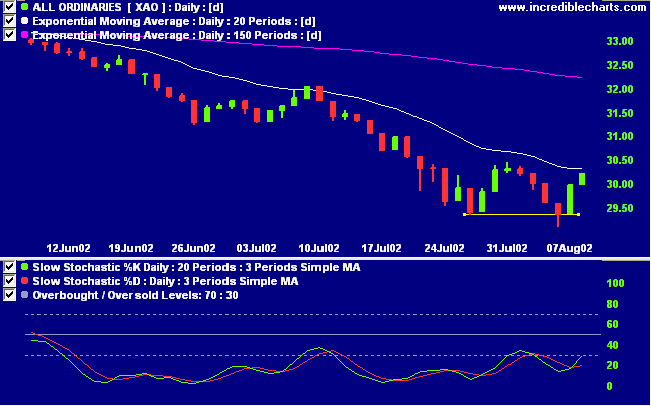 No chart analysis today. I have been re-visited by the 'flu and wouldn't trust anything I write to make much sense.
Conclusion
Short-term:
Long
. Slow Stochastic and MACD are above their respective signal lines.
Medium-term: Wait for the All Ords to signal a reversal.
Long-term: Wait for a bull-trend on the Nasdaq or S&P 500 (primary cycle).
Thought for the Day:

Common sense is not so common.
- Voltaire.
---
Back Issues
Access the Trading Diary Archives.
---