---
Trading Diary
August 6, 2002
These extracts from my daily trading diary are intended to illustrate the techniques used in short-term trading and should not be interpreted as investment advice. Full terms and conditions can be found at
Terms of Use
.
USA
The Dow rallied 2.85% to 8274 on strong volume.
The primary cycle trend is downwards but a rally above 8806 will signal a reversal.
The Chartcraft NYSE Bullish % Indicator has given a bull alert signal, with a reading of 30% (August 5).
The Nasdaq Composite rallied 4.4% to close at 1259. The primary cycle is in a down-trend. A break above 1355 will signal a reversal.
The S&P 500 rallied 25 points to close at 859.
The primary cycle trends downwards. A break above 912 will signal a reversal.
Cisco beats forecasts
The network equipment manufacturer reported fourth-quarter earnings of 14 cents per share excluding one-off charges, up from 2 cents a year earlier.
(more)
Stocks rally on expectation of further rate cuts
GE and Microsoft lead a broad rally as Lehman Bros. joins Goldman's call for further rate cuts.
(more)
Nestle makes another acquisition
Nestle SA is to acquire frozen food maker Chef America for $US 2.6 billion.
(more)
After a sharp fall in the morning, the All Ordinaries rallied to close down 23 points at 2938 on average volume. The index has broken below the 2940 support level. The primary cycle trends down.
MACD (26,12,9) joined the Slow Stochastic (20,3,3) below its signal line. Exponentially-smoothed money flow signals distribution.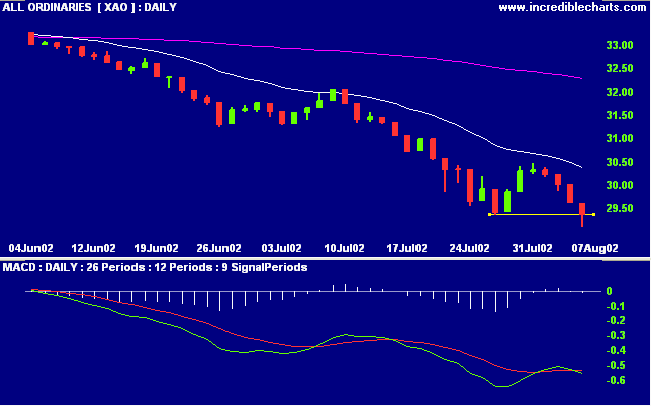 Aussie dollar tumbles
The Australian dollar shed 1.5 US cents to close at 52.66 US cents.
(more)
Wesfarmers harvest [WES]
Wesfarmers reported a 65% increase in annual profits after the takeover of the Howard Smith hardware chain.
(more)
WES is in a stage 4 decline. Relative strength (price ratio: xao) is rising, MACD is positive and Twiggs Money Flow improves after a small bullish divergence.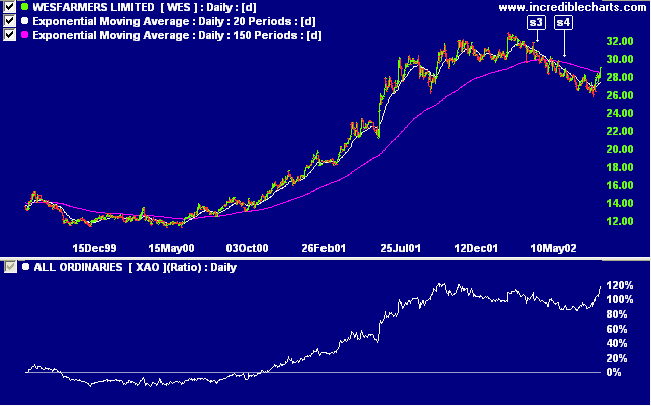 AurionGold [AOR]
AOR urges shareholders not to panic if Placer Dome walks away when its $1.5 billion bid expires.
(more)
Relative strength (price ratio: xao) and MACD are declining, while Twiggs Money Flow signals distribution.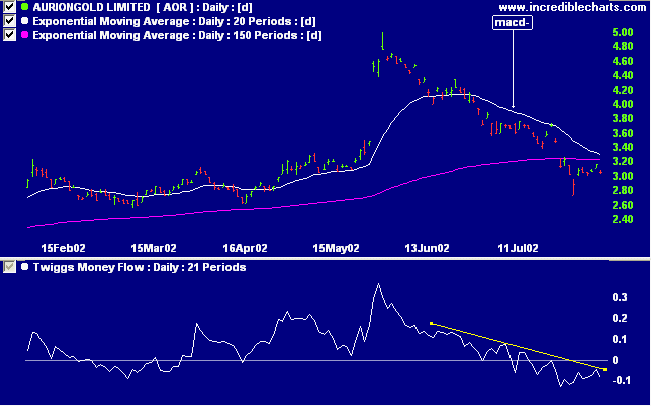 CSR [CSR]
CSR has been in a stage 3 "top" for more than a year. It has now broken out below a long-term symmetrical triangle. Relative strength (price ratio: xao) is positive but MACD is weak and Twiggs money flow has fallen sharply on the breakout.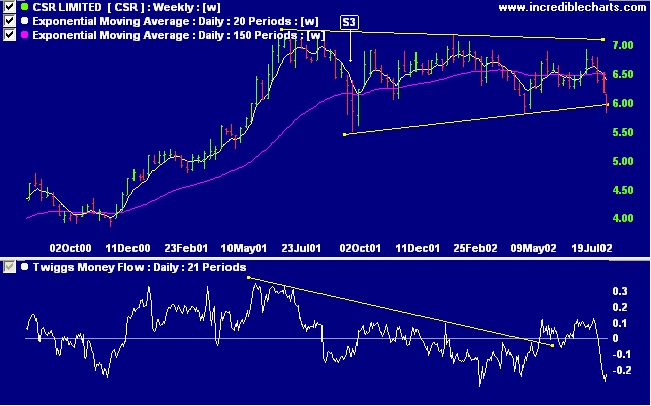 Conclusion
Short-term: Beware of new entries. Slow Stochastic and MACD signal short trades but the US market has rallied strongly.
Medium-term: Wait for the All Ords to signal a reversal.
Long-term: Wait for a bull-trend on the Nasdaq or S&P 500 (primary cycle).
Colin Twiggs
Thought for the Day:

When it is not necessary to make a decision, it is necessary not to make a decision.
- Lord Falkland (1610 - 1643).
---
Back Issues
Access the Trading Diary Archives.
---