---
Trading Diary
July 30, 2002
These extracts from my daily trading diary are intended to illustrate the techniques used in short-term trading and should not be interpreted as investment advice. Full terms and conditions can be found at
Terms of Use
.
USA
The Dow closed down marginally at 8680. Yesterday's
follow-through day
was confirmed by increased volume. The primary cycle trends downwards.
The Chartcraft NYSE Bullish % Indicator has a reading of 24% (July 29). See Bullish % Index for more details.
The Nasdaq Composite rallied a further two-thirds of 1%, closing at 1344. Yesterday's follow-through was confirmed by increased volume. Primary cycle is still in a down-trend.
The S&P 500 rose 4 points to close at 902.
The primary cycle trends downwards.
IBM goes shopping
IBM is to buy Pricewaterhouse Coopers consulting arm for $US 3.5 billion.
(more)
Washington pushes through corporate reform law
President Bush signed the new bill into law, including an accounting oversight board, tougher penalties for corporate fraud and additional funding for the SEC.
(more)
Market fall weighs on consumer confidence
The Conference Board consumer confidence index, completed on July 24th, records a drop of almost 10% from June.
(more)
The All Ordinaries rallied a further 46 points to close at 3030 on above-average volume. The first 2 days of a rally/correction tend to be unreliable because of initial exuberance. It is important that the next week hold above the 2940 support level.
The primary cycle trends down.
Slow Stochastic (20,3,3) is above its signal line. Exponentially-smoothed money is rising but still below zero.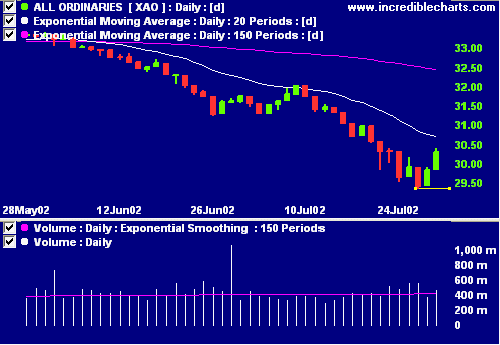 AMP gets AA- [AMP]
Standard & Poor's lowers the credit rating on key AMP subsidiaries, following the recent warning by AMP that it would not meet profit targets.
(more)
AMP is in a stage 4 decline with falling relative strength and MACD. Exponentially-smoothed money flow shows a bullish divergence.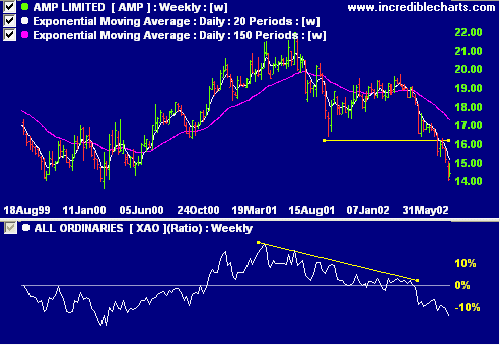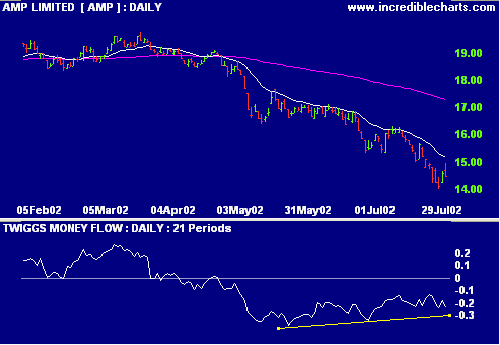 Cochlear [COH]
Major competitor Advanced Bionics withdraws its hearing aid after the FDA warning about meningitis.
(more)
I find it strange that the stock has surged on the news as COH must be facing similar risks to its US rival. Relative strength (price ratio: xao) and exponentially-smoothed money flow are improving but MACD looks weak.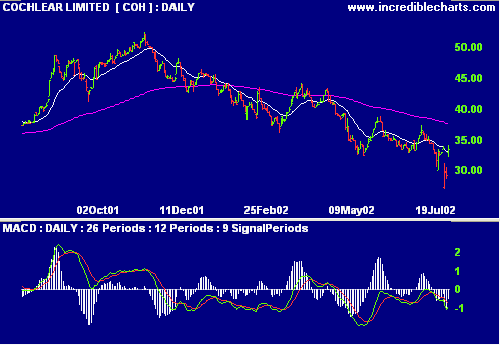 Conclusion
Short-term: Avoid new entries. The Slow Stochastic and MACD are on opposite sides of their respective signal lines. Keep stops tight.
Medium-term: Wait for the All Ords to signal a reversal.
Long-term: Wait for a bull-trend on the Nasdaq or S&P 500 (primary cycle).
Colin Twiggs
Thought for the Day:
When the going gets tough, the tough go shopping.

---
Back Issues
Access the Trading Diary Archives.
---