---
Trading Diary
July 29, 2002
These extracts from my daily trading diary are intended to illustrate the techniques used in short-term trading and should not be interpreted as investment advice. Full terms and conditions can be found at Terms of Use

.
The Dow rallied strongly, closing up 5.4% at 8711, completing a follow-through day if volume confirms the move. The primary cycle trends downwards while the secondary cycle has commenced a rally.
The Chartcraft NYSE Bullish % Indicator has a reading of 24% (July 26). See Bullish % Index for more details.
Leading companies - General Motors has commenced a secondary rally while Fedex (which has stronger relative strength) still trends down.
The Nasdaq Composite jumped 5.8% to close at 1335, another potential follow-through. Primary and secondary cycles are still in a down-trend.
The S&P 500 climbed 46 points to close at 898.
Primary cycle trends downwards but the secondary cycle has started a rally.
Qwest Communications
The Denver-based telecom company is to restate financial results for 1999 to 2001 due to improper accounting.
(more)
Institutional investors
Pension funds showed renewed confidence, selling bonds and buying stocks.
(more)
The All Ordinaries climbed 43 points to close at 2984 on average volume.
Trading Diary
The primary cycle and secondary cycles trend down. The next support level is 2828, from September 2001
Slow Stochastic (20,3,3) has crossed to above its signal line. Exponentially-smoothed money flow signals distribution.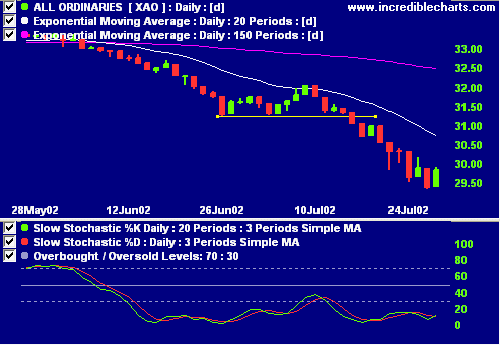 Falling exports, rising imports a worry
The monthly trade deficit widened to $1.1 billion as exports to weakened trading partners fall and the strong local economy continues to drive imports.
(more)
Telstra [TLS]
Telstra plans to spend $1 billion to attract broadband customers.
(more)
Relative strength (price ratio: xao) and MACD are rising but exponentially-smoothed money flow looks weak.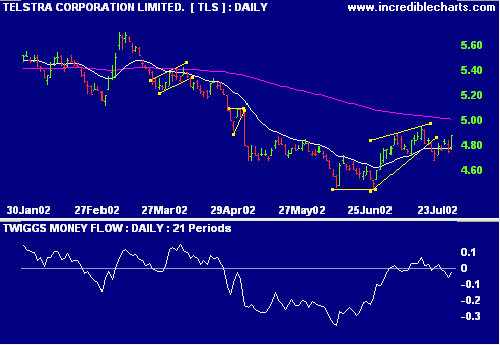 TAB [TAB]
The NSW totalisator and wagering business is forming a long-term triangle on the monthly chart, with improving relative strength (price ratio: xao). The rally during May 2002 was supported by a share buy-back of 9.8% of share capital so we will need to analyze subsequent performance.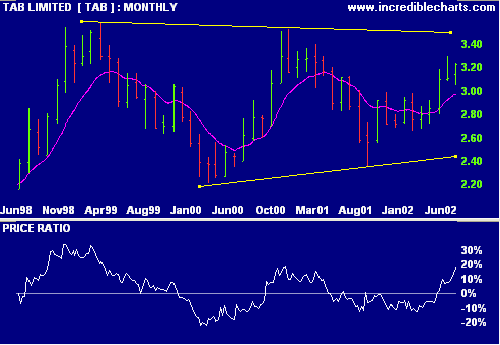 The weekly chart shows a breakout above another symmetrical triangle, supported by a rise in exponentially-smoothed money flow.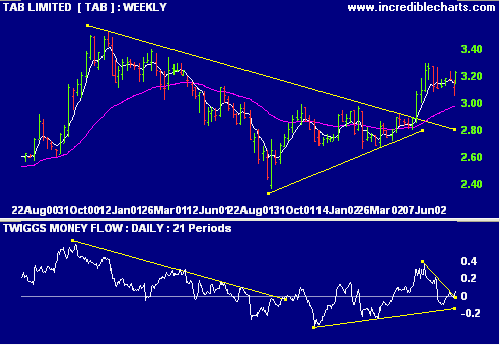 The daily chart shows a further triangle with a break downwards during last week's bear market decline. This has been followed by a rally to match the recent high. A break above this level, supported by strong volume, would have a target of 3.44, but MACD will need to reverse.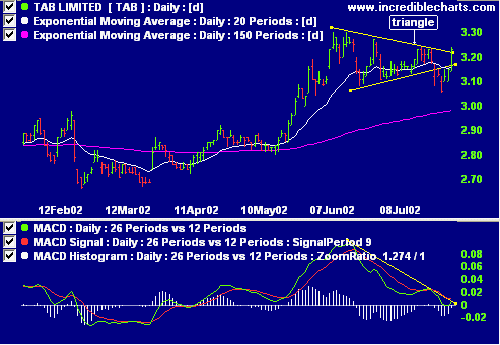 Conclusion
Short-term: Avoid new entries. The Slow Stochastic and MACD are on opposite sides of their respective signal lines. Keep stops tight.
Medium-term: Wait for the All Ords to signal a reversal.
Long-term: Wait for a bull-trend on the Nasdaq or S&P 500 (primary cycle).
Colin Twiggs
Thought for the Day:
In a narrow market, when prices are not getting anywhere to speak of but move in a narrow range, there is no sense in trying to anticipate what the next big movement is going to be - up or down.
- Edwin Lefevre.
---
Back Issues
Access the Trading Diary Archives.
---