---
Trading Diary
July 25, 2002
These extracts from my daily trading diary are intended to illustrate the techniques used in short-term trading and should not be interpreted as investment advice. Full terms and conditions can be found at
Terms of Use
.
USA
The Dow held on to yesterday's gains closing at 8186. The 8000 level may again act as support. Primary and secondary cycles trend downwards.
The Chartcraft NYSE Bullish % Indicator has a reading of 24% (July 24). See Bullish % Index for more details.
The Nasdaq Composite slipped, closing 3.9% down at 1240. Primary and secondary cycles are in a down-trend.
The S&P 500 closed down 0.5% at 838.
Primary and secondary cycles trend downwards.
AOL Time Warner
Stock in the media giant hit a 4-year low as the SEC probe into accounting practices continues.
(more)
Chip stocks slide
Taiwan Semiconductor, the largest chip-maker, cuts new capital expenditure as it faces a slow recovery.
(more)
The All Ordinaries recovered 26 points to close at 2991 on strong volume.
Trading Diary
The primary cycle and secondary cycles trend down. The next support level is 2828, from September 2001
Slow Stochastic (20,3,3) has joined the MACD (26,12,9), crossing below its signal line. Exponentially-smoothed money flow signals distribution.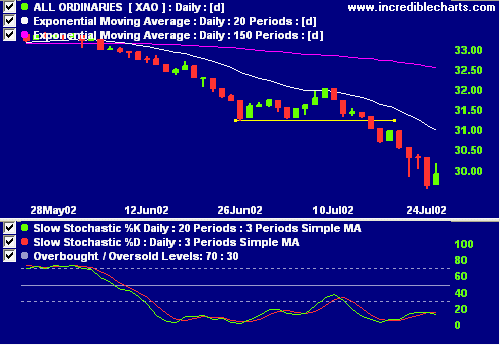 Macquarie Bank [MBL]
The bank's growth strategy is floundering in a weak market.
(more)
Relative strength (price ratio: xao), MACD and exponentially-smoothed money flow are all weak.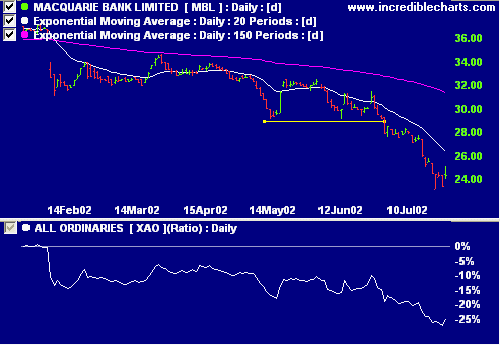 Publishing and Broadcasting Limited [PBL]
The PBL monthly chart shows a large falling wedge, a bullish signal, while relative strength (price ratio: xao) appears to be holding at current levels.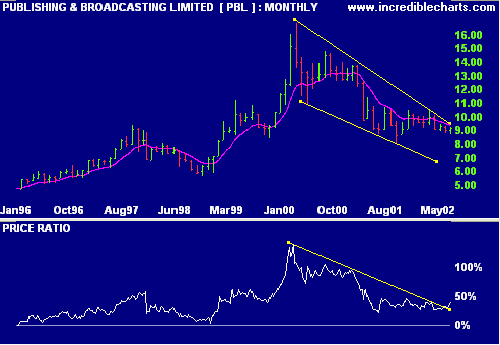 The weekly chart shows a smaller symmetrical triangle. MACD is strengthening.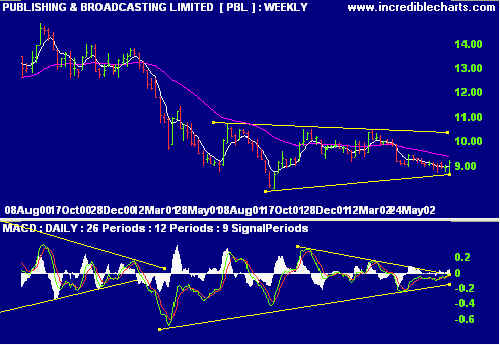 The daily chart shows a short-term double bottom but with weak volume confirmation - Twiggs Money Flow has turned down below zero.
Conclusion
Short-term: Short in selected areas. The Slow Stochastic and MACD are below their respective signal lines. Keep stops tight.
Medium-term: Wait for the All Ords to signal a reversal.
Long-term: Wait for a bull-trend on the Nasdaq or S&P 500 (primary cycle).
Colin Twiggs
Thought for the Day:
Nothing is illegal if a hundred businessmen decide to do it - Andrew Young.
---
Back Issues
Access the Trading Diary Archives.
---