---
Trading Diary
July 17, 2002
These extracts from my daily trading diary are intended to illustrate the techniques used in short-term trading and should not be interpreted as investment advice. Full terms and conditions can be found at
Terms of Use
.
The Dow rallied but then lost most of its gains to close up 0.8% at 8542 on strong volume. The next key support level is 8000. This is a bear market, with primary and secondary cycles trending down.
The Nasdaq Composite rallied 1.6% to 1397. Support is at 1357, from October 1998.
The primary and secondary cycles are in a down-trend.
The S&P 500 rose 6 points to close at 906, below the October 1998 support level of 923.
Primary and secondary cycles trend downwards.
The big blue recorded second-quarter earnings per share of 84 cents before restructuring charges of 81 cents per share. (more)
Intel's dilemna

Making ever-faster chips, the company is outpacing demand driven by more powerful software applications.
(more)
Coke fizzes
Second-quarter earnings were up 15%.
(more)
The All Ordinaries closed at 3073, more than 1% down, on above-average volume.
The primary cycle is in a bear trend. The secondary cycle has resumed its down-trend.
MACD (26,12,9) and Slow Stochastic (20,3,3) are below their respective signal lines.
Exponentially-smoothed Money Flow signals distribution.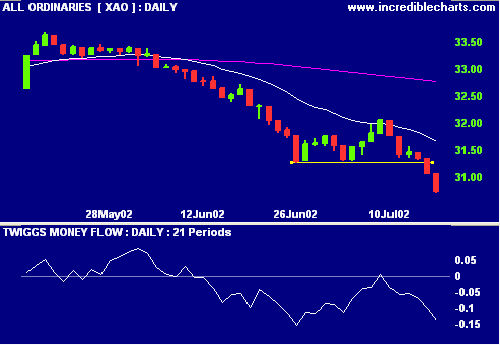 Consumer sentiment
July consumer sentiment is down a modest 2.7% at 109.9.
(more)
Woolworths [WOW]
The stock retreated on concerns that the group has exhausted it growth options.
(more)
Relative Strength (price ratio: xao) and MACD are weakening, while exponentially-smoothed Money Flow is still positive.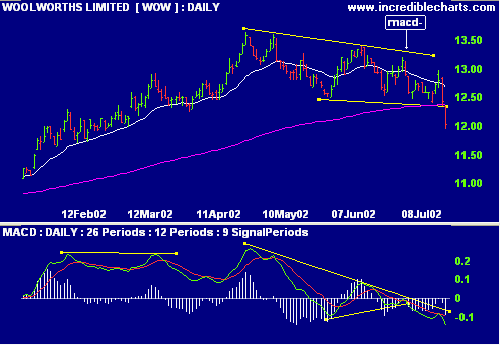 Brambles [BIL]
Brambles stock slumps on concerns over their US pallet business.
(more)
Relative Strength (price ratio: xao) and MACD are weak but exponentially-smoothed Money Flow shows a bullish divergence.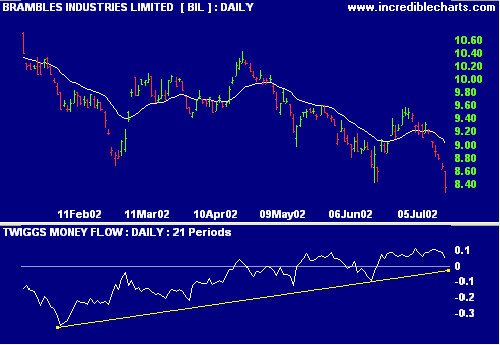 AurionGold [AOR]
Interest in gold stocks, particularly AOR, is waning.
Relative Strength (price ratio: xao) and exponentially-smoothed Money Flow are weakening, while MACD is negative.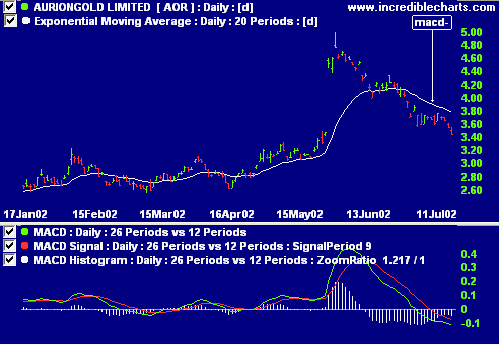 Conclusion
Short-term:
Short
in selected sectors. The Slow Stochastic and MACD are below their respective signal lines.
Medium-term: Wait for the All Ords to signal a reversal.
Long-term: Wait for a bull-trend on the Nasdaq or S&P 500 (primary cycle).
Colin Twiggs
Thought for the Day:
A man may know what to do and lose money - if he doesn't do it quickly enough. - Edwin Lefevre
---
Back Issues
Access the Trading Diary Archives.
---