---
Trading Diary
July 16, 2002
These extracts from my daily trading diary are intended to illustrate the techniques used in short-term trading and should not be interpreted as investment advice. Full terms and conditions can be found at
Terms of Use
.
The Dow lost 1.9% to close at 8473 on strong volume. The next key support level is 8000, from September 2001.
This is a bear market, with primary and secondary cycles trending down.
The Nasdaq Composite rallied in the morning before closing down 0.5% at 1375, approaching support at 1357, from October 1998.
The primary and secondary cycles are in a down-trend.
The S&P 500 fell 17 points to close at 900, below the October 1998 support level of 923.
Primary and secondary cycles trend downwards.
Second-quarter earnings missed recently lowered forecasts and the chip-maker is to cut 4000 jobs because of weak PC demand. (more)
Apple

The PC-maker reported June-quarter earnings per share down almost 50%, matching forecasts.
(more)
Greenspan
The Fed chairman's testimony fails to lift the markets.
(more)
The All Ordinaries closed below the 3130 support level at 3107, down 28 points on normal volume.
The primary cycle is in a bear trend. The secondary cycle has resumed its down-trend.
MACD (26,12,9) has joined Slow Stochastic (20,3,3) below its signal line.
Exponentially-smoothed Money Flow signals distribution.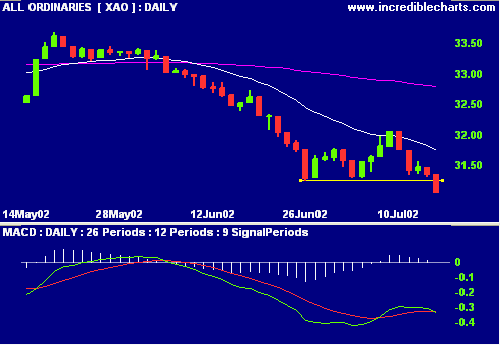 WMC angers analysts [WMC]
WMC issues an earnings warning, due to increased production downtime at Olympic Dam copper mine, shortly after analysts were given an upbeat tour of the mine.
(more)
Relative Strength (price ratio: xao) and MACD are weak, while exponentially-smoothed Money Flow still signals accumulation.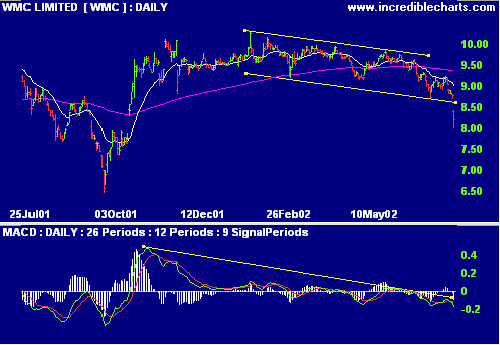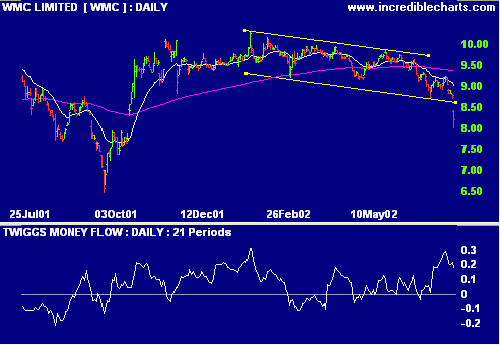 National Foods [NFD]
After breaking above resistance at 3.30, NFD has traded in a narrow range.
Relative Strength (price ratio: xao) is strong but exponentially-smoothed Money Flow and MACD show bearish divergences.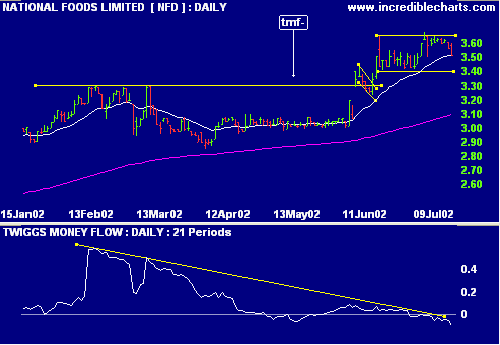 TAB Limited [TAB]
TAB has formed a pennant (lower highs and higher lows) after a strong up-trend. Relative Strength (price ratio: xao) is rising, exponentially-smoothed Money Flow is improving, while MACD has swung up while above zero.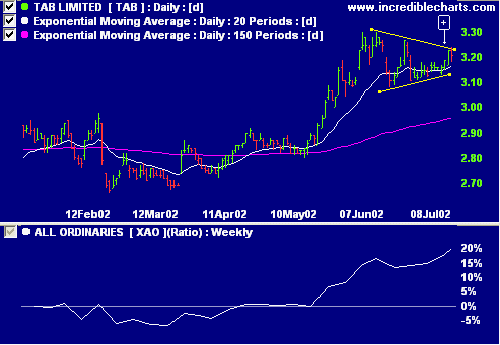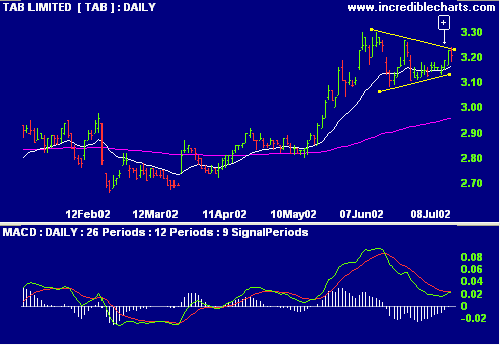 Conclusion
Short-term:
Short
in selected sectors. The Slow Stochastic and MACD are below their respective signal lines.
Medium-term: Wait for the All Ords to signal a reversal.
Long-term: Wait for a bull-trend on the Nasdaq or S&P 500 (primary cycle).
Colin Twiggs
Thought for the Day:
If you can keep your head. When all about you are losing theirs. - Rudyard Kipling
---
Back Issues
Access the Trading Diary Archives.
---