---
Trading Diary
July 15, 2002
These extracts from my daily trading diary are intended to illustrate the techniques used in short-term trading and should not be interpreted as investment advice. Full terms and conditions can be found at
Terms of Use
.
The Dow dropped sharply in the morning session but rallied to close only 0.5% down at 8639 on strong volume.
This is a bear market, with primary and secondary cycles trending down.
The late rally on the Nasdaq Composite was stronger with the index closing up 0.66% at 1382.
The primary and secondary cycles are in a down-trend.
The S&P 500 imitated the Dow, closing down 4 points at 917.
Primary and secondary cycles trend downwards.
Intel, IBM and Microsoft will report their second-quarter results this week, with Intel adding 6% in anticipation. (more)
Pfizer - Pharmacia

The largest US drug company is to buy Pharmacia for $US 60 billion, boosting research and development and giving Pfizer control of Celebrex and Bextra arthritis medication.
(more)
Breaking from the traditional method of accounting disclosure, Coca Cola will expense stock options from the fourth quarter. (more)
Investing in bonds
Some analysts are punting bonds, discounting the risk of an interest rate rise. (more)
Euro = $US 1.00
The euro reaches parity with the US dollar.
(more)
The All Ordinaries closed down 12 points at 3135 on weak volume.
The primary cycle is in a bear trend,

secondary cycle has completed a reversal but has yet to follow through with a new high

. 3130 is proving a significant support level.
Slow Stochastic (20,3,3) is below its signal line.
Exponentially-smoothed Money Flow signals distribution.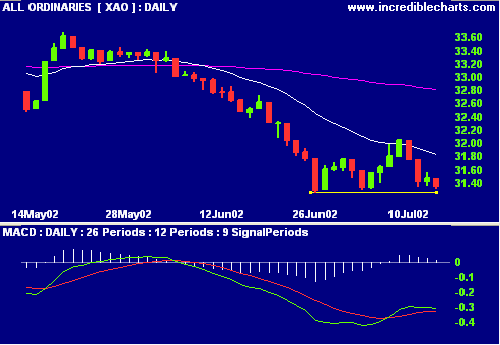 Woolworths experience a surge in fourth-quarter sales, and raise annual earnings forecasts. (more)
A falling wedge is a bullish signal. Relative Strength (price ratio: xao) and exponentially-smoothed Money Flow are positive but MACD shows weakness.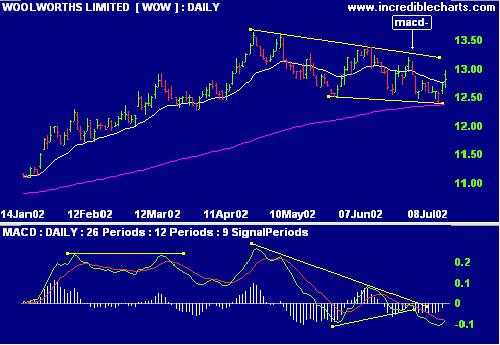 The Australian dollar closed above 56 US cents, as the US currency weakens.
(more)
Preston Resources [PSR]
The West Australian nickel miner has agreed to purchase a 1 million ounce Malaysian gold project. (more)
PSR has been suspended from quotation since 25 October 1999.
Goodman Fielder [GMF]
GMF has reached a 3-year high, possibly due to the share buy-back. Relative Strength (price ratio: xao) and exponentially-smoothed Money Flow are strong, while MACD is neutral.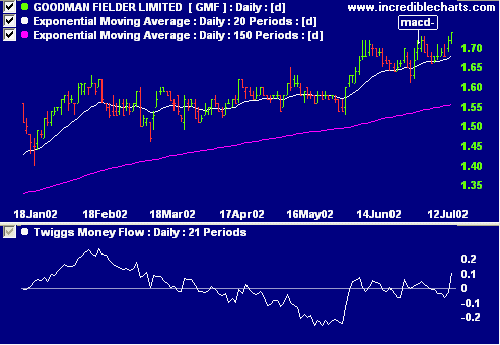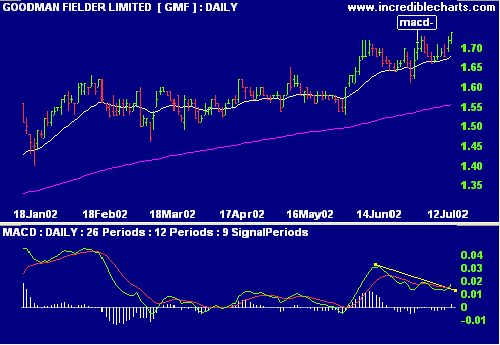 United Energy [UEL]
UEL has crossed to above its 150-day moving average. Relative Strength (price ratio: xao) is below zero but improving, while MACD is positive and exponentially-smoothed Money Flow signals accumulation.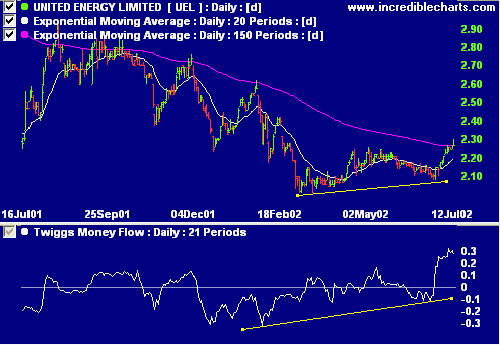 Short-term: Avoid new entries. The Slow Stochastic is below its signal line while MACD is above.
Medium-term: Wait for the All Ords to signal a reversal.
Long-term: Wait for a bull-trend on the Nasdaq or S&P 500 (primary cycle).
Thought for the Day:

It takes a wise man to sell in a boom. Any fool can sell in a recession. - V.J.Naipaul
---
Back Issues
Access the Trading Diary Archives.
---