---
Trading Diary
July 12, 2002
These extracts from my daily trading diary are intended to illustrate the techniques used in short-term trading and should not be interpreted as investment advice. Full terms and conditions can be found at
Terms of Use
.
The Dow continues its fall, closing 1.3% down on strong volume.
This is a bear market, with primary and secondary cycles trending down.
The Nasdaq Composite opened strongly but later weakened to close almost unchanged at 1373.
The primary and secondary cycles are in a down-trend.
The S&P 500 lost 6 points to close at 921.
Primary and secondary cycles trend downwards.
The University of Michigan consumer sentiment index falls to 86.5 in July, from 92.4 in June and near to the bottom of 81.8 last September. (more)
Investment bank closes

Robertson Stephens, formerly the 8th biggest US equity underwriter is to shut its doors after the owner FleetBoston Financial fails to find a buyer.
(more)
Juniper Networks

The network gear maker reports second-quarter earnings ahead of expectations.
(more)
The All Ordinaries formed an inside day, closing up 5 points at 3147 on weak volume.
The primary cycle is in a bear trend,

secondary cycle has completed a reversal but has yet to follow through with a new high

.
Slow Stochastic (20,3,3) is below its signal line.
Exponentially-smoothed Money Flow signals distribution.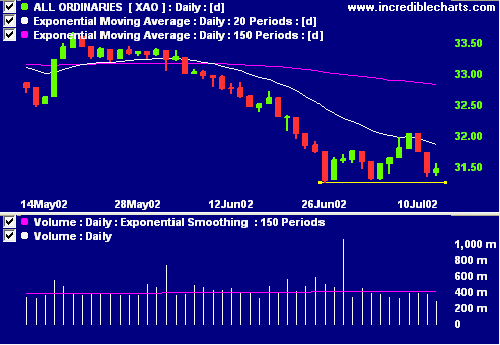 Former tech high-flier, telecom engineering company OpenTel has called in the voluntary administrators. (more)
The Australian dollar fell below 56 US cents, shaking out some of the bulls.
(more)
Toll Holdings [TOL]
TOL has completed a broad head and shoulders reversal pattern with a calculated target of $25.50. Relative Strength (price ratio: xao) is weakening, while MACD and exponentially-smoothed Money Flow show bearish divergences.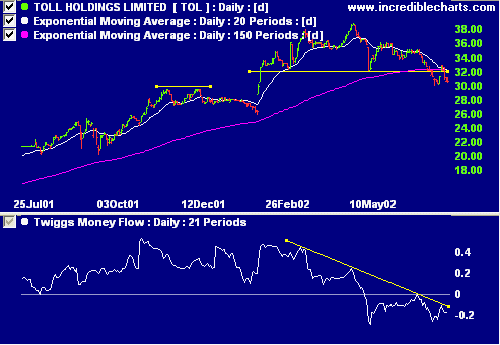 AurionGold [AOR]
Relative Strength (price ratio: xao) and MACD are weak but exponentially-smoothed Money Flow continues to signal accumulation.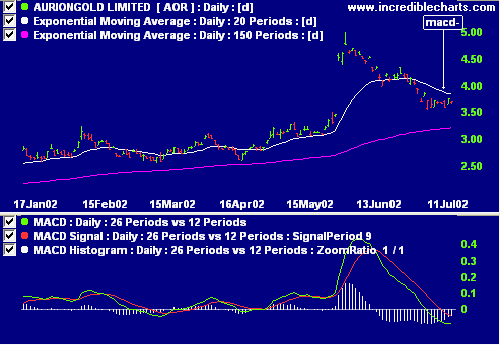 Sector Analysis
Stage changes are highlighted in red.
Energy [XEJ] - stage 1

Materials [XMJ] -

stage 3 (RS is rising

Industrials [XNJ] - stage 4

Consumer Discretionary [XDJ] - stage 4

Consumer Staples [XSJ] -

stage 4

Health Care [XHJ] - stage 4

Property Trusts [XPJ] - stage 2

Financial excl. Property Trusts [XXJ] - stage 3

Information Technology [XIJ] - stage 4

Telecom Services [XTJ] -

stage 1 (RS is rising)

Utilities [XUJ] -

stage 1

The ASX has ceased to provide the old ASX indices.
Sectors: Relative Strength
A stock screen of equities using % Price Move (1 month: +10%, 1 year: +30%) is dominated by Gold Explorers (Producers are notably absent), Oil & Gas Producers and Mining Explorers.
Short-term: Avoid new entries. The Slow Stochastic is below its signal line.
Medium-term: Wait for the All Ords to signal a reversal.
Long-term: Wait for a bull-trend on the Nasdaq or S&P 500 (primary cycle).
Thought for the Day:


It was the same with all. They would not take a small loss at first but had held on, in the hope of a recovery that would "let them out even".
And prices had sunk and sunk until the loss was so great that it seemed only proper to hold on, if need be a year, for sooner or later prices must come back. But the break "shook them out" and prices just went so much lower because so many people had to sell, whether they would or not.

-- Edwin Lefevre.
---
Back Issues
Access the Trading Diary Archives.
---