---
Trading Diary
July 10, 2002
These extracts from my daily trading diary are intended to illustrate the techniques used in short-term trading and should not be interpreted as investment advice. Full terms and conditions can be found at
Terms of Use
.
The Dow fell more than 3% to close at 8813 on strong volume, below the 9000 support level.
This is a bear market, with primary and secondary cycles trending down.
The Nasdaq Composite fell a further 2.5% to close at 1346, below September 2001 levels.
The primary and secondary cycles are in a down-trend.
The S&P 500 lost 32 points to close at 920, the lowest level since January '98.
Primary and secondary cycles trend downwards.
Safe havens clobbered
Safe haven stocks, especially drug companies, were sold down sharply. New entries to the reshuffled S&P 500 (EBay, Goldman Sachs, UPS and Prudential) are amongst the few gainers.
(more)
Qwest probe
THe US Attorney's office has begun criminal investigations into accounting at Qwest Communications, the long distance telephone company.
(more)
Gold dip

Gold and silver decline against a more stable dollar, August gold futures close at $US 315.10.
(more)
The All Ordinaries closed 30 points down at 3175 on average volume. It now appears unlikely that the double-bottom pattern will reach its target.
The primary cycle is in a bear trend,
secondary cycle has completed a reversal
.
MACD (26,12,9) and Slow Stochastic (20,3,3) are above their signal lines.
Exponentially-smoothed Money Flow has retreated to negative territory.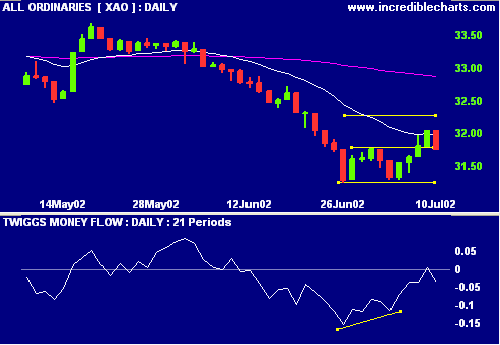 CSR makes US acquisition [CSR]
CSR pays $US 540 million for US-based aggregate company Kiewit Materials.
(more)
CSR has been in a stage 3 top since September last year. Relative Strength (price ratio: xao) and exponentially-smoothed Money Flow are improving, while MACD confirms the up-trend (higher low, higher high) on the price chart.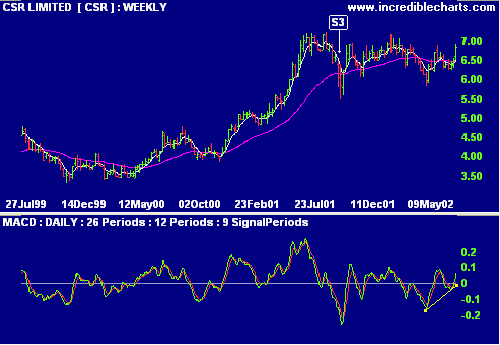 Peptech [PTD]
Peplin Biotech receive a US patent for their Tumor Necrosis Factor (TNF) antibodies.
(more)

Relative Strength (price ratio: xao) and MACD are improving, while exponentially-smoothed Money Flow has swung to accumulation.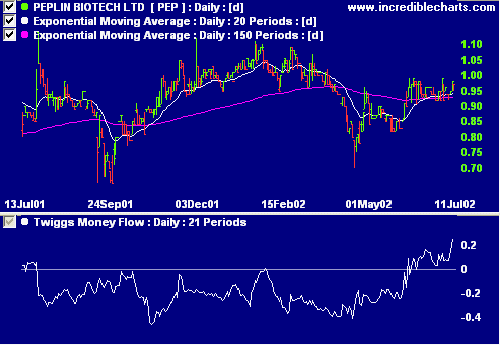 Billabong [BBG]
BBG has entered a stage 3 top in the form of a declining wedge.
Relative Strength (price ratio: xao) has failed to make further progress since February and MACD is declining, but exponentially-smoothed Money Flow signals accumulation.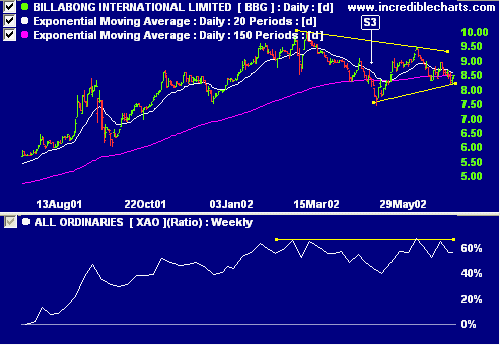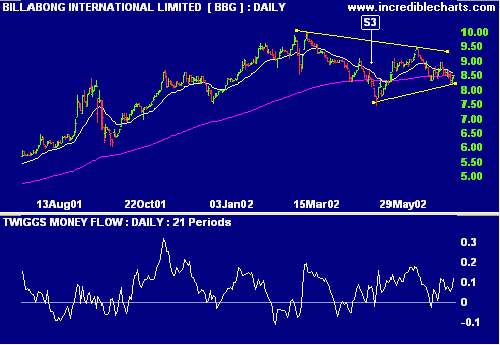 Conclusion
Short-term: The Slow Stochastic and MACD are above their respective signal lines. Exercise extreme caution because of the weakness in US markets.
Medium-term: Wait for the All Ords to signal a reversal.
Long-term: Wait for a bull-trend on the Nasdaq or S&P 500 (primary cycle).
Colin Twiggs
Thought for the Day:
When the going gets tough, the tough go shopping. - Unknown.
---
Back Issues
Access the Trading Diary Archives.
---