---
Trading Diary
July 8, 2002
These extracts from my daily trading diary are intended to illustrate the techniques used in short-term trading and should not be interpreted as investment advice. Full terms and conditions can be found at
Terms of Use
.
The Dow retreated more than 1% to close at 9274 on above-average volume, failing to complete the double bottom pattern.
This is a bear market, with primary and secondary cycles trending down.
The Nasdaq Composite fell almost 3% to 1405.
The primary and secondary cycles are in a down-trend.
The S&P 500 eased 12 points to close at 976.
Primary and secondary cycles trend downwards.
The drug-maker admits to recording $US 12.4 billion in revenue that did not belong to it. Net income is not affected. (more)
EBay bids for PayPal
Ebay agrees to buy PayPal, the online payment service, for $US 1.5 billion.
The All Ordinaries rallied to 31.98 before retreating to 31.81 on low volume.
The break above 31.80 completes a short double-bottom pattern with a target of 32.30.
Primary cycle is in a bear trend,

secondary cycle has completed a reversal

.
MACD (26,12,9) has joined Slow Stochastic (20,3,3) above its signal line.
Exponentially-smoothed

Money Flow shows a slight bullish divergence.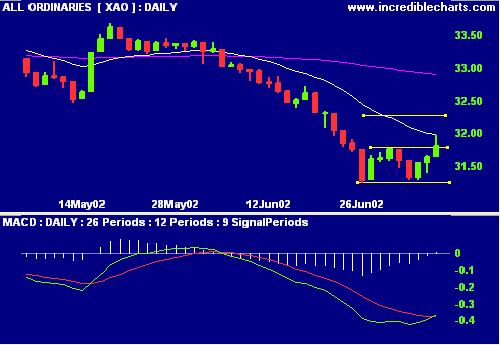 NAB [NAB]
More evidence has emerged that NAB has Abbey National in its sights. (more)
Relative Strength (price ratio: xao) is positive but exponentially-smoothed Money Flow signals distribution and MACD shows a bearish divergence.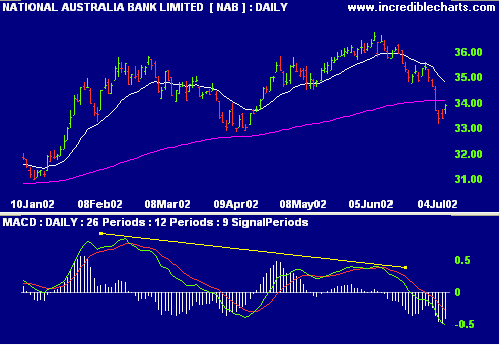 Newcrest CFO quits [NCM]
CFO Gary Scanlan quits the gold producer with immediate effect.
(more)
Relative Strength (price ratio: xao) and MACD are weakening while exponentially-smoothed Money Flow signals distribution.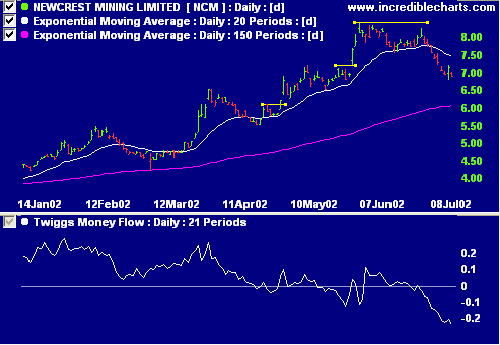 Conclusion
Short-term: We have a signal to go long - the Slow Stochastic and MACD are above their respective signal lines. Exercise extreme caution because of subsequent weakness in the US market.
Medium-term: Wait for the All Ords to signal a reversal.
Long-term: Wait for a bull-trend on the Nasdaq or S&P 500 (primary cycle).
Colin Twiggs
Quote for the Day
"Decisions in America are based solely on how much money is made, and not on the question of how much health, morals or the environment suffer.
The most absurd thing is that, in defecting from Czechoslovakia (in 1975), I only exchanged one system that suppresses freedom of opinion for another."
Martina Navratilova (translated from Die Ziet)
---
Back Issues
Access the Trading Diary Archives.
---