---
Trading Diary
July 3, 2002
These extracts from my daily trading diary are intended to illustrate the techniques used in short-term trading and should not be interpreted as investment advice. Full terms and conditions can be found at
Terms of Use
.
The Dow again tested the 9000 support level before rallying to close 0.5% up at 9054 on above-average volume.
This is a bear market, with primary and secondary cycles trending down.
The Nasdaq Composite gained 1.6% to close at 1380.
The primary and secondary cycles are in a down-trend.
The S&P 500 rose 5 points to 953.
Primary and secondary cycles trend downwards.
Smaller telecom player IDT makes a $US 5 billion bid for MCI and other assets of WorldCom. (more)
Home Depot
The retailer's shares surge 9% as a heat wave boosts sales of air-conditioners.
(more)
Gold
I spoke with Rod Holden from the
Gold Report
yesterday. He is still bullish on gold and believes that it will rally strongly in 2 to 3 months.
Vivendi Universal names new CEO
Jean-Rene Fourtou says his first task is to avoid a "liquidity crisis".
(more)
The All Ordinaries finished 26 points lower at 3133 on average volume.
Primary and secondary cycles are in a bear trend.
Slow Stochastic (20,3,3) has moved back below its signal line.
Exponentially-smoothed
Money Flow is below zero, signaling distribution.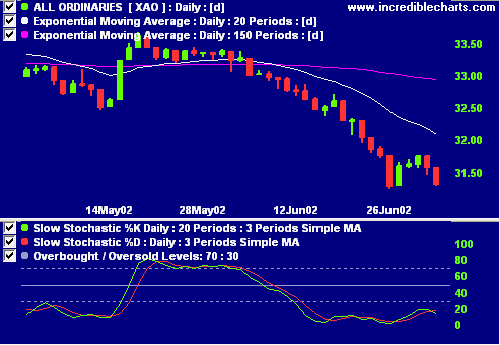 Dollar dips below 56 US cents
The dip was sparked by speculation that NAB is preparing to acquire troubled UK bank, Abbey National.
(more)
Interest rates
The Reserve Bank leaves interest rates unchanged. (more)
National Foods [NFD]
Speculation that New Zealand-based Fonterra is preparing for a takeover bid pushed NFD to a record close.
(more)
Relative Strength (price ratio: xao) and MACD are bullish while
exponentially-smoothed Money Flow is improving.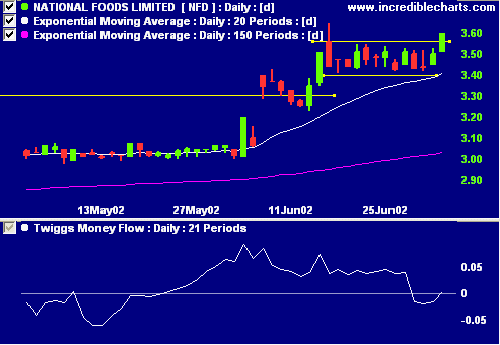 Australian Gas Light [AGL]
AGL fell sharply on resumption of trading but made a partial recovery, closing near the day's high. The candlestick hammer signals a reversal.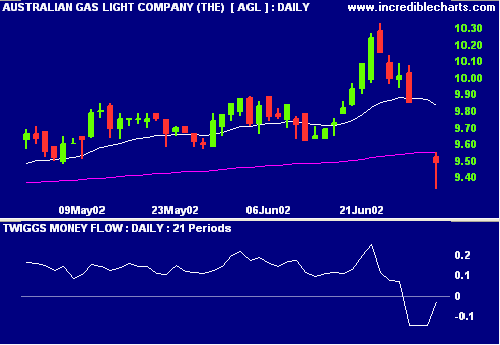 A reader sent me a chart of AGL depicting channel lines. I am not a big user of channel lines myself but I must admit that they have worked very well on AGL over the last 12 months.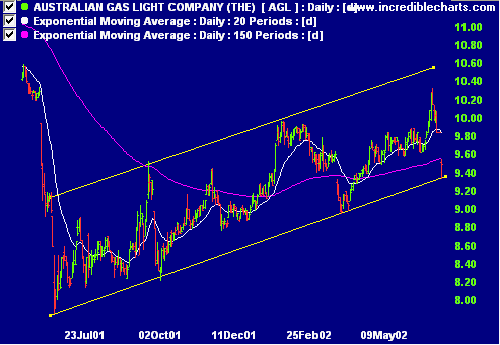 Alesco [ALS]
ALS has broken through resistance at $3.90 and is testing further resistance levels at $3.95 to $4.00. Relative Strength (price ratio: xao) and exponentially-smoothed Money Flow are strong, while MACD is bullish. Caution: volumes are low.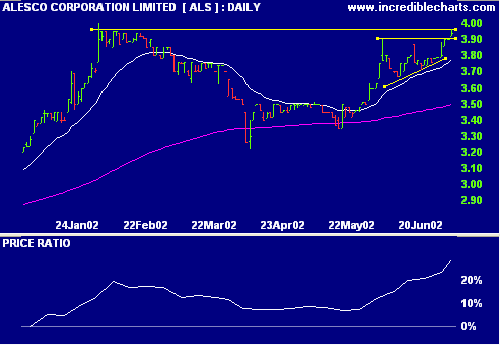 Short-term:

Short

- the Slow Stochastic and MACD are below their signal lines.
Medium-term: Wait for the All Ords to signal a reversal.
Long-term: Wait for a bull-trend on the Nasdaq or S&P 500 (primary cycle).
Colin Twiggs
---
Back Issues
Access the Trading Diary Archives.
---