---
Trading Diary
July 1, 2002
These extracts from my daily trading diary are intended to illustrate the techniques used in short-term trading and should not be interpreted as investment advice. Full terms and conditions can be found at
Terms of Use
.
The Dow appears headed for another test of the 9000 support level, closing down 1.4% at 9109 on above-average volume.
This is a bear market, with

primary and secondary cycles trending down.
The Nasdaq Composite plummeted 4% to close just above last September lows at 1403.
The primary and secondary cycles are in a down-trend.
The S&P 500 is again testing the September 2001 support level, closing down 21 points at 968.
Primary and secondary cycles trend downwards.
WorldCom
Trading resumed in the troubled telcom, with panic selling pushing volumes to record levels.
(more)
3M on track
3M Co. will beat second-quarter earnings forecasts, citing strong sales growth, especially in Asia. (more)
Chairman and CEO Jean-Marie Messier is to be replaced by the board after record losses. Moody's Investor Services cut Vivendi debt to junk grade. (more)
The All Ordinaries rallied 13 points up to 3176 but on low volume.
Primary and secondary cycles are in a bear trend.
Slow Stochastic (20,3,3) is above its signal line.
Chaikin Money Flow is below zero, signaling distribution.
Telstra [TLS]
Faced with flat growth at home, Telstra plans to spend $5 billion on acquisitions in Asia.
(more)
Relative Strength (price ratio: xao) and Chaikin Money Flow
are improving while
MACD shows a bullish divergence.
The double bottom pattern completed Friday has a target of $4.98 but volume confirmation is a bit suspect with above-average volume on the second trough and a low close on the completion day.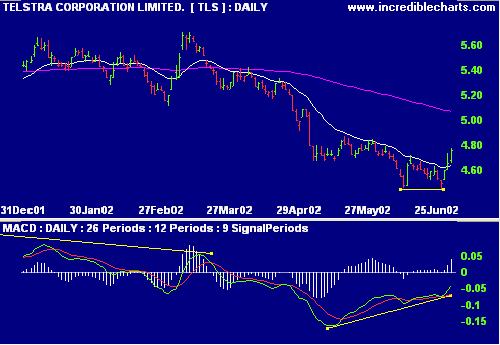 Macquarie Bank [MBL]
MBL recorded a new 1-year low, closing at $27.98.
Relative Strength (price ratio: xao) and Chaikin Money Flow are weak. The bullish divergence on MACD is a distortion caused by the large gap [G] on February 6th.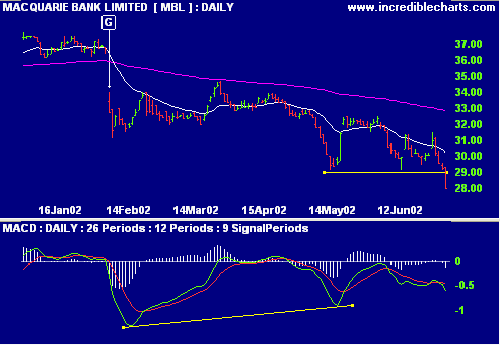 Note the distortion caused by an unusually sharp down move on Chaikin Money Flow day [1]. The indicator ticks up sharply 22 days later, on day [2], when data from day [1] is dropped. The second Money Flow indicator uses an exponentially-smoothed formula for more accurate results. Please ignore the name - I have not yet decided what to call it.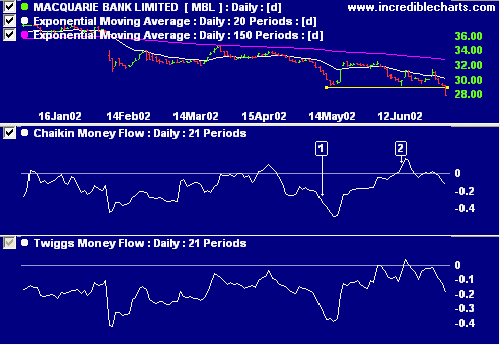 Sectors: Gold


Newcrest Mining is one of s

everal gold producers entering a secondary correction

.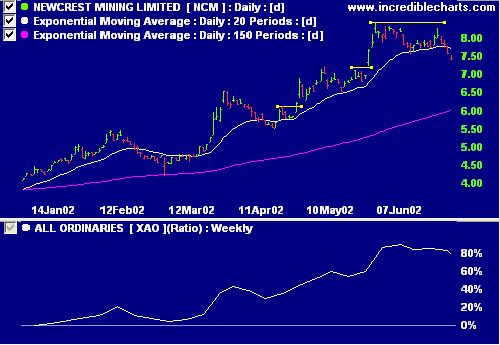 AurionGold [AOR] has declined after directors rejected the Placer Dome offer.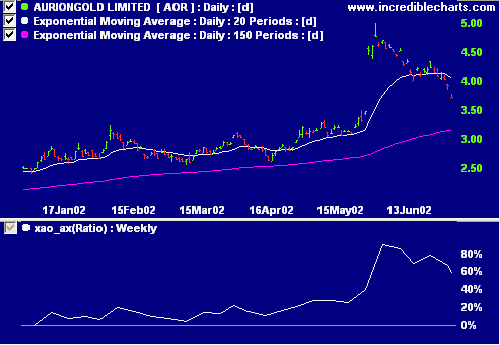 Lihir Gold [LHG] will complete a major double top if it descends below $1.15.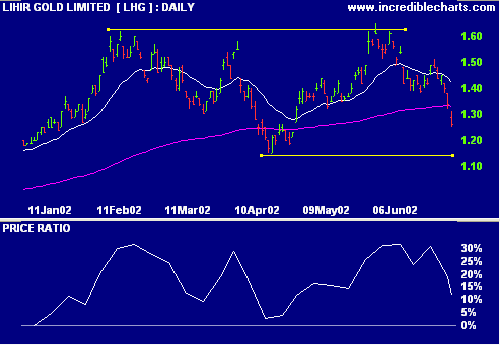 Conclusion
Short-term: Avoid long and short - the Slow Stochastic is above its signal line.
Medium-term: Wait for the All Ords to signal a reversal.
Long-term: Wait for a bull-trend on the Nasdaq or S&P 500 (primary cycle).
Colin Twiggs
---
Back Issues
Access the Trading Diary Archives.
---