---
Trading Diary
June 25, 2002
These extracts from my daily trading diary are intended to illustrate the techniques used in short-term trading and should not be interpreted as investment advice. Full terms and conditions can be found at
Terms of Use
.
The slide continues, with the Dow falling 1.7% to close at 9126 on above-average volume.
This is a bear market, with

primary and secondary cycles trending down.
The Nasdaq Composite dropped 2.5% to close at 1423, testing September 2001 support levels.
The primary and secondary cycles trend downwards.
The S&P 500 lost 16 points to close at 976, approaching support at 960.
Primary and secondary cycles continue downwards.
After market hours, GE announced that second quarter earnings will match forecasts.
(more)
Procter & Gamble leads decline
Market favorite P&G lost 5%, making the biggest contribution to the Dow's fall.
(more)
The All Ordinaries dropped 9 points to close at 3177 on strong volume.
The primary and secondary cycles are in a bear trend.
MACD (26,12,9) and Slow Stochastic (20,3,3) are below their signal lines.
Chaikin Money Flow signals distribution.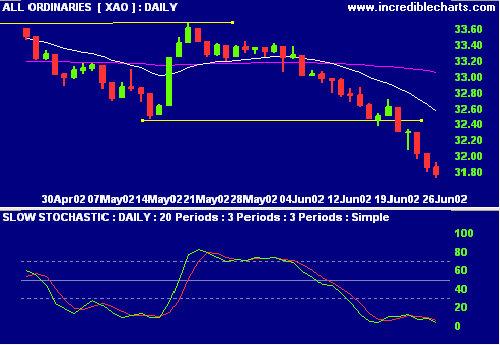 Macquarie Bank [MBL]
MBL will collect $50 million in fees from the successful $5.6 billion bid for Sydney Airport. (more)
Relative Strength (price ratio: xao) is rising, while MACD and Chaikin Money Flow show bullish divergences.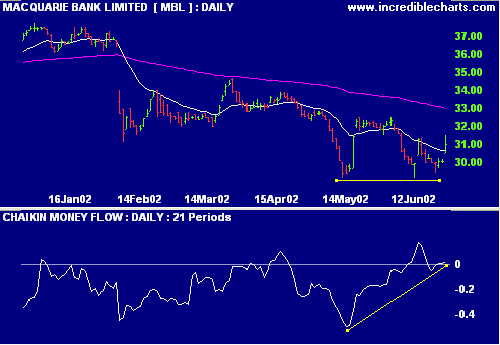 Looksmart boardroom turmoil [LOK]
Evan Thornley steps down as CEO but remains as Chairman, while 3 other directors quit. (more)
MACD and Relative Strength (price ratio: xao) are weak, while Chaikin Money Flow is positive.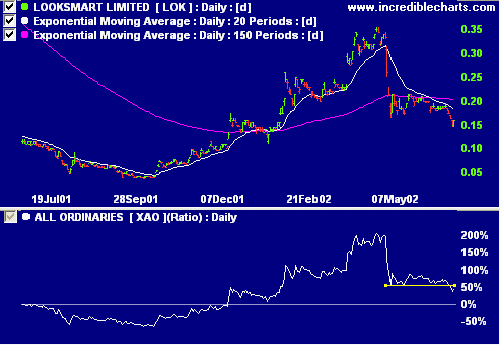 Mayne Group [MAY]
Mayne seeks to expand its healthcare division through the acquisition of Queensland Medical Laboratory. (more)
MACD and Relative Strength (price ratio: xao) appear weak, while

Chaikin Money Flow has returned to positive territory

.
Chaikin Money Flow has one major flaw to watch out for: Note the sharp fall [1] on April 24th, when price gapped downward. 21 days later at [2], when the downward gap is dropped from the indicator window, Chaikin MF rises steeply. Indicators calculated with a simple moving average have this propensity to "bark twice" - first when the data "arrives" and later when it "leaves".
I have been working on an improvement to eliminate this flaw.
Conclusion
Short-term:
Short
in selected sectors - MACD and slow Stochastic are below their signal lines.
Medium-term: Wait for the All Ords to signal a reversal.
Long-term: Wait for a bull-trend on the Nasdaq or S&P 500 (primary cycle).
Colin Twiggs
Please forward this to your friends and colleagues.
---
Back Issues
Access the Trading Diary Archives.
---