---
Trading Diary
June 21, 2002
These extracts from my daily trading diary are intended to illustrate the techniques used in short-term trading and should not be interpreted as investment advice. Full terms and conditions can be found at
Terms of Use
.
The Dow fell sharply, closing 1.9% down at 9253 on very strong volume.
Primary and secondary cycles trend downwards, in a bear market.
The Nasdaq Composite dropped 1.6% to 1440, close to the 1400/1425 support level from September last year.
The primary and secondary cycles are in a down-trend.
The S&P 500 lost a further 17 points to close at 989 - approaching the 960 target from the double-top pattern completed May 6th.
Primary and secondary cycles trend downwards.
Fed unlikely to raise rates
The economic recovery has been disappointing and the Fed is unlikely to raise rates in the next few months. There is even talk of a further rate cut.
(more)
P&G wins FDA approval to market Prilosec, an over-the-counter heartburn remedy, without prescription.
(more)
The Paris-based media giant is struggling under a $US 32 billion debt burden.
(more)
The All Ordinaries followed the US markets lower, closing at 3205 on average volume.
Primary and secondary cycles are in a bear trend.
MACD (26,12,9) and Slow Stochastic (20,3,3) are below their signal lines.
Chaikin Money Flow reversed most of yesterday's gains.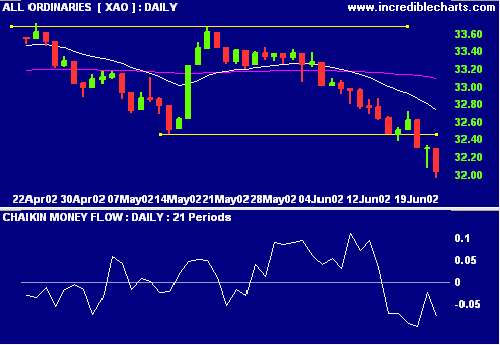 ACCC blocks pay TV deal
The Australian Competition and Consumer Commission ruled against Foxtel and Optus sharing TV channels. (more)
In the past 3 weeks, Telstra [TLS] has broken below its September 2001 support level. Relative Strength (price ratio: xao), MACD and Chaikin Money Flow show weakness.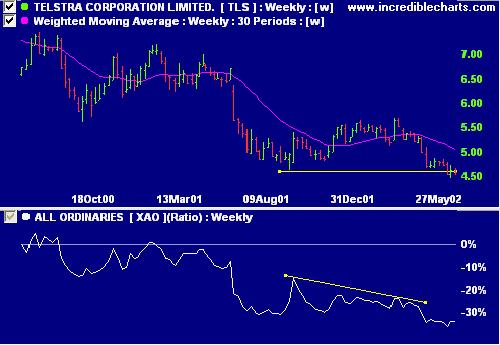 SingTel [SGT] charts paint a similar picture.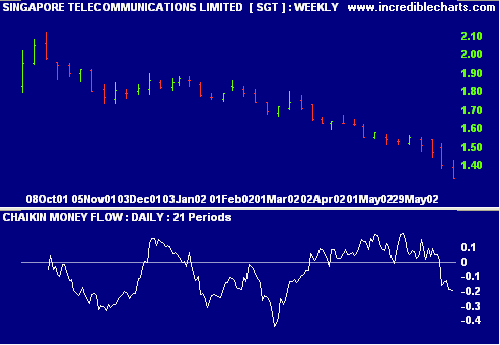 NewsCorp [NCP]
NCP continues its stage 4 decline, having broken below support at $11.80. Chaikin MF, MACD and Relative Strength all show weakness.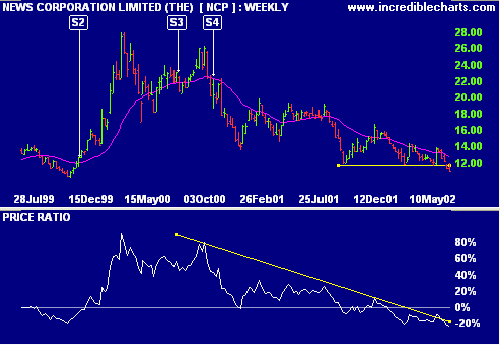 AMP [AMP]
AMP is experiencing a tough investment market. Their UK operations will require $1 billion of funding over the next 12 months. (more)
The stock is at the support level established September 2001. Chaikin Money Flow signals distribution. Relative Strength and MACD are weak.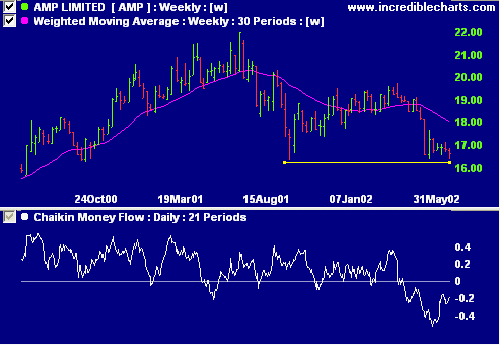 Sector Analysis
I have grouped the old ASX sectors under their new GICS headings. This not 100% accurate - some stocks have been re-classified. The [%] after the heading is a rough guide to the size of the sector as a percentage of the total market.
Materials [15%] - stage 3
Gold (XGO), Paper & Packaging (XPP), Chemicals (XCE) - stage 2
Building Materials (XBM), Other Metals (XOM) - stage 3
Diversified Resources (XDR) - stage 4
Industrials [7%] - stage 4
Engineering (XEG) and Transport (XTP) - stage 3
Diversified Industrials (XDI) - stage 4
Consumer Discretionary [17%] - stage 4
Tourism & Leisure (XTU) -stage 2
Media (XME) - stage 4
Consumer Staples [7%] - stage 3
Food & Household Goods (XFH) - stage 2
Retail (XRE) - stage 3
Alcohol & Tobacco (XAT) - stage 4
Health Care [3%] - stage 4
Health & Biotech (XBH) - stage 4
Property Trusts [5%] - stage 2
Property Trusts (XPT) - stage 2
Financial excl. Property Trusts [31%] - stage 2
Banks & Finance (XBF) - stage 2
Investment & Financial Services (XIF), Developers (XDC) and Insurance (XIN) - stage 4
Information Technology [1%] - stage 4
Miscellaneous Industrials (Technology) (XMI) - stage 1
Telecom Services [10%] - stage 4
Infrastructure Utilities (XIU) - stage 4
Note the differences between the stage analysis of Energy and Utilities under the old and new systems - due to re-classification.
At the end of June the ASX will cease to provide the old ASX indices. We are endeavoring to find other sources.
Sectors: Stock Screens
A stock screen of equities using % Price Move (1 month: +10%, 1 year: +30%) is dominated by Gold Producers, Gold Explorers, Mineral Sands, Mining Explorers, and Oil & Gas stocks.
A stock screen of equities using % of High (1 year: 100% minimum) reveals a number of Gold stocks, Equity Investors and Property stocks making new highs.
Short-term:

Short

in selected sectors - MACD and slow Stochastic are below their signal lines.
Medium-term: Wait for the All Ords to signal a reversal.
Long-term: Wait for a bull-trend on the Nasdaq or S&P 500 (primary cycle).
Colin Twiggs
Please forward this to your friends and colleagues.
---
Back Issues
Access the Trading Diary Archives.
---