---
Trading Diary
June 20, 2002
These extracts from my daily trading diary are intended to illustrate the techniques used in short-term trading and should not be interpreted as investment advice. Full terms and conditions can be found at
Terms of Use
.
The Dow fell 1.4% to 9431 on strong volume.
The index has again broken the 9500 support level. Primary and secondary cycles trend downwards.
The Dow Transport Average is already in a bear-trend, making this a bear market.
Chartcraft's NYSE Bullish % Indicator has given a bull correction signal, warning investors to adopt defensive strategies.
The Nasdaq Composite dropped more than 2% to close at 1464.
The primary cycle and secondary cycle are in a down-trend.
The S&P 500 lost 13 points to close at 1006.
Primary and secondary cycles trend downwards.
Buyers are scarce as Dow stalwarts, including IBM and General Motors, are sold down. Triple-witching on Friday will add further volatility.
(more)
The All Ordinaries rallied strongly, after a sharp decline in the morning, to close unchanged at 3231.
Chaikin Money Flow made a strong recovery, because of the strong close and large volume.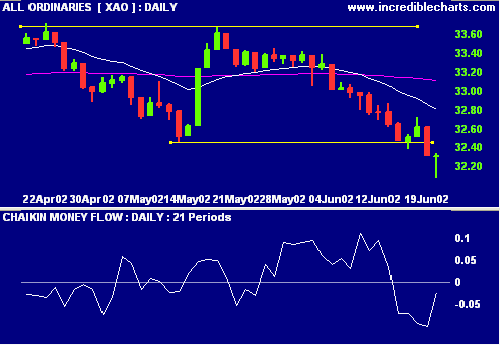 Banks
RBA credit card reforms may reduce the profitability of card operations by 20%, but only marginally affect overall profits of the big four. (more)
Financials excluding Property Trusts (XXJ), the new ASX 200 index, reflects positive Relative Strength (price ratio: xjo) and Chaikin Money Flow. MACD signals a bearish divergence.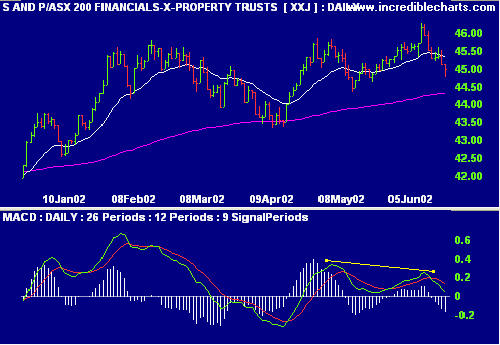 AurionGold [AOR]
AOR increases its estimates of gold reserves by 25%. (more)
Detrended Price Oscillator and Chaikin Money Flow give positive signals.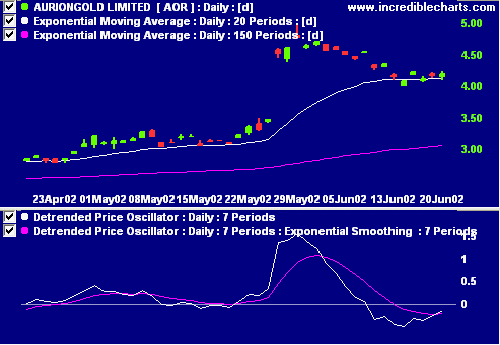 Sectors: Gold
The primary bull-trend continues. Short-term: The Detrended Price Oscillator is positive but Chaikin MF continues downward.
Short-term: No short trades until completion of MACD/Slow Stochastic signal - selected sectors only.
Medium-term: Wait for the All Ords to signal a reversal.
Long-term: Wait for a bull-trend on the Nasdaq or S&P 500 (primary cycle).
Colin Twiggs
Please forward this to your friends and colleagues.
---
Back Issues
Access the Trading Diary Archives.
---