---
Trading Diary
June 19, 2002
These extracts from my daily trading diary are intended to illustrate the techniques used in short-term trading and should not be interpreted as investment advice. Full terms and conditions can be found at
Terms of Use
.
The Dow fell 1.5% to close at 9561 on above-average volume.
The index is making another test of the 9500 support level. The primary and secondary cycles trend downwards.
Chartcraft's NYSE Bullish % Indicator has given a bull correction signal, warning investors to adopt defensive strategies.
The Nasdaq Composite dropped 3% to close at 1493.
The primary cycle is in a bear trend. The short cycle has made a higher peak but the secondary cycle is still in a down-trend.
The S&P 500 lost 18 points to close at 1019.
Primary and secondary cycles trend downwards.
Morgan Stanley reports a 14% fall in fourth-quarter earnings. Only investment banks focused on fixed-income business have benefited from the current market
.
(more)
Tech stocks are dumped after AMD, Apple and Intel lower forecasts and the FTC files anti-trust charges against Rambus.
(more)
The All Ordinaries fell sharply to close 31 points down at 3231, on average volume.
The fall below the 3250 support level signals the start of a primary bear trend.
Chaikin Money Flow continues to decline, signaling distribution.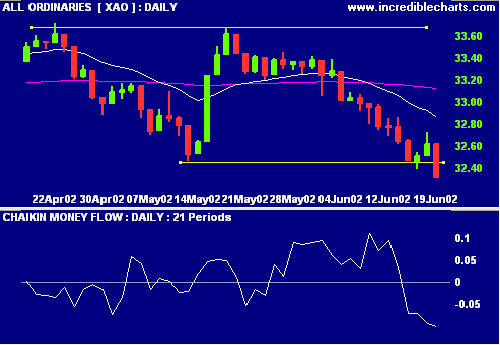 Seven [SEV]
Seven Network acquires full control of Pacific Magazines. (more)
SEV is in a bear trend, with Relative Strength (price ratio: xao) and MACD negative, while Chaikin Money Flow shows a bullish divergence.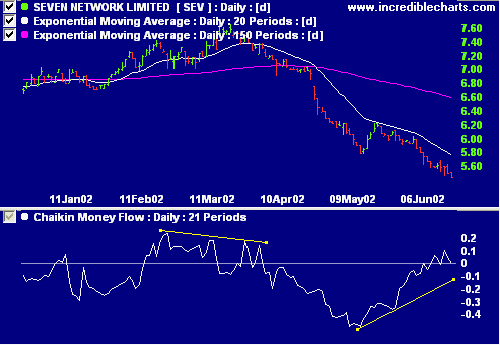 Toll Holdings [TOL]
Toll MD Paul Little expresses interest in Mayne transport logistics business. (more)
TOL is in a ranging market with no clear direction. Chaikin Money Flow showed a bearish divergence in April after 8 months of consistent accumulation. Relative Strength (price ratio: xao) is weakening, while MACD gives conflicting signals.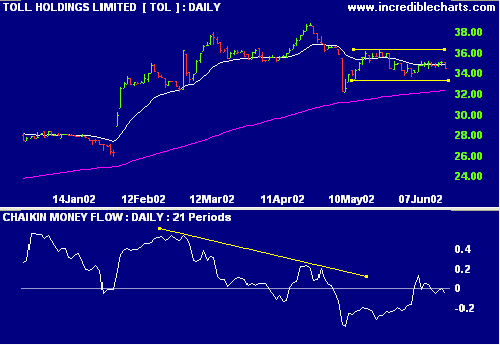 Sectors: Transport
The XTU index has been in a Stage 3 [S3] ranging market since October 2000.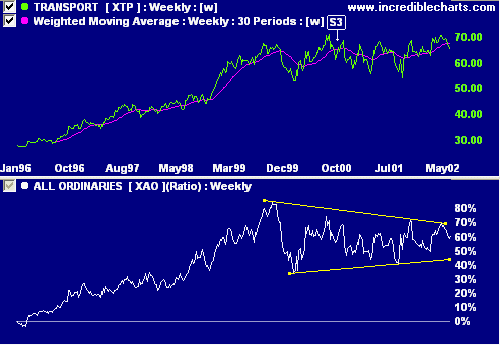 Sectors: Gold
The primary bull-trend continues. Short-term: No signals yet from the Detrended Price Oscillator and Chaikin MF.
Short-term: Short on completion of MACD/Slow Stochastic signal - selected sectors only. The break below 3250 signals the start of a primary bear trend.
Medium-term: Wait for the All Ords to signal a reversal.
Long-term: Wait for a bull-trend on the Nasdaq or S&P 500 (primary cycle).
Colin Twiggs
Please forward this to your friends and colleagues.
---
Back Issues
Access the Trading Diary Archives.
---