---
Trading Diary
June 18, 2002
These extracts from my daily trading diary are intended to illustrate the techniques used in short-term trading and should not be interpreted as investment advice. Full terms and conditions can be found at
Terms of Use
.
The Dow formed an inside day, showing uncertainty. The index closed slightly up at 9706, on average volume.
The primary bear-trend has made a faltering start, closing back above the 9500 support level. Unless the rally carries above 10400, the down-trend continues. The secondary cycle still trends downwards.
Chartcraft's NYSE Bullish % Indicator has given a bull correction signal, warning investors to adopt defensive strategies.
The Nasdaq Composite closed down 10 points at 1542.
The primary cycle is in a bear trend. The short cycle has made a higher peak but the secondary cycle is still in a down-trend.
The S&P 500 closed up 1 point, at 1037.
Primary and secondary cycles continue to trend downwards.
Oracle's fourth-quarter earnings
The world's third-largest software company reported a fall of 23% and expects to miss analysts forecasts for the next quarter.
(more)
CEO Larry Ellison reassures stockholders that the company is holding market share against IBM, prompting a 3% rise in after-hours trading.
(more)
Apple lowered its third-quarter sales and earnings forecasts, prompting a 14% fall in the stock price.
(more)
Buoyed by the US market, the All Ordinaries rallied 11 points to close at 3262 on above average volume.
The real test is whether the market can hold onto these gains until the end of the week. A break below the 3250 support level will signal the start of a primary bear trend.
Chaikin Money Flow remains below zero, signaling distribution.
MACD (26,12,9) and Slow Stochastic (20,3,3) are below their signal lines.
WMC [WMC]
Despite the demerger WMC is considering plans to more than double production from its Olympic Dam copper-uranium mine. (more)
Relative Strength (price ratio: xao) and MACD are negative while Chaikin Money Flow is weakening. A break below the $9.10 support level will signal a primary bear trend.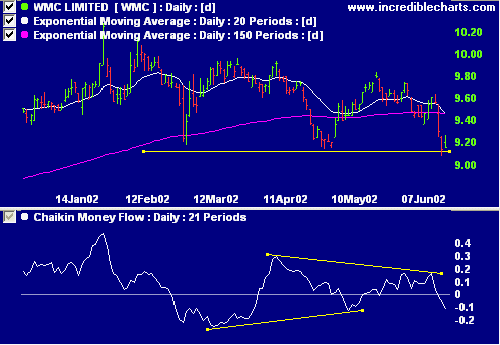 Sectors: Gold
The primary bull-trend continues. Short-term: No signals yet from the Detrended Price Oscillator and Chaikin MF.
Sectors
Analysis of ASX sectors reveals the following stages:
Stage 1 possible recoveries - Technology (XMI)

Stage 2 bull trends - Banks & Finance (XBF) and Food & Household Goods (XFH)

Stage 3 possible reversals - Retail (XRE) and Transport (XTP)

Stage 4 bear trends - Developers (XDC), Insurance (XIN), Alcohol & Tobacco (XAT), Health & Biotech (XBH), Media (XME), Telecom (XTE) and Diversified Resources (XDR).
Cyclicals
Stage 2 bull trends - Gold (XGO), Paper & Packaging (XPP), Chemicals (XCE), Property Trusts (XPT) and Tourism & Leisure (XTU)

Stage 3 possible reversals - Building Materials (XBM), Other Metals (XOM) and Energy (XEY)

Stage 4 bear trends - Investment & Financial Services (XIF), Engineering (XEG), Infrastructure Utilities (XIU) and Diversified Industrial (XDI).
At the end of June the ASX will cease to provide detailed sector indices. We will endeavor to find other sources.
Short-term: Avoid long and short. The market rallied at the 3250 support level but there are no positive signals from the MACD and Slow Stochastic.
Medium-term: Wait for the All Ords to signal a reversal.
Long-term: Wait for a bull-trend on the Nasdaq or S&P 500 (primary cycle).
Colin Twiggs
Please forward this to your friends and colleagues.
---
Back Issues
Access the Trading Diary Archives.
---