---
Trading Diary
June 17, 2002
These extracts from my daily trading diary are intended to illustrate the techniques used in short-term trading and should not be interpreted as investment advice. Full terms and conditions can be found at
Terms of Use
.
The Dow commenced a strong rally, closing up 2.25% at 9687 on above-average volume.
The primary bear-trend has made a faltering start, closing back above the 9500 support level. But, unless the rally carries above 10400, the down-trend continues.
Chartcraft's NYSE Bullish % Indicator has given a bull correction signal, warning investors to adopt defensive strategies.
The Nasdaq Composite rallied more than 3% to 1553. Resistance is at 1760.
The primary and secondary cycles trend downwards.
The S&P 500 rose 29 points to 1036. Resistance is at 1107.
Primary and secondary cycles trend downwards.
McDonalds profits from weak dollar
MCD raises its second-quarter earnings outlook after strong European sales and favorable exchange rates.
(more)
Tech stocks boost the market
Tech stocks lead the rally with AMD up 12.5% and Intel gaining 6%.
(more)
The All Ordinaries staged a late rally to close up 5 points to 3251. Volume was low but should improve on Tuesday.
A break below the 3250 support level will signal the start of a primary bear trend.
Chaikin Money Flow is below zero, signaling distribution.
MACD (26,12,9) and Slow Stochastic (20,3,3) are below their signal lines.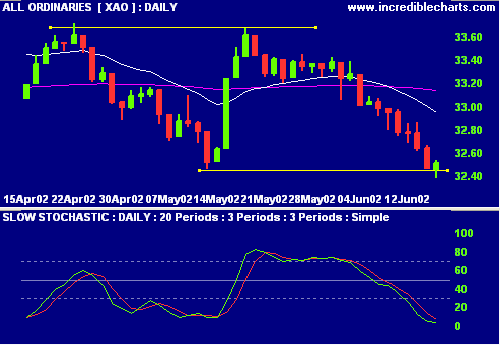 Foodland proceeds with acquisition [FOA]
Foodland will resume trading on Tuesday after settling the $598 million purchase price for Woolworths NZ. (more)
Moody's downgrades telcos [TEL]
Moody's Investor Services downgraded the debt rating of Telecom NZ, with SingTel under review. (more)
TEL has broken above resistance at $4.50 on reasonable volume. Relative Strength (price ratio: xao) and MACD are positive but Chaikin Money Flow shows a bearish divergence.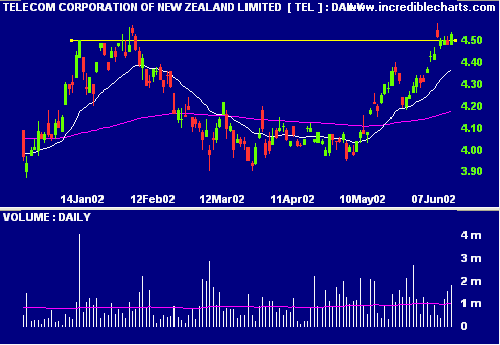 Sectors: Telecom
The ASX 200 Telecom index (XTJ) is in a bear-trend with weak Relative Strength (price ratio: xao) and declining MAs. But MACD and Chaikin Money Flow show bullish divergences.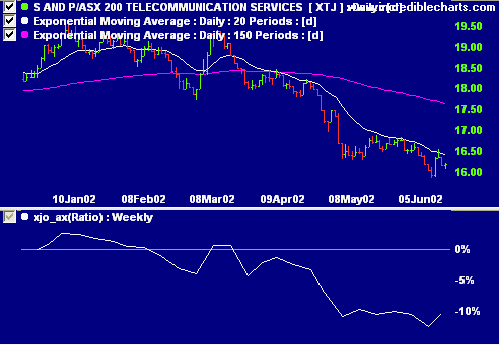 Sectors: Gold
The primary bull-trend continues. Short-term: Wait for signals from the Detrended Price Oscillator and Chaikin MF.
Short-term: Avoid long and short. The market rallied at the 3250 support level but there are no positive signals from the MACD and Slow Stochastic.
Medium-term: Wait for the All Ords to signal a reversal.
Long-term: Wait for a bull-trend on the Nasdaq or S&P 500 (primary cycle).
Colin Twiggs
Please forward this to your friends and colleagues.
---
Back Issues
Access the Trading Diary Archives.
---