---
Trading Diary
June 13, 2002
These extracts from my daily trading diary are intended to illustrate the techniques used in short-term trading and should not be interpreted as investment advice. Full terms and conditions can be found at
Terms of Use
.
The Dow again tested the 9500 support level, closing down 1.2% at 9502 on average volume.
A break below this level will complete a broad head and shoulders pattern and signal a primary bear-trend.
Chartcraft's NYSE Bullish % Indicator has given a bull correction signal, warning investors to adopt defensive strategies.
The Nasdaq Composite closed down 1.5% at 1496.
The primary and secondary cycles trend downwards.
The S&P 500 was down 11 points at 1009.
Primary and secondary cycles trend downwards.
May retail sales fell 0.9% against an expected 0.1% rise, with Automobile sales (-2.5%) and gas station sales (-3.1%) leading the decline.
(more)
The All Ordinaries fell to 3265 on normal volume.
Chaikin Money Flow has turned down, signaling distribution.
A break below support at 3250 will signal the start of a primary bear trend.
MACD (26,12,9) and Slow Stochastic (20,3,3) are below their signal lines.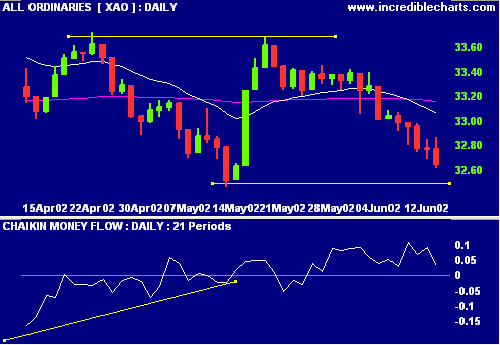 Computershare [CPU]
Further speculation as to the large buyer on Wednesday night. (more)
Relative Strength (price ratio: xao) and Chaikin Money Flow are weak, while MACD signals a bullish divergence.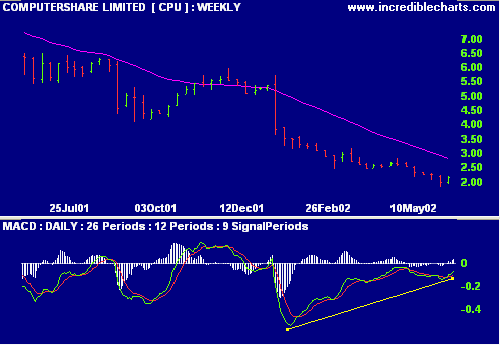 Gold
Sons of Gwalia is trending downwards. Chaikin Money Flow shows distribution.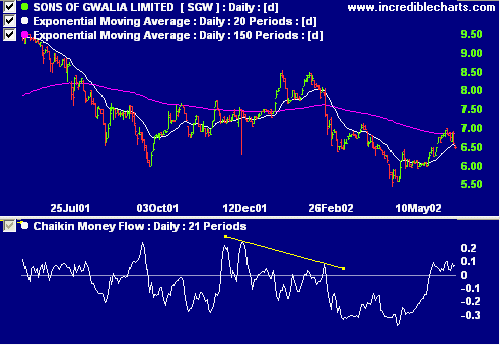 Newcrest Mining shows a bullish MACD, while Chaikin MF has a bearish divergence. Mixed signals.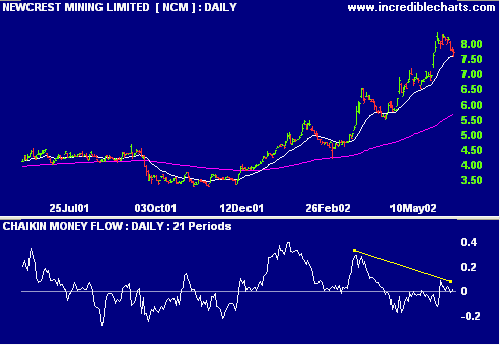 Short-term: Avoid long. Expect a reversal at the 3250 support level.
Medium-term: Wait for the All Ords to signal a secondary cycle reversal.
Long-term: Wait for a bull-trend on the Nasdaq or S&P 500 (primary cycle).
Colin Twiggs
Please forward this to your friends and colleagues.
---
Back Issues
Access the Trading Diary Archives.
---