---
Trading Diary
June 10, 2002
These extracts from my daily trading diary are intended to illustrate the techniques used in short-term trading and should not be interpreted as investment advice. Full terms and conditions can be found at
Terms of Use
.
The Dow rallied more than 0.5% to 9645 on normal volume.
A break below 9500 will signal a primary bear-trend. The secondary cycle trends downwards.
Chartcraft's NYSE Bullish % Indicator has given a bull correction signal, warning investors to adopt defensive strategies.
The Nasdaq Composite eased slightly to 1530.
The primary and secondary cycles continue downwards.
The S&P 500 gave up most of its gains to close up 3 points at 1030.
Primary and secondary cycles trend downwards.
A US citizen was arrested May in connection with al-Qaida plans to explode a radiological 'dirty' bomb in the US.
(more)
Wal-Mart's rosy outlook helped the market overcome the terrorism scare.
(more)
The ASX was closed Monday.
BHP Billiton [BHP]
BHP plans a $1.7 billion expansion of its steel and coal operations as the steel industry recovers. (more)
Chaikin Money Flow shows a bullish divergence, while MACD and Relative Strength (price ratio: xao) are still weak.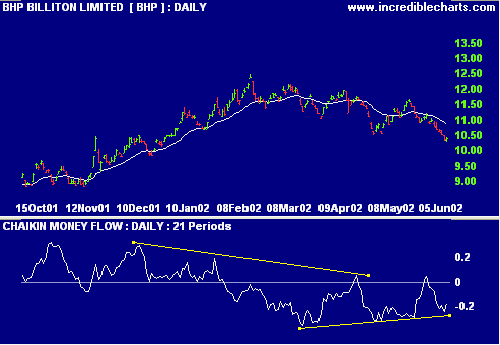 Short-term: Avoid long. Maintain tight stop-losses.
Medium-term: Wait for the All Ords to signal a reversal.
Long-term: Wait for a bull-trend on the Nasdaq or S&P 500 (primary cycle).
Colin Twiggs
Please forward this to your friends and colleagues.
---
Back Issues
Access the Trading Diary Archives.
---