---
Trading Diary
June 6, 2002
These extracts from my daily trading diary are intended to illustrate the techniques used in short-term trading and should not be interpreted as investment advice. Full terms and conditions can be found at
Terms of Use
.
The Dow fell 1.75% to 9624 on strong volume.
A break below 9500 will signal a primary bear-trend. The secondary cycle trends downwards.
The Nasdaq Composite dropped 2.5% to 1554.
The primary and secondary cycles trend downwards.
The S&P 500 fell 2.0% to close 20 points down at 1029.
Primary and secondary cycles trend downwards.
Intel sparks chip sell-off
Intel lowers its second-quarter revenue estimates because of soft European sales.
(more)
Crude futures continued a 10-session losing streak while August gold futures rallied to close at $US 325.80 per ounce.
(more)
The All Ords lost 4 points to close at 3299 on strong volume.
MACD (26,12,9) and Slow Stochastic (20,3,3) are below their signal lines.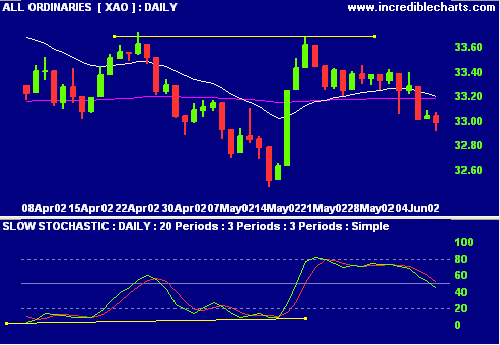 Flight Centre forecasts a 30% increase in 2002 annual profit, despite difficult trading conditions. (more)
FLT has broken through resistance at $28.00 with Relative Strength (price ratio: xao) trending upwards.
MACD is recovering while Chaikin MF is fairly weak, despite having crossed into positive territory.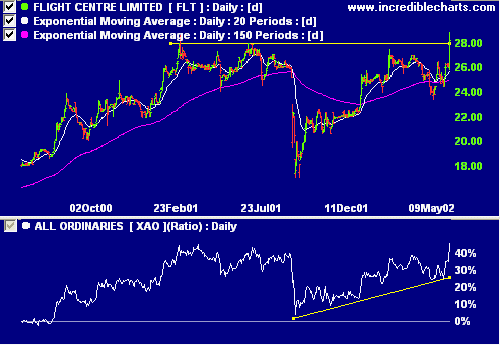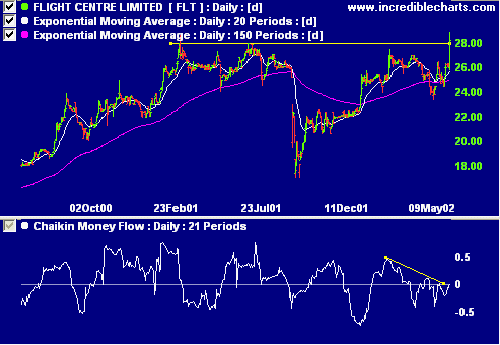 External advisers are investigating the spin-off of non-performing assets such as Myer Grace Bros. department stores.
(more)
CML: Relative Strength (price ratio: xao), Chaikin MF and MACD all show weakness.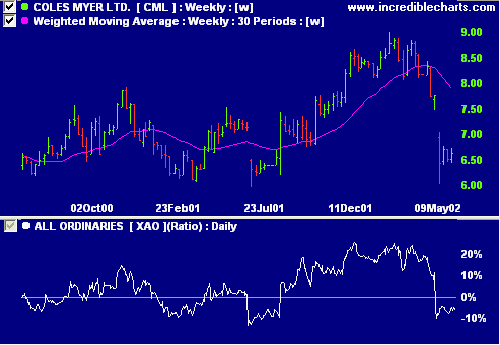 Short-term: Avoid long. Maintain tight stop-losses.
Medium-term: Wait for the All Ords to signal a reversal.
Long-term: Wait for a bull-trend on the Nasdaq or S&P 500 (primary cycle).
Colin Twiggs
Please forward this to your friends and colleagues.
---
Back Issues
Access the Trading Diary Archives.
---