---
Trading Diary
June 4, 2002
These extracts from my daily trading diary are intended to illustrate the techniques used in short-term trading and should not be interpreted as investment advice. Full terms and conditions can be found at
Terms of Use
.
The Dow tested resistance at 9600 before rallying to 9687 on strong volume, as buyers re-entered the market.
The index has broken through the 9800 support level. On reflection, I believe that it would be conservative to treat this as a secondary cycle movement and to call a primary bear-trend if the index breaks below support at 9500. Identifying the secondary cycle is difficult when the market does not show a clear trend.
The Nasdaq Composite recovered 1% to close at 1578.
The primary and secondary cycles continue to trend downwards.
The S&P 500 closed unchanged at 1040. Remember, the pattern completed on May 6th has a target of 960.
The primary and secondary cycles trend downwards.
IBM expects to take a charge of $US 2.5 billion as it extricates itself from hard disk manufacturing.
(more)
Alan Greenspan says that the US economy is showing positive signs but "it's not going to be a dramatic upswing".
(more)
The All Ords fell sharply to close at 3301 on regular volume, signaling that buyers are scarce.
Chaikin Money Flow is declining, signaling distribution.
MACD (26,12,9) has joined Slow Stochastic (20,3,3) below its signal line.
Rates rise and strong dollar expected
The RBA is expected to announce a rise of at least 0.25% in official interest rates today, with a positive effect on the dollar. (more)
Drug rivals seek merger [SIG]
Australian Pharmaceutical Industries and Sigma continue to seek a merger, despite the previous rejection by the ACCC. (more)
Both stocks have weak Relative Strength (price ratio: xao), MACD and Chaikin MF.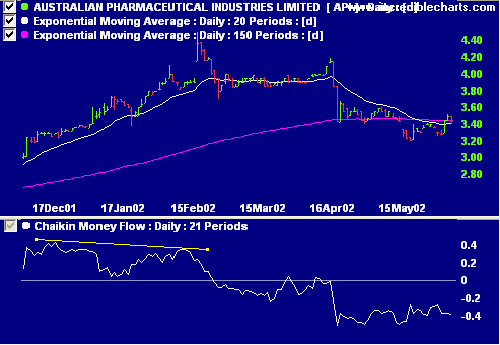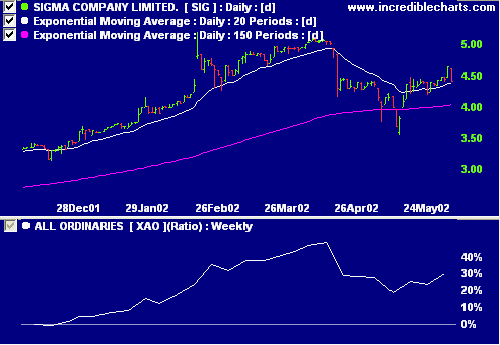 Salomon Smith Barney upgrade ANZ to "outperform" despite the expected rise in interest rates.
(more)
The stock is running into resistance at 19.50. MACD is a bit weak but Relative Strength (price ratio: xao) and Chaikin MF are strong.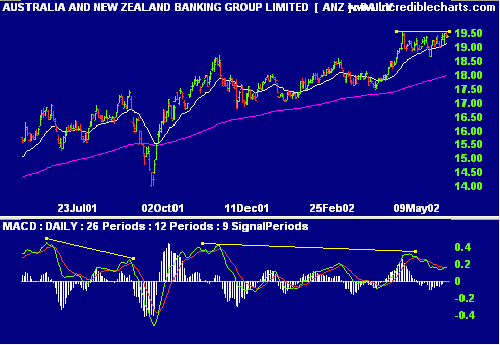 The gold index XGO surges ahead. The 30-week weighted MA is rising steeply and Relative Strength (price ratio: xao) continues to make new highs.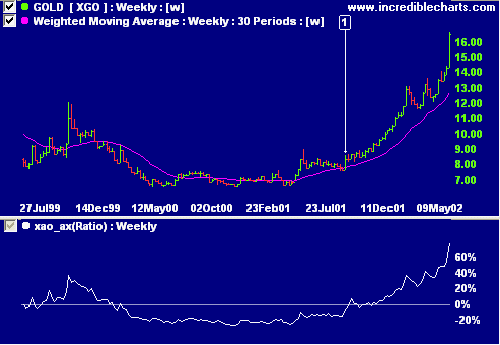 Short-term: Avoid long. Maintain tight stop-losses.
Medium-term: Wait for the All Ords to signal a reversal.
Long-term: Wait for a bull-trend on the Nasdaq or S&P 500 (primary cycle).
Colin Twiggs
Please forward this to your friends and colleagues.
---
Back Issues
Access the Trading Diary Archives.
---