---
Trading Diary
June 3, 2002
These extracts from my daily trading diary are intended to illustrate the techniques used in short-term trading and should not be interpreted as investment advice. Full terms and conditions can be found at
Terms of Use
.
The Dow fell by more than 2% to 9709 on normal volume, showing that buyers have withdrawn from the market.
The secondary down-trend has broken through the 9800 support level to start a primary bear-trend.
The Nasdaq Composite dropped more than 3% to close at 1562.
The primary and secondary trends continue downwards.
The S&P 500 made an 8-month low, falling 2.5% to close at 1040. Remember, the pattern completed on May 6th has a target of 960.
The primary and secondary trends are down.
Dennis Kozlowski, under investigation for evading New York sales taxes, has quit as chairman and CEO of the large manufacturing conglomerate.
(more)
Manufacturing index 2-year high
The Institute of Supply Management manufacturing index rose to 55.7% in May, up from 53.9% in April.
(more)
The owner of the Home Shopping Network is making a bid to become the world's largest electronic-commerce company.
(more)
The All Ords rallied, only to lose most of its gains in an afternoon sell-off, to close at 3328 on reasonable volume.
Chaikin Money Flow continues to signal accumulation.
Slow Stochastic (20,3,3) is below its signal line, MACD (26,12,9) above.
The Australian dollar reached 57 US cents for the first time in more than a year. (more)
An interest rate rise of up to 0.5% is expected from the Reserve Bank meeting today. (more)
Publishing & Broadcasting has kicked off the rationalization of its investment portfolio with the sale of its 50% stake in Acxiom, back to the US parent.
(more)
Relative Strength (price ratio: xao) and MACD are weak but Chaikin MF has risen impressively over the last few weeks to cross into positive territory.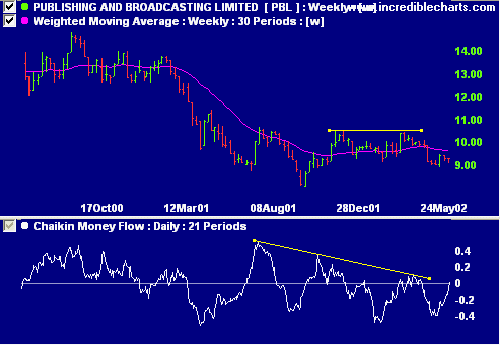 Shareholders in The Australian Gas Light Company will meet on 3 July to complete its conversion to a company and lift the 5% shareholding limit imposed by its 1837 constitution. (more)
Chaikin MF shows accumulation while MACD looks bearish. Relative Strength (price ratio: xao) is improving and the 30-week weighted MA slopes upwards.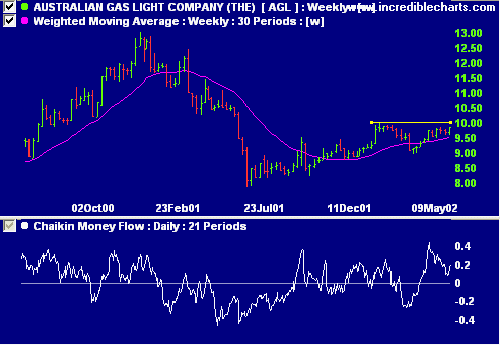 Short-term: Avoid long - Stochastic is below its signal line. Maintain tight stop-losses.
Medium-term: Wait for the All Ords to signal a reversal.
Long-term: Wait for a bull-trend on the Nasdaq or S&P 500 (primary cycle).
Colin Twiggs
P.S. We are trying out new Email software. Please report if you experience any problems with the trading diary.
Please forward this to your friends and colleagues.
---
Back Issues
Access the Trading Diary Archives.
---