---
Trading Diary
May 31, 2002
These extracts from my daily trading diary are intended to illustrate the techniques used in short-term trading and should not be interpreted as investment advice. Full terms and conditions can be found at
Terms of Use
.
The Dow rallied above 10000 before falling back to close almost unchanged at 9925 on above-average volume.
The secondary down-trend continues but has to break through the 9800 (and arguably 9500) support levels to start a primary bear-trend.
The Nasdaq Composite fell 1% to close at 1615.
The primary and secondary trends are down.
The S&P 500 mimicked the Dow, closing up slightly at 1067.
The primary and secondary trends are down.
Adelphia fails to communicate
The broadband telecommunications and cable network company has been de-listed by Nasdaq for failing to submit SEC financial statements, after concerns about off-balance sheet debt.
(more)
Factory orders rose by 1.2% in April according to US Commerce Dept.
(more)
The All Ords recovered after a sharp fall to close down 14 points at 3325. Volume was high after changes to MSCI index stock weightings.
Chaikin Money Flow continues to signal accumulation.
Slow Stochastic (20,3,3) has crossed back below its signal line.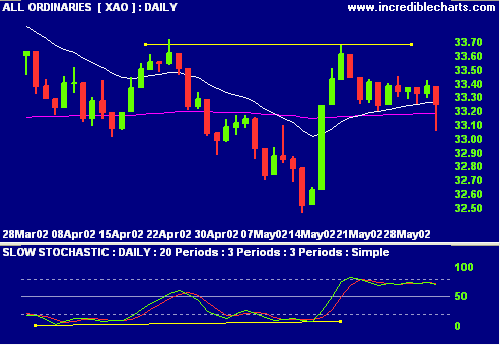 The Australian dollar responded positively to a statement by RBA governor Ian Macfarlane that interest rates must rise. (more)
The market reacted favorably to news that Mayne is to focus on its core health operations.
(more)
Relative Strength (price ratio: xao) and MACD are weak but Chaikin MF has crossed to positive territory, signaling accumulation.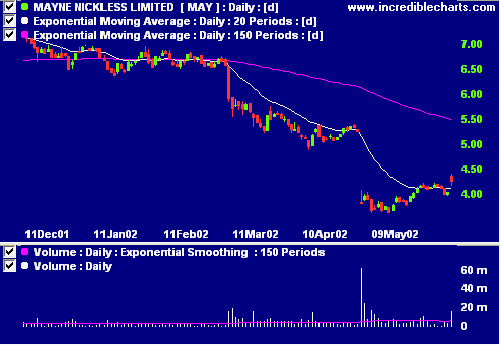 The board of NRMA is divided over proposed fee increases to members. (more)
Chaikin MF shows strong accumulation, while MACD and Relative Strength (price ratio: xao) are neutral. Overhead resistance at 3.30, 3.40 and 3.55 will make progress difficult.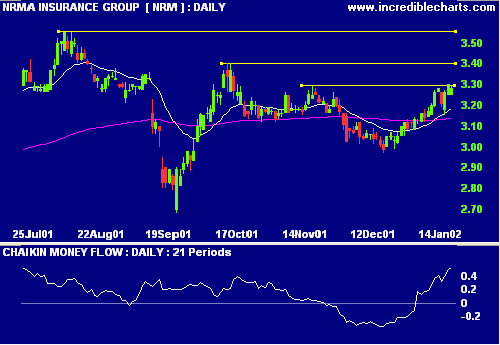 Short-term: Avoid long - Stochastic is below its signal line. Maintain tight stop-losses.
Medium-term: Wait for the All Ords to signal a reversal.
Long-term: Wait for a bull-trend on the Nasdaq or S&P 500 (primary cycle).
Colin Twiggs
P.S. We are trying out new Email software. Please report if you experience any problems with the trading diary.
Please forward this to your friends and colleagues.
---
Back Issues
Access the Trading Diary Archives.
---