---
Trading Diary
May 27, 2002
These extracts from my daily trading diary are intended to illustrate the techniques used in short-term trading and should not be interpreted as investment advice. Full terms and conditions can be found at
Terms of Use
.
US markets were closed for the Memorial Day holiday.
Business Week's Top 50, headed by stalwart Johnson & Johnson, is missing a few of the former high-fliers.
(more)
The primary trend is up, secondary trend - down.
Chaikin Money Flow is fluctuating around zero, signaling uncertainty.
Slow Stochastic (20,3,3) has moved back below its signal line.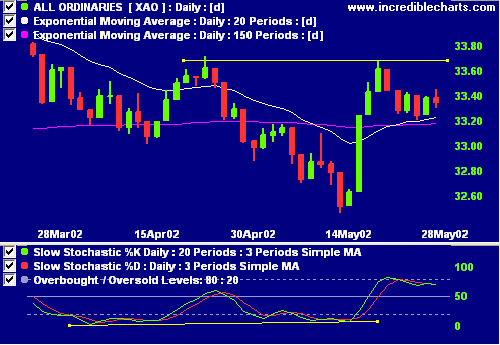 The dollar strengthened to 55.67 US cents. (more)
Placer Dome bids $ 2 billion for AurionGold [AOR]
The Vancouver-based gold miner is offering 17.5 shares for every 100 AurionGold, only recently formed by the merger of Delta Gold and Goldfields. (more)
AOR experienced a large breakaway gap accompanied by strong volume. It is interesting to note the increased volume over the week prior to the announcement.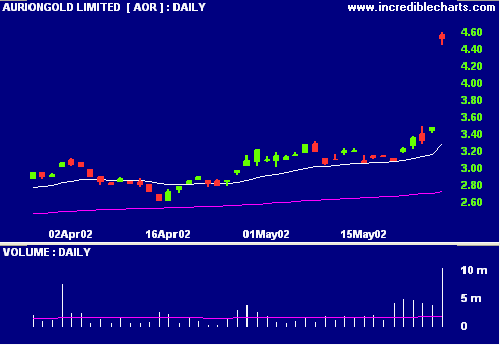 Early sale of Telstra? [TLS]
The Coalition is moving towards an early sale of the rest of Telstra, to be put to the Senate. (more)
TLS: Relative Strength (price ratio: xao), MACD and Chaikin MF still show weakness.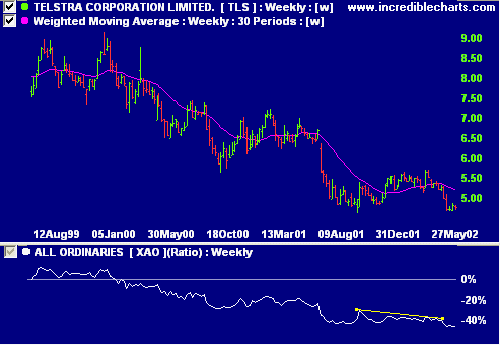 Short-term: Avoid new entries. Maintain tight stop-losses.
Medium-term: Wait for the All Ords to signal a reversal.
Long-term: Wait for a bull-trend on the Nasdaq or S&P 500 (primary cycle).
Colin Twiggs
P.S. We are trying out new Email software. Please report if you experience any problems with the trading diary.
Please forward this to your friends and colleagues.
---
Back Issues
Access the Trading Diary Archives.
---