---
Trading Diary
May 23, 2002
These extracts from my daily trading diary are intended to illustrate the techniques used in short-term trading and should not be interpreted as investment advice. Full terms and conditions can be found at
Terms of Use
.
The Dow rallied in the afternoon to close up 0.5% at 10216 on normal volume.
The primary trend is down, secondary - up and short trend - up.

The Nasdaq Composite gained 1.4% to close at 1697.
The primary cycle base is weak with the index starting to trend downwards, the secondary trend is down, while the short trend is up.
The S&P 500 climbed 1% to close at 1097.
Primary cycle base still shows weakness, secondary trend - down and short cycle - up.
Durable goods orders for April were up 1.1%, according to the US Commerce Department. (more)
The adhesives, abrasives and specialty chemicals manufacturer will meet its second-quarter earnings targets and expects to achieve double-digit growth over the next two years.
The All Ords closed down 16 points at 3325 on normal volume.
The primary trend is up, secondary - down and short trend - up.
Chaikin Money Flow remains below zero, signaling distribution.
Slow Stochastic (20,3,3) is below its signal line.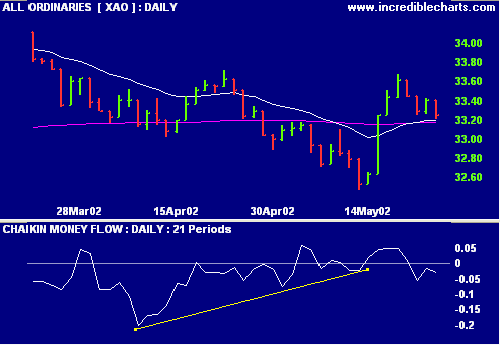 The dollar closed yesterday at 55.68 US cents after 3 days of strong gains. (more)
Oil and gas exploration is booming, according to recruitment specialists. (more)
Chaikin Money Flow for the energy sector shows strong accumulation, while Relative Strength (price ratio: xao) remains weak.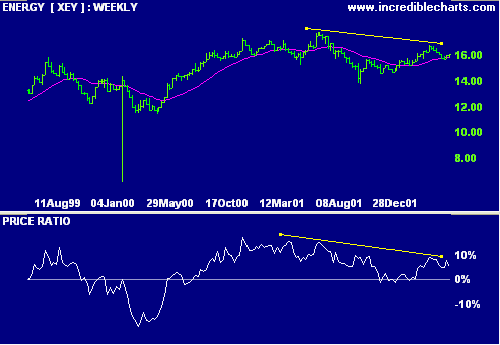 New Clicks, the South African parent company of Priceline, is to buy hair-care products company Price Attack with 94 stores. (more)
ASX to launch electricity futures [ASX]
The ASX is to launch its first commodity futures in competition with the SFE. (more)
ASX Chaikin Money Flow shows a sharp decline over the last 2 weeks, MACD show a bearish divergence, while Relative Strength (price ratio: xao) is still strong.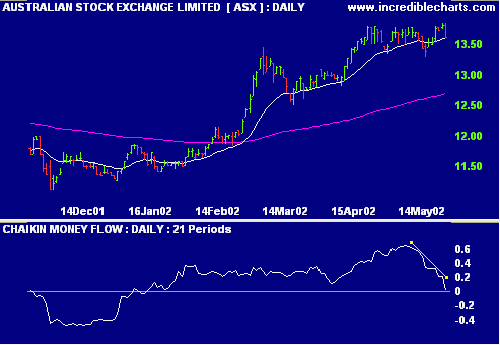 Short-term: Avoid new entries. Maintain tight stop-losses.
Medium-term: The All Ords has not yet formed a base.
Long-term: Wait for a bull-trend on the Nasdaq or S&P 500 (primary cycle).
Colin Twiggs
P.S. We are trying out new Email software. Please report if you experience any problems with the trading diary.
Please forward this to your friends and colleagues.
---
Back Issues
Access the Trading Diary Archives.
---