---
Trading Diary
May 21, 2002
These extracts from my daily trading diary are intended to illustrate the techniques used in short-term trading and should not be interpreted as investment advice. Full terms and conditions can be found at
Terms of Use
.
The Dow fell a further 1.2% to 10105 on normal volume, showing a lack of buying support.
The primary trend is down, secondary - up and short trend - up.

Software and chip stocks led the Nasdaq Composite down 2.2% to close at 1664.
The primary cycle is forming a base (or stage 1), secondary trend - down, while the short trend is up.
The S&P 500 fell 12 points to 1079. The target of 960 from the double top pattern may still be attainable.
Primary cycle - the base still shows weakness, secondary trend - down and short cycle - up.
First-quarter sales increased 17%, boosting profit by 35%, but AG Edwards analyst downgraded the stock because of a murky outlook. (more)
Merrill Lynch reached a settlement with the NY state Attorney General, agreeing to pay $100 million in fines and to repair the "Chinese wall" between its securities analysts and investment banking divisions. (more)
The All Ords closed down at 3329 on normal volume. The next support level is 3250.
Chaikin Money Flow crossed to below zero, signaling distribution.
Slow Stochastic (20,3,3) crossed below its signal line.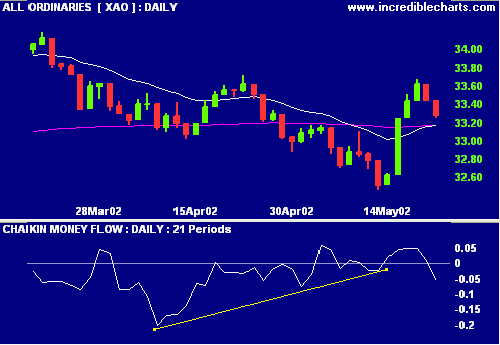 Fairfax [FXJ]
The newspaper and online publisher is expected to announce a major restructuring, as early as next week. (more)
FXJ shows a bullish divergence on Chaikin Money Flow, while Price Ratio still looks weak.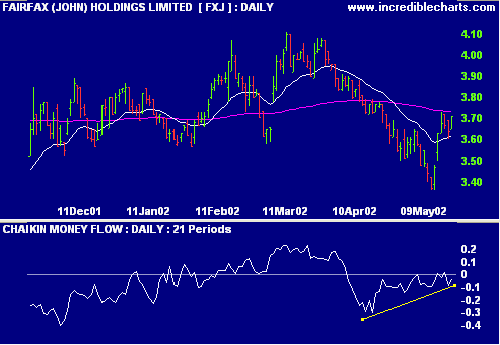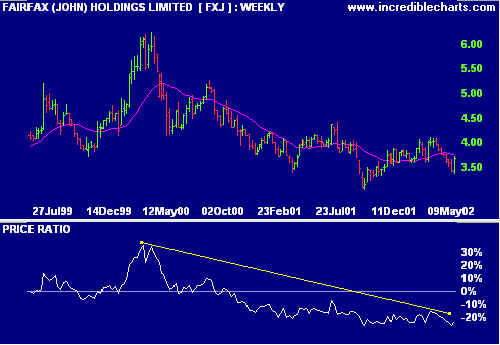 CSR announces "solid" results and plans to spin-off its sugar division in the new year. (more)
Chaikin Money Flow shows strong distribution over the last 6 months.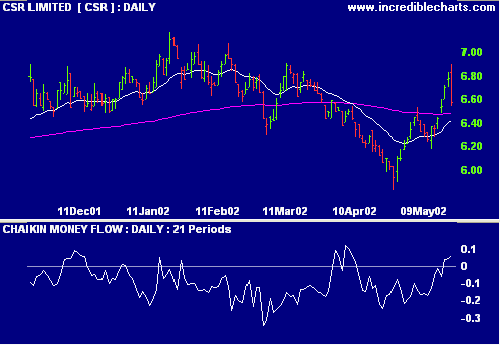 Price Ratio and the 30-week weighted moving average show a stage 3 top - and the possible start of a stage 4 decline.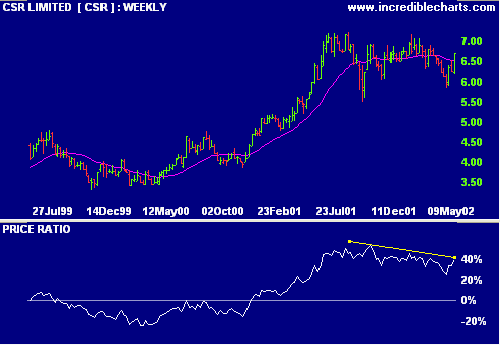 Short-term: Avoid new entries. Maintain tight stop-losses.
Medium-term: The All Ords has not yet formed a base.
Long-term: Wait for the Nasdaq or S&P 500 to break out from their bases (trading ranges).
Colin Twiggs
P.S. We are trying out new Email software. Please report if you experience any problems with the trading diary.
Please forward this to your friends and colleagues.
---
Back Issues
Access the Trading Diary Archives.
---