---
Trading Diary
May 20, 2002
These extracts from my daily trading diary are intended to illustrate the techniques used in short-term trading and should not be interpreted as investment advice. Full terms and conditions can be found at
Terms of Use
.
The Dow fell 1.2% to 10229 on low volume. A fall below 9750 would signal the start of a down-trend on the secondary cycle.
The primary trend is down, secondary - up and short trend - up.

The Nasdaq Composite dropped 2.3% to close at 1701.
The primary cycle is forming a base (or stage 1), secondary trend - down, while the short trend is up.
The S&P 500 fell 1.3% to close at 1081. The target of 960 from the double top pattern may still be attainable.
Primary cycle - the base still shows weakness, secondary trend - down and short cycle - up.
All that glitters is Gold
June delivery gold futures trade as high as $US 316.70 per ounce. (more)
Stocks decline on fears of terrorism and economic indicators
VP Dick Cheney describes further terrorist attacks as "almost certain", while leading economic indicators are down 0.4%. (more)
The All Ords closed down at 3345 on normal volume.
MACD* (26,12,9) and Slow Stochastic (20,3,3) are still above their signal lines.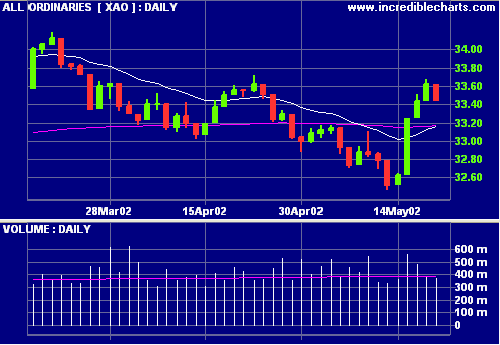 Lend Lease [LLC]
CEO David Higgins is to depart as the group looks for new stimulus. (more)
LLC fell sharply to close at $10.80 on strong volume. MACD and Relative Strength have been weak while Chaikin MF has shown accumulation - emphasizing the need for more than one indicator.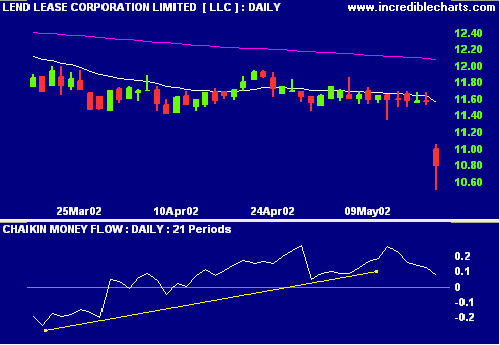 The ASX now offers rebates and lower fees to attract SFE derivatives traders to its new futures platform. (more)
Chaikin Money Flow shows strong accumulation since February but MACD now shows a bearish divergence.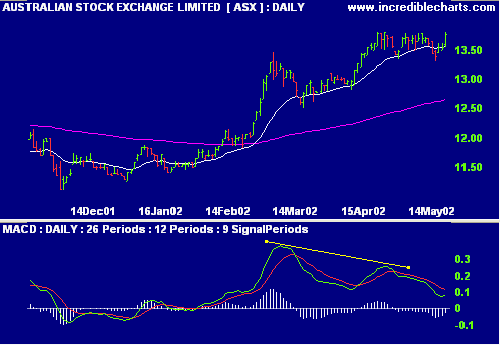 Medium-term: The All Ords has not yet formed a base.
Long-term: Wait for the Nasdaq or S&P 500 to break out from their bases (trading ranges).
Colin Twiggs
P.S. We are trying out new Email software. Please report if you experience any problems with the trading diary.
Please forward this to your friends and colleagues.
---
Back Issues
Access the Trading Diary Archives.
---