---
Trading Diary
May 17, 2002
These extracts from my daily trading diary are intended to illustrate the techniques used in short-term trading and should not be interpreted as investment advice. Full terms and conditions can be found at
Terms of Use
.
The Dow surged further ahead closing at 10353 on good volume.
The primary trend is down, secondary - up and short trend - up.

The Nasdaq Composite climbed by a similar amount to 1741.
The primary cycle is forming a base (or stage 1), secondary trend - down, while the short trend is up.
The S&P 500 gained a further 8 points to close at 1106.
Primary cycle - the base still shows weakness, secondary trend - down and short cycle - up.
Shares in the drug-maker rose after it announced that it had settled with the FDA, in connection with manufacturing violations, and agreed to pay a $US500 million fine. (more)
The telecom provider will cut 4000 to 5000 jobs in a bid to stay competitive. (more)
The All Ords had another strong up day, closing at 3362 on normal volume.
MACD* (26,12,9) and Slow Stochastic (20,3,3) are both above their signal lines.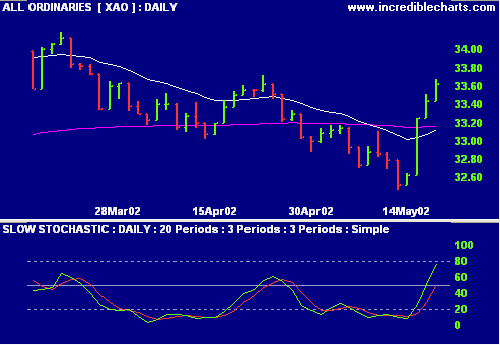 * I have reverted to using MACD 26,12,9 as there was so little difference between the signals from the default setting and from MACD 30,10,10.
NewsCorp [NCP]
NCP has encountered European pitfalls in its drive for global pay-TV dominance. (more)
NCP closed up 43 cents on normal volume.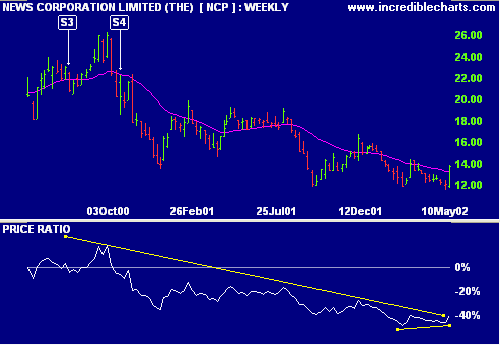 The insurance group warns that a $2.00 offer to shareholders, by National Exchange Pty Ltd, should not be confused with the proposed share buy-back and significantly undervalues IAG shares.
(more)
MACD shows a bearish divergence while Chaikin Money Flow is still strong.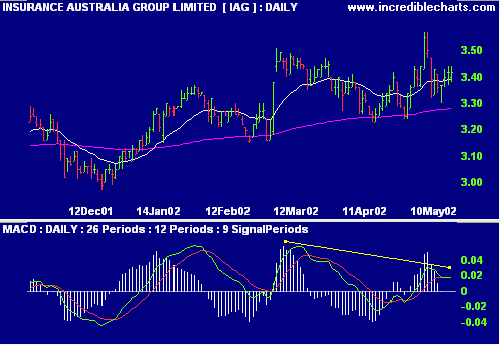 Medium-term: The All Ords has not yet formed a base.
Long-term: Wait for the Nasdaq or S&P 500 to break out from their bases (trading ranges).
Colin Twiggs
P.S. We are trying out new Email software. Please report if you experience any problems with the trading diary.
Please forward this to your friends and colleagues.
---
Back Issues
Access the Trading Diary Archives.
---