---
Trading Diary
May 16, 2002
These extracts from my daily trading diary are intended to illustrate the techniques used in short-term trading and should not be interpreted as investment advice. Full terms and conditions can be found at
Terms of Use
.
The Dow recovered to 10289 on normal volume.
The primary trend is down, secondary - up and short trend - up.

The Nasdaq Composite formed an inside day, with a slight gain to 1730.
The primary cycle is forming a base (or stage 1), secondary trend - down, while the short trend is up.
The S&P 500 gained 7 points to close at 1098.
Primary cycle - the base still shows weakness, secondary trend - down and short cycle - up.
Dell Computers
Dell reported April-quarter earnings of 17 US cents per share, the same as last year, compared to an expected 16 US cents. Sales were largely unchanged at $US 8 billion. (more)
The All Ords had another strong day, closing at 3343 on strong volume.
MACD (26,12,9) and Slow Stochastic (20,3,3) are both above their signal lines.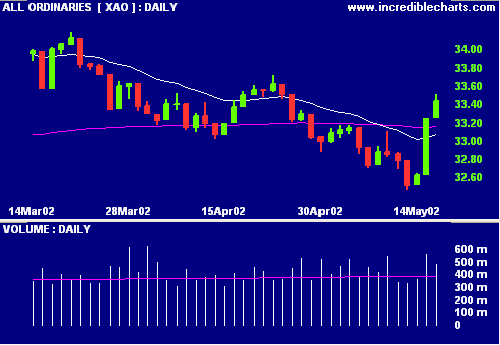 NewsCorp [NCP]
Vivendi threatens to withdraw from the purchase of NewsCorp pay-TV assets in Italy. (more)
NCP climbed in the morning session before retreating to close 19 cents down on strong volume.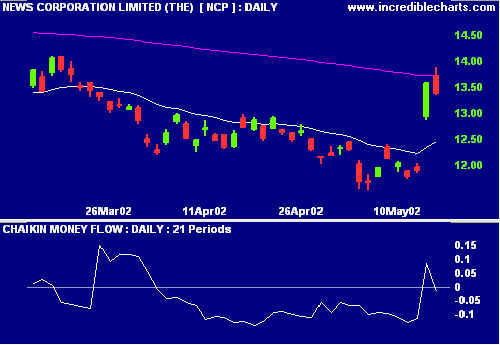 The fiber cement company will make a capital return to shareholders, from the sale of its gypsum business. Fourth-quarter earnings were strong despite annual earnings falling 23%.
(more)
MACD and Chaikin Money Flow show weakness.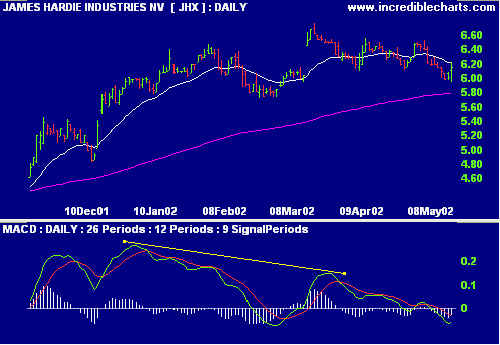 The brewer reported a 12.5% increase in first-half earnings.
(more)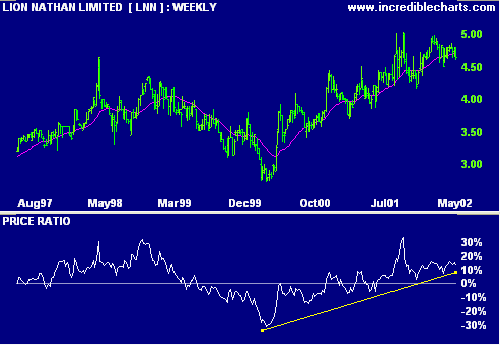 Relative strength (price ratio: XAO) is increasing but the sector index (XAT) shows a stage 4 decline.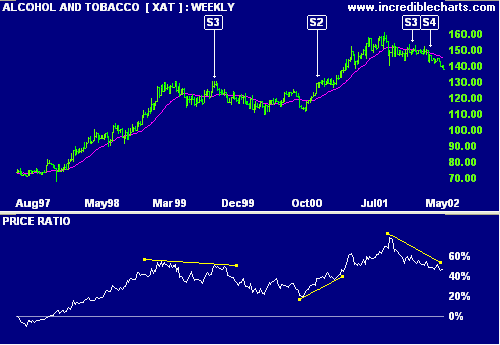 A PriceWaterhouseCoopers report warns that the industry faces rationalization and only a handful of insurers will survive.
(more)
Relative strength (price ratio: All Ords) and the 30-week weighted moving average show the sector in a stage 4 decline.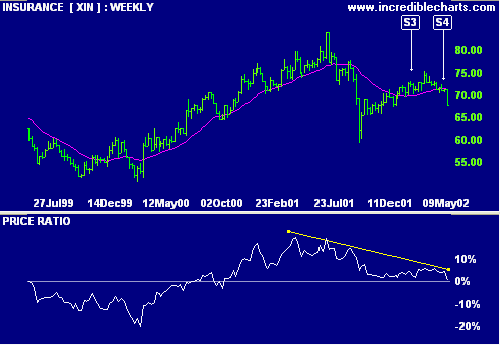 Short-term: The rally may not be able to sustain itself: long using
trailing buy-stops
. Maintain tight stop-losses.
Medium-term: The All Ords has not yet formed a base.
Long-term: Wait for the Nasdaq or S&P 500 to break out from their bases (trading ranges).
Colin Twiggs
P.S. We are trying out new Email software. Please report if you experience any problems with the trading diary.
Please forward this to your friends and colleagues.
---
Back Issues
Access the Trading Diary Archives.
---