---
Trading Diary
May 14, 2002
These extracts from my daily trading diary are intended to illustrate the techniques used in short-term trading and should not be interpreted as investment advice. Full terms and conditions can be found at
Terms of Use
.
The Dow rallied a further 1.8% to 10298 on strong volume.

The Nasdaq Composite rallied 4% to 1719, still in a secondary cycle down-trend.
The S&P 500 rose more than 2% to 1097, still in a secondary cycle down-trend.
April retail sales were up 1.2% on last year, largely due to Easter starting in March this year - something the market seemed to ignore. (more)
First-quarter earnings for the world's largest retailer jumped 15% compared to last year, while same-store sales rose 8.1%.
(more)
Chip equipment maker Applied Materials earned 3 cents per share in the second quarter compared to 21 cents last year, while sales were down 46%. Performance is up on the last quarter.
(more)
The All Ords appears unconvinced by the US rally, forming an inside day with a close at 3263 on normal volume.
Chaikin Money Flow continues to show a bullish divergence while most other indicators are bearish.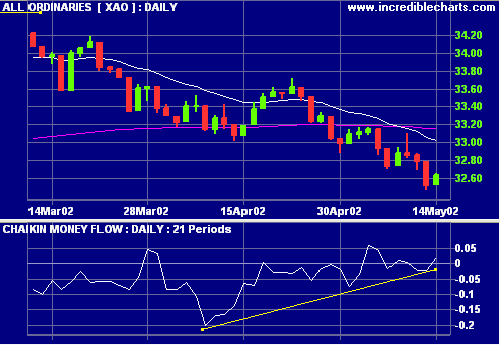 NewsCorp [NCP]
News Corporation Limited writes down its investment in US-based Gemstar TV guide by $7.7 billion. (more)
NCP is in a stage 4 decline, having under-performed the market since October 2000.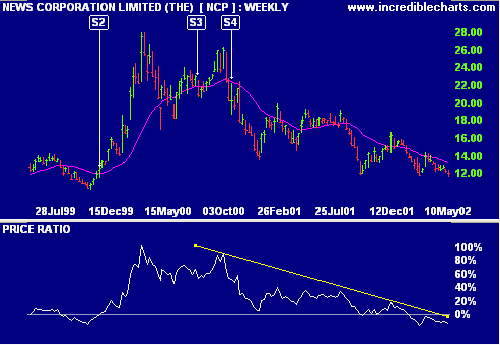 There were no major surprises in the federal budget delivered by treasurer Peter Costello, although healthcare may be affected by cuts to the Pharmaceuticals Benefits Scheme.
(more)
Investors in the spin-off are to be compensated for volatility of steel prices by a high dividend yield and a possible early capital return.
(more)
BHP: MACD and Chaikin Money Flow have both been bearish for the last 4 months.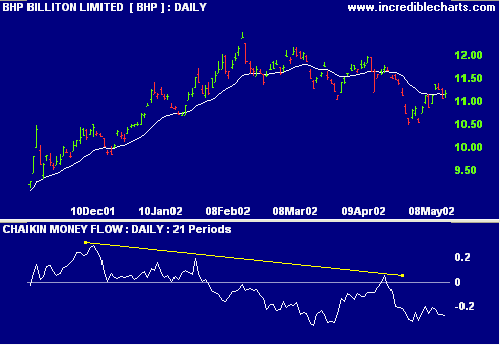 Medium-term: Wait for the All Ords to form a base.
Long-term: Wait for the Nasdaq or S&P 500 to form a base.
Colin Twiggs
P.S. We are trying out new Email software. Please report if you experience any problems with the trading diary.
Please forward this to your friends and colleagues.
---
Back Issues
Access the Trading Diary Archives.
---