---
Trading Diary
May 13, 2002
These extracts from my daily trading diary are intended to illustrate the techniques used in short-term trading and should not be interpreted as investment advice. Full terms and conditions can be found at
Terms of Use
.
The Dow is experiencing huge volatility around the 10000 level - up 1.7% today, to 10109 on normal volume.

The Nasdaq Composite climbed 3.2% to 1652, still in a secondary cycle down-trend.
The S&P 500 returned to the 1070 level, up 1.8% at 1074.
Sears makes cash acquisition
Sears Roebuck acquires specialty catalog retailer, Lands End for $US 1.9 billion cash, sending a positive signal to the market. (more)
The All Ords dropped sharply to 3252 on lower volume, approaching the target of 3230 to 3240.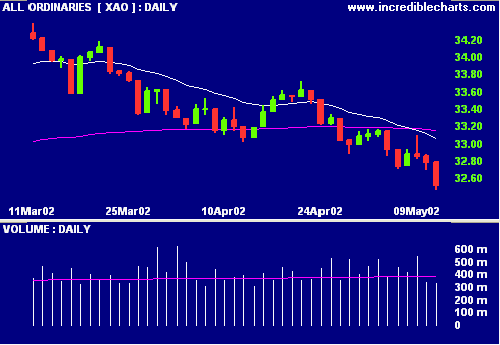 Inside information generally available to the public
The market appears to receive news of profit downgrades or upgrades well before the official announcement. (more)
Publishing and Broadcasting Limited [PBL]
Standard and Poors downgraded its rating outlook on PBL - performance depends on "a recovery in advertising demand".
(more)
MACD and Chaikin Money Flow both show bearish divergences.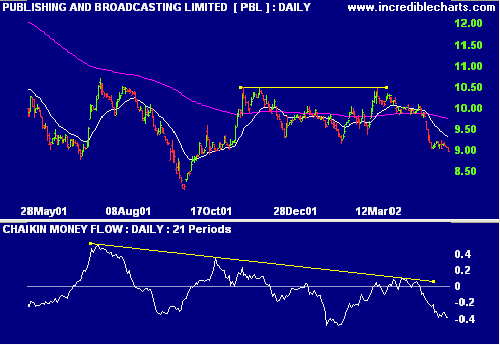 The market reflects concerns over MBL annual results, to be released on Thursday. The bank is shifting its long-term emphasis to building reliable annuity income streams.
(more)
MACD and Chaikin Money Flow show strong distribution over the last year.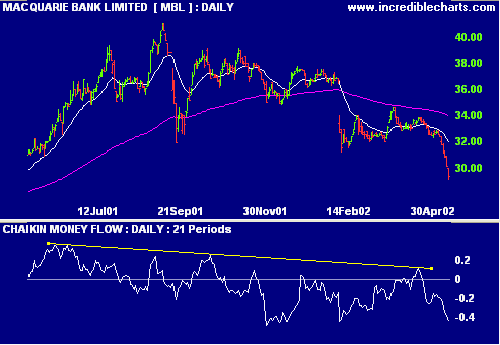 Medium-term: Wait for the All Ords to form a base.
Long-term: Wait for the Nasdaq or S&P 500 to form a base.
Colin Twiggs
P.S. We are trying out new Email software. Please report if you experience any problems with the trading diary.
Please forward this to your friends and colleagues.
---
Back Issues
Access the Trading Diary Archives.
---