---
Trading Diary
May 10, 2002
These extracts from my daily trading diary are intended to illustrate the techniques used in short-term trading and should not be interpreted as investment advice. Full terms and conditions can be found at
Terms of Use
.
The Dow fell a further 1% to close below 10000, at 9939, on normal volume.

The Nasdaq Composite dropped 3.0% to close at 1600, continuing the secondary cycle down-trend.
The S&P 500 closed below the 1070 level, at 1054.
Warren Buffet's investment icon achieves a 52% rise in first-quarter profits due to higher insurance prices. (more)
The All Ords closed down at 3279 on weak volume, approaching the correction target of 3230 to 3240.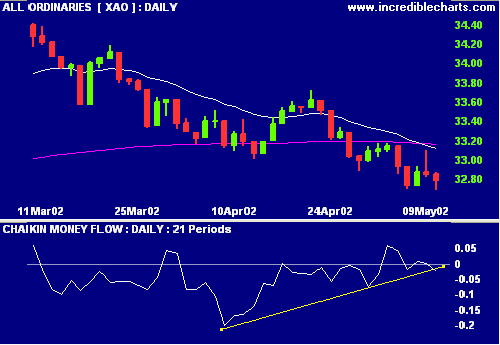 ANZ [ANZ]
ANZ chief John McFarlane has exercised 1 million share options. (more)
Chaikin Money Flow is strengthening but MACD still looks weak.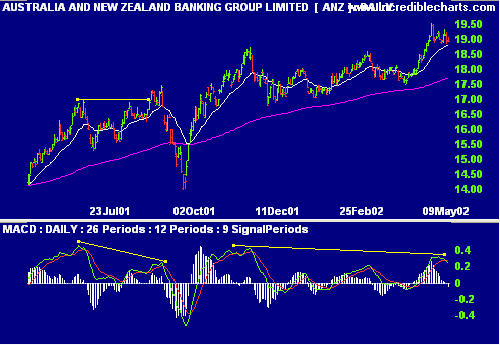 Forrest quits Anaconda [ANL]
The founder of Anaconda Nickel severs his remaining ties with the company.
(more)
MACD has signaled a number of bullish divergences, all of which have failed to deliver, while Chaikin Money Flow has signaled strong distribution.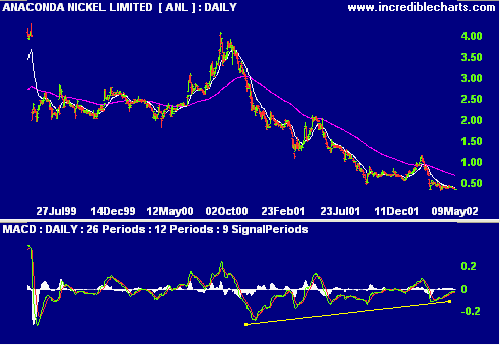 The banking sector continues its strong up-trend with the index making new highs and relative strength (price ratio) rising.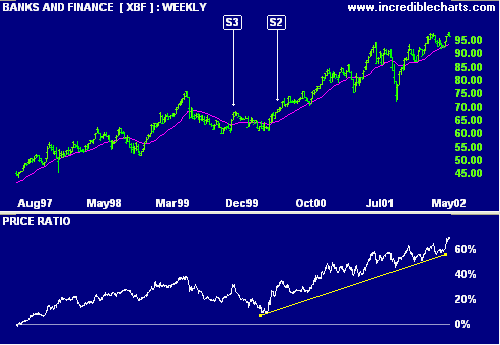 Medium-term: Wait for the All Ords to form a base.
Long-term: Wait for the Nasdaq or S&P 500 to form a base.
Colin Twiggs
P.S. We are trying out new Email software. Please report if you experience any problems with the trading diary.
Please forward this to your friends and colleagues.
---
Back Issues
Access the Trading Diary Archives.
---