---
Trading Diary
May 9, 2002
These extracts from my daily trading diary are intended to illustrate the techniques used in short-term trading and should not be interpreted as investment advice. Full terms and conditions can be found at
Terms of Use
.
More uncertainty - The Dow formed an inside day, closing 1% down at 10037 on normal volume.

The Nasdaq Composite also formed an inside day, down 2.7% at 1650. The secondary cycle is still in a down-trend.
The S&P 500 was down 1.75% at 1073, testing the 1070 level.
WorldCom cut to "junk bond" rating
Moody's Investors Service cut the credit rating on WorldCom's $32 billion of debt three levels. (more)
Stocks fall as April sales disappoint.
(more)
The All Ords rallied strongly in the morning but encountered heavy selling later to finish almost unchanged at 3286. Sellers are back in control. The target for the correction is 3230 to 3240.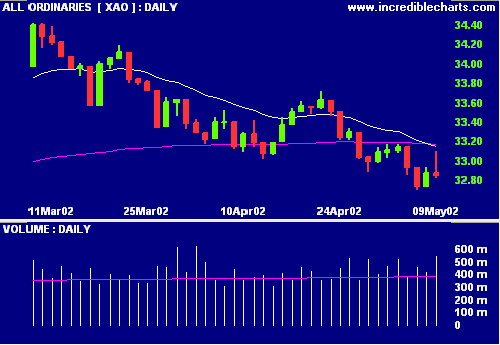 NAB [NAB]
National Australia Bank lifted its first-half profit by 11% and extends it share buy-back plan by $1 billion. (more)
Moving averages look positive but MACD is bearish.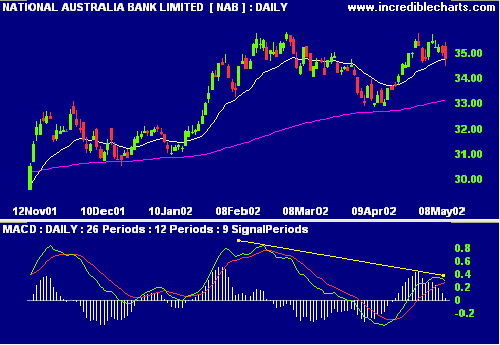 Mayne Group Limited rose 3.7% on speculation that the company would announce a share buy-back.
(more)
Chaikin Money Flow and MACD are still weak.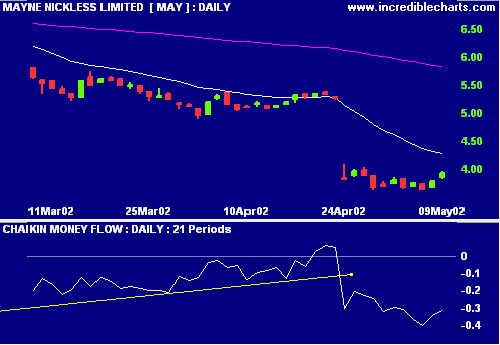 AMP announces it is to sell its UK-based Henderson Private Asset Management.
(more)
Moving averages (150-day and 20-day exponential MA), Chaikin Money Flow and MACD are all bearish.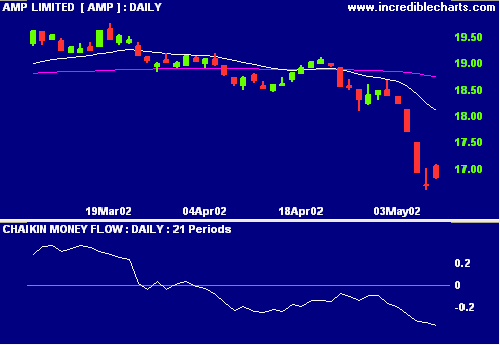 Trading has been halted pending an announcement.
Chaikin Money Flow shows strong accumulation since January followed by a sharp fall in the last week.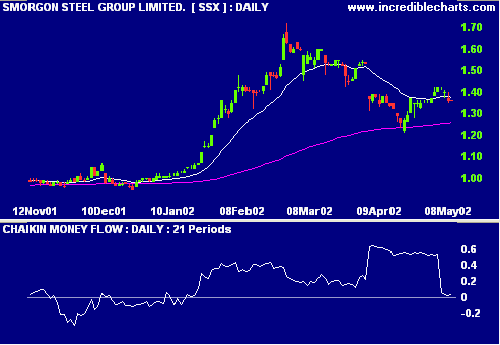 Medium-term: Wait for the All Ords to form a base.
Long-term: Wait for the Nasdaq or S&P 500 to form a base.
Colin Twiggs
P.S. We are trying out new Email software. Please report if you experience any problems with the trading diary.
Please forward this to your friends and colleagues.
---
Back Issues
Access the Trading Diary Archives.
---