---
Trading Diary
May 8, 2002
These extracts from my daily trading diary are intended to illustrate the techniques used in short-term trading and should not be interpreted as investment advice. Full terms and conditions can be found at
Terms of Use
.
It is not very often that you witness a 3% jump on the Dow. The average rose strongly throughout the day to close at 10141. The secondary cycle up-trend is intact.

The Nasdaq Composite soared almost 8% on the back of strong results from Cisco. "One sparrow does not make a summer" - the secondary cycle is still in a down-trend.
The S&P 500 climbed 3.75% to 1088. We will have to wait and see whether the index again tests the 1070 level.
Cisco Systems rose 24% since it topped analysts quarterly estimates, restoring investors faith in chip and hardware stocks. (more)
Rally needs to break above resistance
The short-term rally needs to break above resistance levels if it is to sustain itself.
(more)
The All Ords recovered to 3287 on reasonable volume. The target for the correction is 3230 to 3240.
While Slow Stochastic and MACD are negative, Chaikin Money Flow is showing a bullish divergence.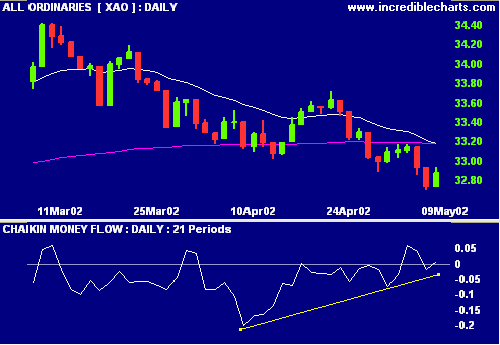 Amcor Limited becomes the world's largest plastic bottle maker after its $2.875 billion German acquisition.
(more)
Chaikin Money Flow and MACD have both been signaling weakness since early this year.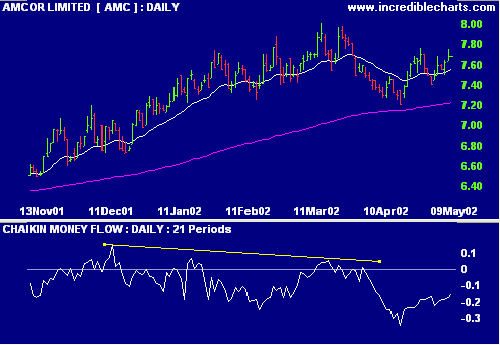 The ACCC approves the sale of Westpac's AGC consumer finance division to GE Capital. Westpac will use part of the proceeds to fund a share buy-back.
(more)
Chaikin Money Flow shows accumulation in April but MACD is still weak.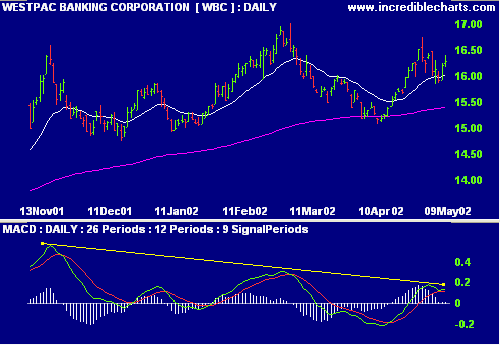 Perpetual declares special dividend [PPT]
Perpetual Trustees Australia has shown its confidence in the company's outlook, declaring a special dividend of 50 cents and promising another next year.
(more)
Both Chaikin MF and MACD have recently been showing weakness after a long period of accumulation.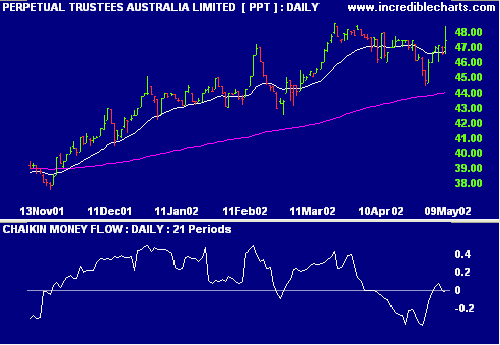 Medium-term: Wait for the All Ords to form a base.
Long-term: Wait for the Nasdaq or S&P 500 to form a base.
Colin Twiggs
P.S. We are trying out new Email software. Please report if you experience any problems with the trading diary.
Please forward this to your friends and colleagues.
---
Back Issues
Access the Trading Diary Archives.
---