---
Trading Diary
May 2, 2002
These extracts from my daily trading diary are intended to illustrate the techniques used in short-term trading and should not be interpreted as investment advice. Full terms and conditions can be found at
Terms of Use
.
The Dow managed to eke out a small gain, closing at 10091on regular volume. The short-trend is down but the secondary cycle up-trend is intact.

Led by a falling Microsoft, the Nasdaq Composite index dropped almost 2% to close at 1644. The secondary cycle is still in a down-trend.
The S&P 500 closed almost unchanged at 1084, above the key 1070 support level. A break below 1070 has a calculated target of 960.
"Earnings are not going to bounce back anything like what we need to support current valuation levels,'' says Bob Morris, chief investment officer at Lord, Abbett & Co.

(

more

)
The All Ords closed up slightly at 3311 on strong volume, above the 3300 support level.
Chaikin Money Flow remains below zero, signaling distribution.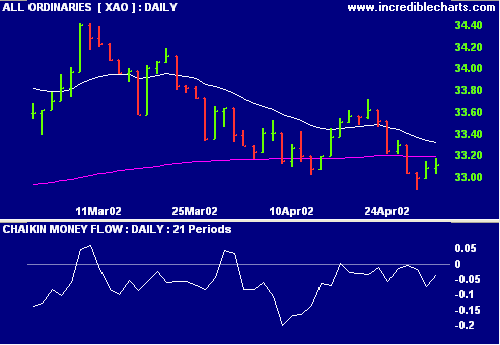 TLS dropped 23 cents on disappointing sales for the March quarter.
(more)
Relative strength (price ratio: All Ords), Chaikin MF and MACD are all weakening.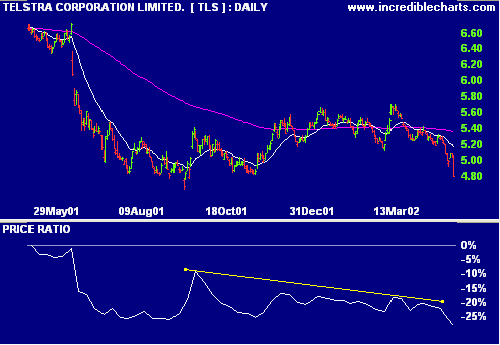 A 10% rise in net profit, to more than $ 1 billion for the half-year, but WBC still weakens. (

more

)
MACD showed a bearish divergence in February/March, while Chaikin MF and Relative strength still look positive.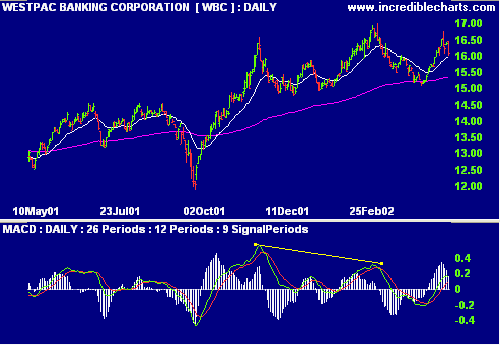 Conclusion
Short-term: Avoid long. Keep stop losses on existing trades as tight as possible.
Medium-term: Wait for the All Ords to form a base.
Long-term: Wait for the Nasdaq or S&P 500 to break above their January highs.
Colin Twiggs
P.S. We are trying out new Email software. Please report if you experience any problems with the trading diary.
Please forward this to your friends and colleagues.
---
Back Issues
Access the Trading Diary Archives.
---