---
Trading Diary
April 30, 2002
These extracts from my daily trading diary are intended to illustrate the techniques used in short-term trading and should not be interpreted as investment advice. Full terms and conditions can be found at
Terms of Use
.
The Dow rallied 1.3% on a smaller than expected decline in consumer confidence, to close at 9946 on strong volume. The short-trend is down but the secondary cycle up-trend is intact.

The Nasdaq Composite index rallied 1.9% to close at 1688. The secondary cycle is still in a down-trend.
The S&P 500 rose 1.0% to close at 1076, above the key 1070 support level. The down-trend on the secondary cycle is intact. The two highs at 1180, in January and March, and the intervening trough at 1070 have formed a double top chart pattern. The calculated target for the downward breakout is 960, coinciding with the low of September 2001.
CEO Bernard Ebbers, facing $US 30 billion in debt, plunging stock prices and an accounting investigation, resigns.

(

more

)
The All Ords fell to 3288 by the afternoon but then rallied to close back at 3300 on strong volume. If the index breaks below 3300, the next major support level is at 3230 to 3240, the same as the target from the double top pattern.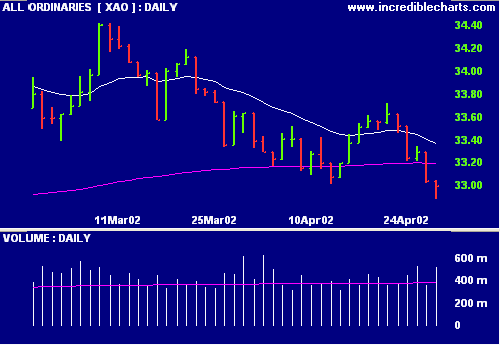 Private hospitals in crisis
Stocks of Mayne Group [MAY], Ramsay Health Care [RHC] and Healthscope [HSP] fall as private hospitals are hit by the medical insurance crisis.
(more)
All three stocks are showing bearish divergence or weakness on MACD.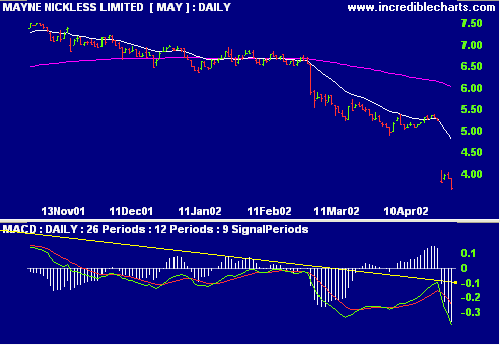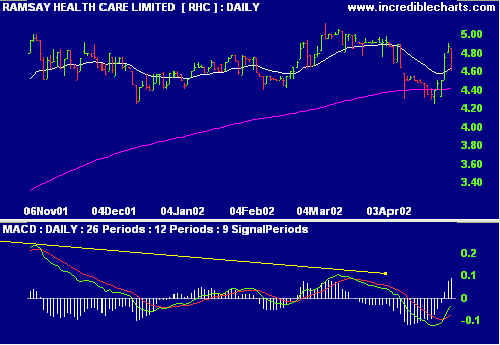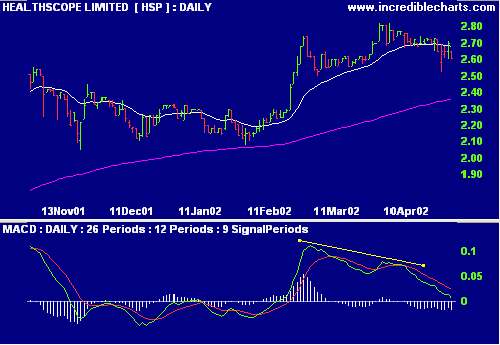 St George rises to $19.50 despite $94 million dot-com write-off. (

more

)
Equivolume shows strong distribution taking place at these levels.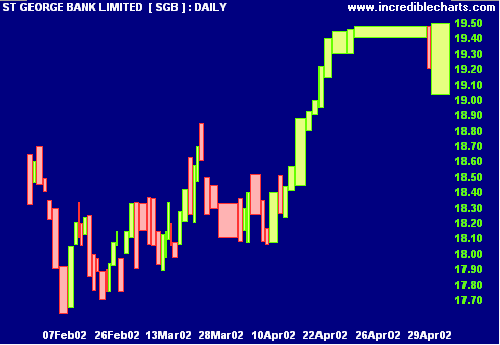 Conclusion
Short-term: Avoid long. Keep stop losses on existing trades as tight as possible.
Medium-term: Wait for an All Ords reversal.
Long-term: Wait for the Nasdaq or S&P 500 to break above their January highs.
Colin Twiggs
P.S. We are trying out new Email software. Please report if you experience any problems with the trading diary.
Please forward this to your friends and colleagues.
---
Back Issues
Access the Trading Diary Archives.
---