---
Trading Diary
April 29, 2002
These extracts from my daily trading diary are intended to illustrate the techniques used in short-term trading and should not be interpreted as investment advice. Full terms and conditions can be found at
Terms of Use
.
The Dow fell a further 0.9% to close at 9819 on normal volume. The short-trend is down but the secondary cycle up-trend will only be broken if price falls below 9443.
The Nasdaq Composite index closed down at 1656. The second close below 1700 support level confirms the start of a down-trend on the secondary cycle.
The S&P 500 fell 1.0% to close at 1065, a break below the key 1070 support level, signaling the start of a secondary cycle down-trend.
WorldCom
The long-distance telephone company's ability to repay $US 30 billion of debt is being questioned.
The All Ords closed down sharply at 3304, testing the 3300 support level. If the index breaks below this, the next major support level is at 3230 to 3240, the same as the target from the double top pattern.
MACD joined the Slow Stochastic below its signal line.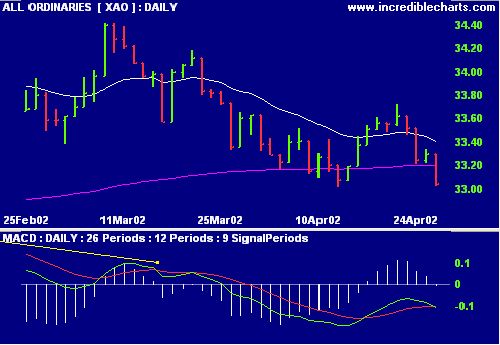 AMP [AMP]
AMP fell by 1.2% as top brokers, CSFB, cut their profit forecasts and reiterate their "Sell" recommendation.
(more)
Chaikin Money Flow showed strong accumulation until the beginning of April, after a bearish divergence on MACD.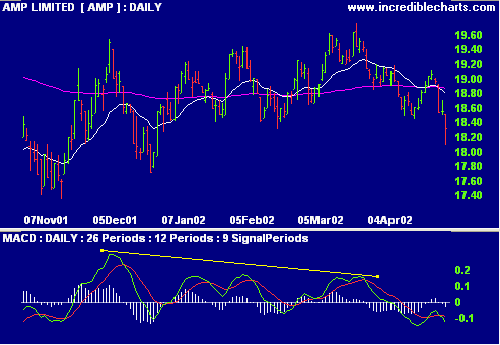 Telstra below $5.00 [TLS]
Telstra fell to below $5.00 for the first time in almost 6 months, closing at $4.99 after a dividend payout of 11 cents.
(

more

)
TLS has shown strong Accumulation on Chaikin Money Flow but now looks set to test the support level of $4.62 from September last year. Note the bearish MACD divergences in January and March 2002.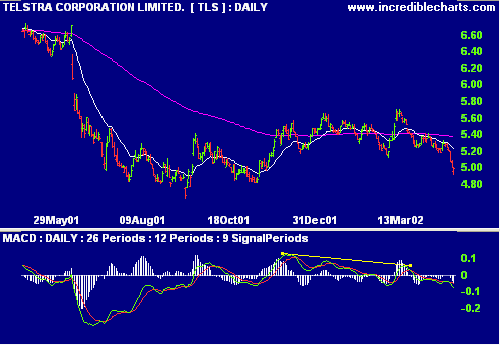 Conclusion
Short-term: Avoid long. Keep stop losses on existing trades as tight as possible.
Medium-term: Wait for the All Ords to bottom out.
Long-term: Wait for the Nasdaq or S&P 500 to break above their January highs.
Colin Twiggs
P.S. We are trying out new Email software. Please report if you experience any problems with the trading diary.
Please forward this to your friends and colleagues.
---
Back Issues
Access the Trading Diary Archives.
---