---
Trading Diary
April 23, 2002
These extracts from my daily trading diary are intended to illustrate the techniques used in short-term trading and should not be interpreted as investment advice. Full terms and conditions can be found at
Terms of Use
.
The Dow formed an inside day, falling 0.5% to 10089 on reasonable volume. The short-trend is down but the secondary cycle up-trend is intact.
The Nasdaq Composite index fell 1.6% to close at 1730, testing support at 1725. The index is still above the major 1700 support level, with resistance at 1950.
The S&P 500 moved lower, to close at 1100, within the 1070 to 1180 trading range.
Recently dethroned as the world's largest company, first-quarter earnings fell to $US 2.15 billion from $US5.05 billion a year earlier. 

(

more

)
The largest chemical company in the US missed analysts first-quarter estimates while sales fell 12%. 

(

more

)
The online store narrows its first-quarter loss as sales rise 21%. 

(

more

)
The All Ords closed down at 3352 on weak volume.
Chaikin Money Flow continues in negative territory, signaling that distribution is taking place. 
The Point and Figure chart (High-Low price) has completed a double top, breaking below support [B-] at the neckline.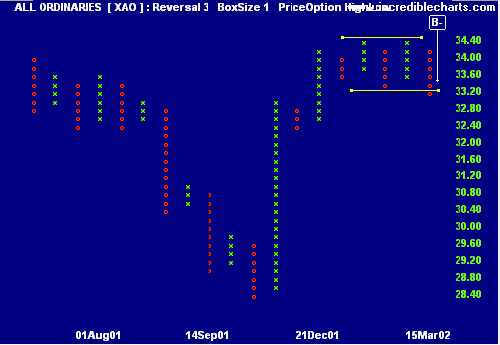 The dollar is hovering at around 54 US cents but is expected to slip back to 53 US cents.

(

more

)
Mayne needs medical attention [MAY]
The healthcare and logistics group warned that it will miss analysts' forecasts by as much as 18%.
(

more

)
The market has shown its faith in Peter Smedley with Chaikin Money Flow signaling strong accumulation over the last month.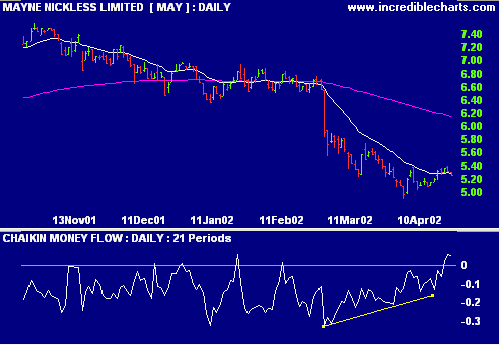 The sector, Health & Related Products, includes a number of outperforming stocks: SDI Limited (SDI), Ellex Medical Lasers (ELX) and Micromedical Industries (MMD).
Seven Network stock falls as ratings decline by 11% since the start of the year.
(

more

)
Note the bearish divergence on Chaikin Money Flow in March 2002.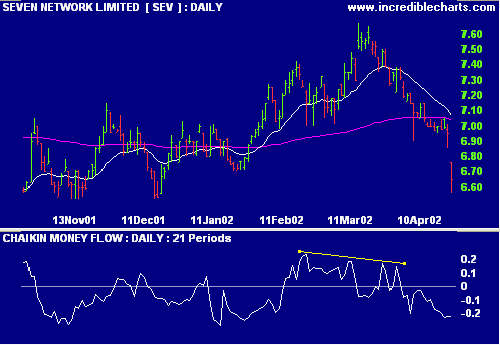 Short-term: Avoid long. Keep stop losses on existing trades as tight as possible.
Medium-term: Wait for a new high on the All Ords.
Long-term: Wait for the Nasdaq or S&P 500 to break above their January highs.
Colin Twiggs
P.S. We are trying out new Email software. Please report if you experience any problems with the trading diary.
Please forward this to your friends and colleagues.
---
Back Issues
Access the Trading Diary Archives.
---